U.S. embassy in Manila starts issuing fiancé visas to same-sex couples
It's one more victory for LGBT rights advocates.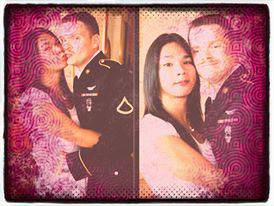 Screenshot of photo from Noel "Aeinghel" Amaro's Facebook page

ADVERTISEMENT - CONTINUE READING BELOW
Jerome Aning of the Philippine Daily Inquirer reports that the United States Embassy in Manila has announced on December 6 that it has issued its first fiancé visa to a same-sex couple, "a Filipino and an American soldier serving in Afghanistan who will get married next month."
According to the report, Noel "Aeinghel" Amaro and Robert Cotterman on Dec. 2. The couple, who met through Facebook two years ago, applied for the visa in June 2012. They are set to tie the knot in California in January.
In a statement, the embassy said, "Although same-sex marriage is not yet recognized in the Philippines, gay Americans are now able to petition for family-based visas on behalf of their Filipino spouses, fiancés and their children."
The report went on to add: "Another couple, Maria Cecilia Limson Gahuman and Maria Carla Antonio, were also the next to be given fiancé visas. The embassy said the two met through a mutual friend over a decade ago. They will get married on December 30 in California."
ADVERTISEMENT - CONTINUE READING BELOW
For more on this story, log on to Inquirer.net.
Load More Stories