Globe cites technical glitch as cause of customer's ₱3 million phone bill
Will they compensate the customer for "bill shock" trauma?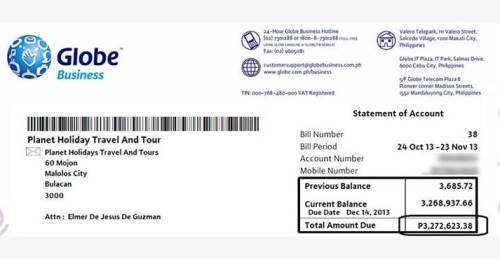 A screenshot of the shocking bill, which De Guzman shared on Facebook
ABS-CBNNews.com reports that local telecommunications firm Globe Telecom has acknowledged that a technical glitch caused the phone bill of its postpaid customer, Elmer De Guzman, to balloon up to P3 million after a trip abroad. De Guzman, who owns a travel agency, had enrolled in the company's "unlimited data roaming" promo but a technical error led to the shocking bill.

ADVERTISEMENT - CONTINUE READING BELOW
According to the report, Globe said it has "reversed the charges to reflect the correct amount" in De Guzman's  billing statement, who posted a screenshot of his P3-million phone bill on Facebook. The telecommunications firm said that while the data usage incurred by De Guzman did amount to more than P3 million inclusive of surcharges and VAT, he did not have to pay the amount since he enrolled in the Bridge DataRoam Unlimited (BDU) promo before he went to the United Arab Emirates (UAE).
Globe clarified that what happened to De Guzman is "an isolated case" and it is now taking "proactive steps to investigate if there are similar instances in areas other than the UAE where the BDU Roaming promo is being offered."
For more on this story, log on to ABS-CBNNews.com.
Recommended Videos
Load More Stories