Top 10 Disney Villain Songs
Villains deserve the spotlight sometimes, too.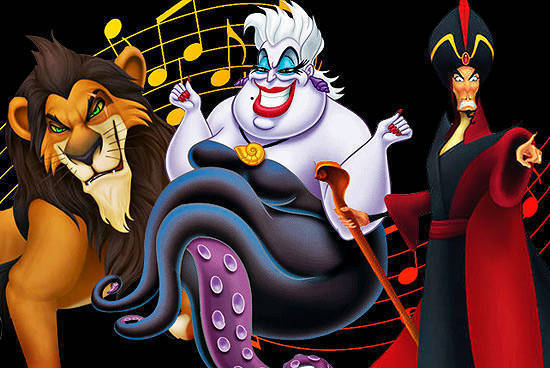 (SPOT.ph) You've probably been singing "Let It Go" for the past two weeks. The magic of this new Disney gem had us reminiscing about other Disney hits, especially the ones during the Renaissance Period (an era dating from 1989 to 1999 that marked the renewed success of Disney animated films). But you can't be nostalgic about Disney without suddenly bursting into song. It's easy to paint the "Colors of the Wind" or be "Part of That World." This time, though, we're shedding light on the under-appreciated wisdom of Disney villains who, if not for their evil, wouldn't make these princesses look so darn innocent. Didn't God say help the outcasts? Hence, we're counting down our favorite Disney songs-from our favorite villains.
10. "Friends on the Other Side" from The Princess and The Frog (2009)
Doctor Facilier (Keith David)
Best line: "The cards, the cards, the cards will tell / The past, the present, and the future as well!"
After Facilier correctly reads Prince Naveen's palm and tells him that he is a prince, the prince's valet, Lawrence, accuses him of fraud after seeing a newspaper in his pocket. Offended, Facilier bursts into song, revealing his chums from the "other side." From showstopper to witch doctor, it's funny how one tune can easily express a person's true nature. They say you should never talk about other people behind their back...well, this song just proves that that's not always the case.
9. "Prince Ali" from Aladdin (1992)
Jafar (Jonathan Freeman)
ADVERTISEMENT - CONTINUE READING BELOW
Best line: "Meet a blast from your past whose lies were too good to last."
This reprise takes the Robin Williams (genie) version at the beginning of the film where he introduces Aladdin as the extravagant Prince Ali and tears him down to his tattered bare essentials. Through his parody, Jafar humiliates Aladdin-and right in front of Jasmine, too.
P.S. Change Prince Ali to Janet Napoles, and you have her whole life explained in a little over a minute.
8. "Hi-Diddle-Dee-Dee (An Actor's Life For Me)" from Pinocchio (1940)
J. Worthington Foulfellow (Walter Catlett)
Best line: "Hi-Diddle-Dee-Doo. You sleep 'til after two! / It's great to be a celebrity, an actor's life for me!"
CONTINUE READING BELOW
Recommended Videos
J. Worthington Foulfellow first sings this to Pinocchio when he tries to convince the stringless puppet to take to the stage by enumerating the so-called high life of being an actor: rich, "with a high silk hat and a golden chain...with lots of peanuts and soda pop." This catchy tune reflects the fickle life of being in show business which Pinocchio learns the hard way.
The song is such a classic that it's been revived in an episode of The Muppets and adapted for Duck Tales.
7. "The Elegant Captain Hook" from Peter Pan (1953)
Captain Hook (Hans Georg Conried, Jr.)
Best line: "C'mon, join up, and I'll be frank / Unless you do, you'll walk the plank."
This song offers a glimmer of Captain Hook's mercy: either you join up as a pirate or you die. We can only wish that life was that simple.
ADVERTISEMENT - CONTINUE READING BELOW
6. "Mine, Mine, Mine" from Pocahontas (1995)
Governor Ratcliffe (David Ogden Stiers)
Best line: "Dig up Virginia, boys."
Governor Ratcliffe encourages his men to keep digging for gold while the "savages" a.k.a "Indians" a.k.a. Native Americans are kept at bay. He tells them in his deep baritone to dig for gold so his rivals back home can "squirm when they see how (he) glitters." He can always be a vampire in case the gold thing doesn't pan out.
5. "Be Prepared" from The Lion King (1994)
Scar (Jeremy Irons,* back-up by Whoopi Goldberg, Cheech Martin, and Jim Cummings)
Best line: But you'll be rewarded / When at last I am given my dues / And injustice deliciously squared."
The best way to relay a plan to a trio of dimwitted hyenas is through song. After numerous schemes of dethroning Mufasa, Scar finally plots a foolproof way to usurp Pride Lands-by killing his brother and his son, Simba. "Be Prepared" also serves as Scar's campaign speech to the throne. He tells the hyenas that under his reign, they will never be hungry again. Sound familiar?
*Jim Cummings took over the last lines of the song when Jeremy Irons voice gave out from one of the lines.
4. "Mother Knows Best" from Tangled (2010)
Mother Gothel (Donna Murphy)
Best line: "Skip the drama, stay with mama."
If we didn't know that Mother Gothel was one of the youth-obsessed Real Housewives of Corona, we'd say she was just being an overprotective mother. In any case, this song reveals that Mother Gothel is really one of those annoying parents who console their children by bringing them down, telling Rapunzel she's weak, immature, and getting chubby.
ADVERTISEMENT - CONTINUE READING BELOW
3. "The Mob Song" from Beauty and The Beast (1991)
Gaston (Richard White), townsfolk
Best line: "Screw your courage to the sticking place!"
The official villain song for Beauty and The Beast is the eponymous "Gaston," but seeing as it's mostly sung by a group of young men who are infatuated with Gaston's biceps, we chose this more powerful delivery that shows off Richard White's operatic chops. Gaston leads the townspeople to the Beast's castle, preparing to destroy the supposedly evil creature.
2. "Poor Unfortunate Souls" from The Little Mermaid (1989)
Ursula (Pat Carroll)
Best line: "Life's full of tough choices, isn't it? Heh heh."
It's hard to understand why Ursula was classified as a villain when she was really just showing pampered and sheltered Ariel what life was about: that if you want something, you have to give it up. Oh, and that you can make a man fall in love with you by being quiet and having the right body language.
1. "Hellfire from The Hunchback of Notre Dame (1996)
Claude Frollo (Tony Jay)
Best line: "I feel her, I see her / The sun caught in raven hair / is blazing in me out of all control."
We're not exactly sure how a song about a pious minister of justice lusting after a gypsy got past the rating board. "Hellfire" has to be Disney's darkest song to date. This emotionally charged performance complete with powerful visuals of fire demonstrates a man's internal struggle-Frollo's animosity against outcasts versus his lasciviousness-as well as the overall corruption of his virtues and politics.
ADVERTISEMENT - CONTINUE READING BELOW
Share this story with your friends!
---
Help us make Spot.ph better!
Take the short survey
Load More Stories