State of the Nation: A 5-Minute Update on Post-Yolanda Relief Operations
Two months in and we're already dancing to the same old tune of overpricing.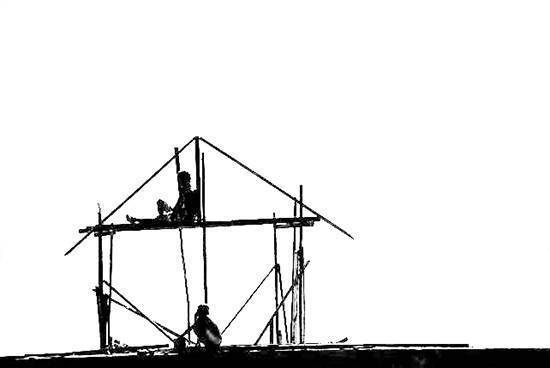 (SPOT.ph) If time flies when you're having fun, how slow does it move when you're experiencing the opposite? We have heard DILG Secretary Mar Roxas say that nothing is fast enough but with everyone's help (from First World super powers to young kids with piggy banks), what is rising from the rubble created by one of the biggest storms in recorded history?
Here's a brief update on the post-Yolanda relief operations in Tacloban and the rest of  Eastern Visayas.
1. Let there be light!
Christmas day last year, Energy Secretary Carlos Jericho Petilla submitted his letter of resignation to President Aquino after failing to meet the target date for restoring power to parts of the Visayas that were hit by the super typhoon. The President elected to reject his resignation and on the first week of January, Visayas was declared "energized."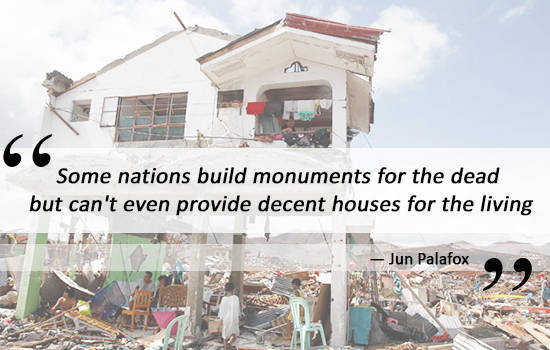 Jun Palafox comments on the fact that some mausoleums withstood the storm while people's houses were obliterated by the super typhoon.
ADVERTISEMENT - CONTINUE READING BELOW
2. Bunkers: Substandard or overpriced? Or is it substandard and overpriced?
The people of Tacloban and all of the other areas affected by the super typhoon don't have the luxury to debate the difference between substandard and overpriced because the bottomline is that they don't have a decent place to call home yet.
On January 6, 2014, The Philippine Daily Inquirer published an article that focused on the bunkhouses being constructed for Yolanda survivors. The report states that "politicians and priests in Leyte and Samar" are worried that the temporary shelters being constructed do not follow the plans set out by Department of Public Works and Highways (DPWH). Upon inspection, the bunkhouses currently being constructed seem to be priced at P200,000. This is a very far cry from the nearly P1 million estimate that DPWH made.
CONTINUE READING BELOW
Recommended Videos
In a separate report by ABS-CBN News, urban planner and architect Jun Palafox expressed his concerns about the shelters that he saw in Tacloban. According to the report, each unit was "less than nine square meters, [with] only two small bedrooms, poorly ventilat[ed], and the materials used such as plywood are fire hazards." He later clarified, though, that he was not accusing the DPWH of corruption.
Rehabilitation Czar Secretary (seriously, this is his title) Panfilo "Ping" Lacson said that the contractors might be buying cheaper materials in order to make a profit, but he is giving DPWH Secretary Rogelio Singson the benefit of the doubt. According to a report by GMA Network, a six-man team has been formed and deployed by the Philippine National Police Criminal Investigation and Detection Group (PNP-CIDG) to address this issue. Probe or no probe, Secretary Singson has stated the contractors have been instructed to adjust the specifications of the temporary shelters to follow internationals standards.
ADVERTISEMENT - CONTINUE READING BELOW
3. "How long must I wait for you?" - Coldplay and Yolanda Victims
The cynics within the nation are probably dismissing the "probe" and Senator Franklin Drilon is adding to that. He showered DPWH Secretary Rogelio Singson with praises (Drilon described Singson as "the most honest, efficient, and decisive Public Works secretary he has seen throughout the last few administrations") and disregarded the allegations of overpricing as "counterproductive." Secretary Singson declared that he is willing to resign if an anomaly with the bunkerhouses is proven. What he admitted to was that the rebuilding efforts would not be finished by the end of President Aquino's term.
Presidential Assistant for Rehabilitation and Recovery (seriously, this is also his title) Ping Lacson is heeding Drilon's call, focusing his efforts on speeding up the clearing of debris to make way for the rebuilding. He wants to be able to finish a substantial portion of the rehabiliation by 2016 but coordination and cooperation with other agencies is key. President Aquino is urging his people to work together.
4. Food packs will be handed out until March and then what?
Secretary Dinky Soliman said that they are working with DPWH to ensure that there are temporary shelters by that time, which is in conflict with Secretary Singson's statement that the rebuilding will take a longer period of time. Livelihood programs are in the works and according to a report by ABS-CBN News, P62.63 billion has been earmarked by the Department of Social Welfare and Development for the Pantawid Pamilyang Pilipino Program (4Ps) although this is not dedicated to Eastern Visayas alone.
ADVERTISEMENT - CONTINUE READING BELOW
The first cabinet meeting of the year did not discuss the overpricing issue
5. Into the wild?
The poorest of the poor prefer employment over cash aid according to a report by Jennifer Allegado and Joey Gabieta of Inquirer. The United Nations projects that the rebuilding in the Visayas will fuel economic growth, which sounds good until the concerns about unemployment are raised. "Licensed recruitment agencies" are organizing a massive job fair for the survivors. They boast of 10,000 positions to be filled, though these are mostly overseas. The "build back better" mantra needs to be about more than just building houses, they need to help the people build lives again.
6. "Oh baby, don't forget about us" - Mariah Carey and Coconut Farmers
Lottie Salarda of InterAksyon interviewed the farmers in Leyte, whose main source of income was also damaged by the super typhoon. Salarda reports that 90% of Leytenos were leaning on coconut trees for income and now that most have been uprooted, farmers fear that they might as well have been swept away by the storm too.
The government has responded with plans to distribute seeds and replant coconuts but the farmers say that they are facing starvation if help doesn't come sooner. The Philippine Coconut Authority will be working over the next 10 years to replace all the trees lost during the typhoon.
7. Say it ain't so: measles brought by evacuees from the typhoon-stricken places?
Senator Nancy Binay cried foul when the Department of Health (DOH) stated that the measles outbreak may have been caused by the migration of typhoon victims to Metro Manila. Senator Binay claims that it is the DOH's responsibility to ensure that vaccination programs are implemented, done in cooperation with the local government units (LGUs). Health Assistant Secretary Eric Tayag countered by stating that the failure lies with the LGUs, and was indignant when the measles outbreak in Australia was pinned on a Filipino dancer.
ADVERTISEMENT - CONTINUE READING BELOW
Regardless of whose fault it is, the measles outbreak is here and they're all admitting that it won't be ending soon.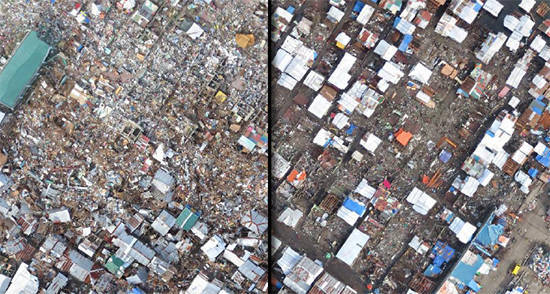 Screencapture from InterAksyon.com
8. Spot the difference: before and after.
InterAksyon has released aerial shots of devastated parts of Tacloban. Debris have been removed, some structures are more visible but are still damaged, and blue tarpaulins are up where roofs used to be.
9. Casualties: 6,190 individuals reported dead (as of January 10).
NDRRMC updates its number regularly. As of writing they've reported that:
6,190 are dead
28,626 are injured
1,785 are missing
101,527 displaced individuals are in evacuation centers
3,993,753 displaced individuals are outside evacuation centers
The total cost of damage is at P36,690,882,497.27 (yes, with 27 centavos). Despite Petilla saying that Visayas is fully "energized," the NDRRMC report states that power has been restored to 56 out of 138 barangays.

ADVERTISEMENT - CONTINUE READING BELOW
10. Show me the money.
The briefer for the 2014 National Budget has been released and if the damage done is at P36 billion, the infographic shows that P20 billion has already been allocated for the reconstruction. While there is no PDAF, something tagged as "unprogrammed fund" is in the General Appropriations Act for 2014 amounting to P80 billion. Local and foreign aid is still pouring in for Tacloban, which means that there is no shortage in funds.
Now what about political will?
Photo for the graphic of Jun Palafox quote from ABS-CBN. Main image for the article is an altered photograph from Manila Bulletin. Credit to Rolan Garcia.
Share this story with your friends!
---
Help us make Spot.ph better!
Take the short survey
Load More Stories