Pinay chef wins Food Network contest with dilis
It's a "cutthroat" competition and Chef Leah Eveleigh came out on top.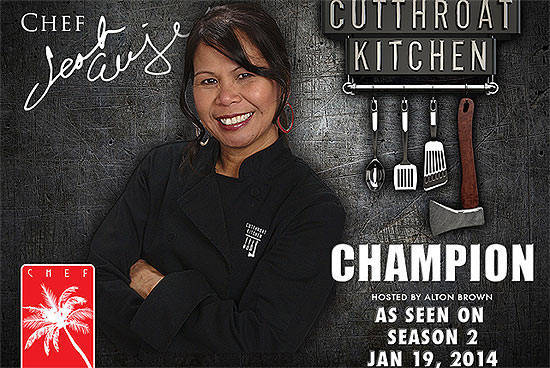 (SPOT.ph) Chef Leah Eveleigh is not only the first chef from Denver to win Cutthroat Kitchen, she is also the first Filipino to come out triumphant in the Food Network reality cooking show.
Eveleigh grew up in the Philippines and her Filipino roots are reflected in her cooking. In Denver, she is a private chef who owns catering company Leah's Kitchen which specializes in Filipino cuisine. During the show's introductions, the soft-spoken champion described herself as someone who went from being a home-cook mom to cooking for 200 people. "People underestimate me because I'm small and nice-which is true, but if you put me in a kitchen arena, get out of my way. I'm like a tiger in a cage," she said.
ADVERTISEMENT - CONTINUE READING BELOW
Cutthroat Kitchen, now on its second season and hosted by Alton Brown, is a by-the-episode cooking contest aired on the Food Network. Four chefs need to overcome three challenges plus "sabotage" from each other to win. At the start of the game, each contestant is given $25,000. After a challenge is announced, Brown presents cooking impediments that the chefs may bid for, to sabotage their opponents. The amount they spend will be deducted from their $25,000 base. The remaining balance will be the prize money.
Eveleigh won not by her culinary techniques which weren't as strong as the others, but with the heart in her cooking. Judge food expert Simon Majumdar said that her food made him feel "happy." She cooked carne asada pineapple quesadilla for the first challenge, chicken noodle soup with ginger and lemongrass for the second, amd fried anchovies (dilis) for the last.
She came away with only $7,700 in prize money after she chose to sabotage her rivals. She spent $6,800 to purchase a hair iron, flood light, and blow torch for her rivals to cook quesadillas with, as well as another $6,400 to buy a tuna melt sandwich that she strategically purchased only so she could avoid using it. She also spent over $1,000 to buy a sheet pan for a competitor to cook soup in. In retaliation, another contestant tasked Chef Eveleigh to make a margarita using a bike-powered blender.
ADVERTISEMENT - CONTINUE READING BELOW
The episode she appears in, titled "Soupsy Daisy," was aired on January 19, 2014.
Her wininings, Eveleigh says, will go into a cookbook she is planning. In an article in the Denver Post, she said that she will visit the Philippines this month to help in Yolanda relief efforts.
Recommended Videos
Load More Stories