What Would John Lloyd Cruz Do: 10 Ways to Turn Average Situations into #MagicMoments
Sometimes, all we need is a little inspiration.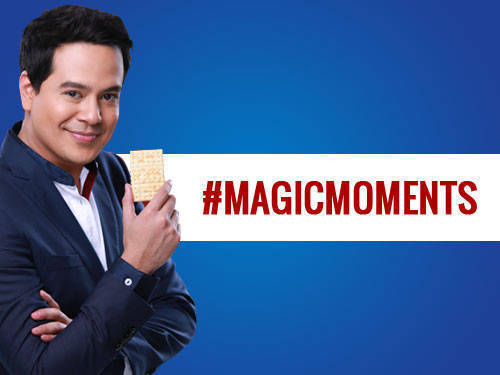 There are days when you wake up thinking it would be an ordinary day. Then just when you least expect it, the day turns sour and you end up asking yourself why you even got out of bed in the first place. These are times when nothing could save the day. So, we ask, what would the prince of rom-coms, John Lloyd Cruz-who always manages to breathe magic and kilig into each role and loveteam, get the girl in the end, and win everyone's affection along the way-do?

1. You changed bags then realized later that you forgot your wallet in your other bag.
GIF from Giphy.com
What would JLC do: Calmly check your bag's pockets for any loose change you can use for the day.You never know, maybe instead of coins, you just might discover a forgotten peso bill you stashed in your bag. Instant #MagicMoment!
2. You're a block away from your job interview when you realize you forgot your resume at the coffee shop.
GIF from Giphy.com
What would JLC do: Just wing it, let your inner Apollo (My Amnesia Girl) shine through: be witty, funny, and hope that the interviewer has a copy of your resume. They usually do.
3. Rushing to a meeting you know you'll be late for.
GIF from Giphy.com
What would JLC do: Instead of panicking, try to get in touch with the person you're meeting with and reschedule if you have to. Do what you can when it comes to your business commitments and career: Miggy Montenegro in It Takes a Man and a Woman didn't win in the end if he didn't do the work.
4. Paying for your grocery at the cashier, you realize that you went over your budget by P20 and you don't have extra cash or a credit card on you.
GIF from Giphy.com
What would JLC do: Don't be embarrassed. Just be honest and calmly ask the cashier if you can return some of the items you brought. You'd be surprised how regularly cashiers deal with situations like this. Don't forget to flash a sincere smile! Take cues from all of JLC's movies: a grin goes a long way.
5. You realized that you sent the wrong report to your boss when he comes back clearly upset from his meeting.
GIF from Giphy.com
ADVERTISEMENT - CONTINUE READING BELOW
What would JLC do: You cannot allow yourself to wallow in self pity. Just own up to your mistake and apologize to your boss. You'll have to work harder to gain his trust. Remember that JLC's characters may be jerks or cry babies, but they are certainly persistent and eventually gets the girl back in the end.
6. You bump into your ex with her handsome new hubby while you're doing your groceries in your 10-year old jeans.
GIF from Giphy.com
What would JLC do: Instead of slinking away quietly when they've clearly seen you, stand up straight and walk to them. So what if you look like the hubby's house boy? Channel JLC's swagger and confidence as JD in The Mistress: you're a mature, reassured adult.
7. You're a bridesmaid at your cousin's wedding. As usual, all your relatives are on your case for being single and unattached.
GIF from Giphy.com
What would JLC do: Don't let your relatives get to you, although you feel like you're being harshly judged (which may be true); know that some of them are just truly concerned for you. Grin and bear it: think like Miggy Montenegro in It Takes a Man and a Woman. You'll win your relatives over sooner or later.
8. Your best bud is heartbroken over a woman you don't even think is good for him.
GIF from Giphy.com
What would JLC do: Be a good friend and channel JLC's portrayal of Popoy: sympathize with your friend and cry with him if you need to. Focus on your friend's feelings instead of your personal opinions about his ex. Despite what most people think, guys get hurt, too.
9. It's Saturday night and finding a parking space is next to impossible. When you finally find a parking space, you maneuver to park but then a smaller car rudely cuts in and steals your spot.
GIF from Giphy.com
What would JLC do: Keep your cool and remind yourself that you're out to have fun and not get into fights over parking spaces. Be the bigger man and look for another spot. Don't forget to enjoy life's little moments: take lessons from JLC's portrayal of live-for-the-moment Macky Galvez.
10. You're craving for midnight munchies but you're broke.
What would JLC do: Scour inside your ref and cupboards : there's a high possibility that your food hunt will be fruitful .Yes, even that 1-month old pack of Magic Crackers will taste great.
ADVERTISEMENT - CONTINUE READING BELOW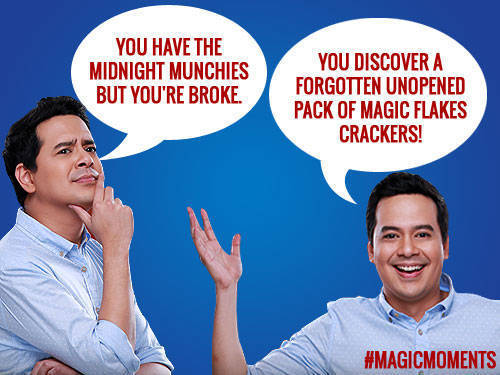 Images from Magic Crackers' Facebook page
Load More Stories