Call for Nominations: 2014 U.P. Gawad Plaridel
Award upholds ideals of Marcelo H. del Pilar. Past recipients include Vilma Santos, Rosa Rosal, Kidlat Tahimik, and Pete Lacaba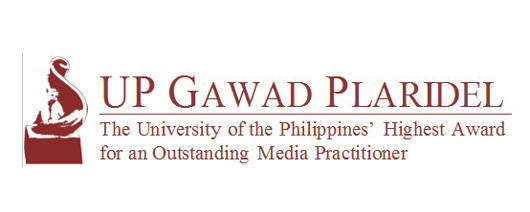 The UP College of Mass Communication is now accepting nominations for the tenth recipient of the U.P. Gawad Plaridel, the University of the Philippines' highest award for an outstanding media practitioner.

The U.P. Gawad Plaridel bestows honor on Filipino media practitioners who have excelled in any of the media and have performed with the highest level of professional integrity in the interest of public service.
ADVERTISEMENT - CONTINUE READING BELOW
CONTINUE READING BELOW
Recommended Videos
The award is named after Marcelo H. del Pilar (nom de plume, Plaridel), the selfless propagandist whose stewardship of the reformist newspaper La Solidaridad helped crystallize nationalist sentiments and ignite libertarian ideas in the 1890s.
Like Plaridel, the recipient of the award must believe in the vision of a Philippine society that is egalitarian, participative, and progressive; and in media that are socially responsible, critical and vigilant, liberative and transformative, and free and independent. 


For 2014, the U.P. Gawad Plaridel will be given to an outstanding transmedia practitioner (one who excels in at least two media platforms).
This year's recipient will join the roster of awardees: Ms. Eugenia Duran-Apostol (2004, Print); Ms. Vilma Santos (2005, Film); Ms. Fidela "Tiya Dely" Magpayo (2006, Radio); Ms. Cecilia "Cheche" L. Lazaro (2007, Television); Mr. Pachico A. Seares (2008, Community Print Media); Mr. Kidlat Tahimik (2009, Independent Film); Ms. Eloisa "Lola Sela" Cruz-Canlas (2011, Radio); Ms. Florence "Rosa Rosal" Gayda (2012, Television); and Mr. Jose "Pete" Lacaba Jr. (2013, Print).  

Award guidelines and nomination forms may be downloaded from the College of Mass Communication's website.  Deadline for submission of nominations is on 31 March 2014. For inquiries, please contact the Office of Extension and External Relations at 981-8500 loc. 2668 or 920-6864 or email upgawadplaridel@gmail.com
ADVERTISEMENT - CONTINUE READING BELOW
Load More Stories