The Week's News in a Nutshell: Alan Peter Cayetano for President, Binay is a Party, and others
Your cheat sheet to what's been happening in the city this week.
(SPOT.ph) Brush up on bar room topics or date night conversation starters with our cheat sheet to this week's news.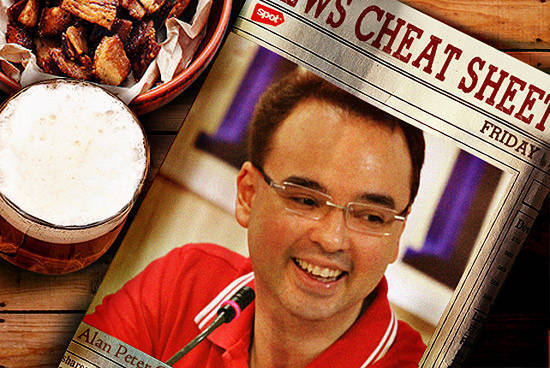 "Alan Peter Cayetano for President? Hmm."
Fast facts: This is not a drill. Cayetano openly stated that he feels like he has a good chance of winning in 2016 and that he has hired someone (political consultant Greg Garcia) to help him make that happen.
Suggested responses:
Cynical: "I don't know. He seems to like picking fights with people."
Conscientious: "Good! His performance in the PDAF Scam Senate Hearings was actually commendable. I might vote for him!"
Kupal: "I like his sister more. Catchier jingle. Kay Pia, Pia, Pia tayo. Kay companyero Pia Cayetano. Diba? But I guess they're the same banana."
Fast facts: It's not formal yet, but Vice President Jejomar Binay is planning to launch his own political party on June 12. All the Binays in power will leave UNA to join the unnamed Binay club once it's established.
Suggested responses:
Cynical: "This makes sense. They give away free cake. It's always a party!"
Conscientious: "It's nice that they're all in one big happy family party. Panindigan ang pagiging dynasty."
Kupal: "Binayaran. That's a nice name for that party."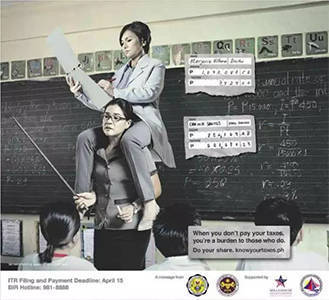 ADVERTISEMENT - CONTINUE READING BELOW
"What the hell is Kim Henares' problem with doctors?"
Fast facts: The BIR has been after everyone from Osang (The Voice of Israel winner) to people who gave us the wonderful magic of lechon (they even used SPOT.ph as a reference for that!). Henares addressed the issue by saying that the goal is to shame tax evaders, not doctors.
Suggested responses:
Cynical: "Do they use our taxes for these ads? Are we paying for these campaigns?"
Conscientious: "Why don't they put out a campaign to shame politicians who waste our money?"
Kupal: "That teacher is really, really strong."
"In more shaming news, did you see that guy who stole tuyo?"
Fast facts: The Commission on Human Rights is now investigating the public humiliation of an alleged tuyo thief. The man was ordered by the local civil security of Tanauan to walk around with a sign that reads, "Ako ay magnanakaw. 'Wag akong tularan."
Suggested responses:
Cynical: "Cruel and unusual punishment should have been abolished centuries ago. Janet Lim-Napoles stole billions for us and we pay her medical bills. Why, world? Why?"
Conscientious: "I have a feeling that even if we do this to politicians, they wouldn't feel any sense of shame."
Kupal: "This could have been his

Les Misérables

moment!"
"So...this Cunanan dude was in the Senate."
Fast facts: FYI, Dennis Cunanan is the Director-General of the Technology Resource Center (TRC). This was the guy whom Bong Revilla was ranting about last week, claiming that Mar Roxas was trying to persuade people to testify against those involved in the PDAF Scam. Cunanan wants to be a state witness, but he also wants people to know that he did not benefit from the deals. He never took a centavo. Not once. Not ever.
Suggested responses:
Cynical: "If this guy gets accepted as a witness, I'm applying. He doesn't seem to be directly involved. Why is he even there?"
Conscientious: "Where is all this going? What have they said that we don't already know? It's not like any of them are actually saying anything that damns Pogi, Tanda, or Sexy more."
Load More Stories