10 Local Marketing Campaigns That Went Viral
Magnum ice cream, #MedyoBadBoy, Jessy Mendiola and the Tengs - and Olivia. These and other promotions caught our imagination.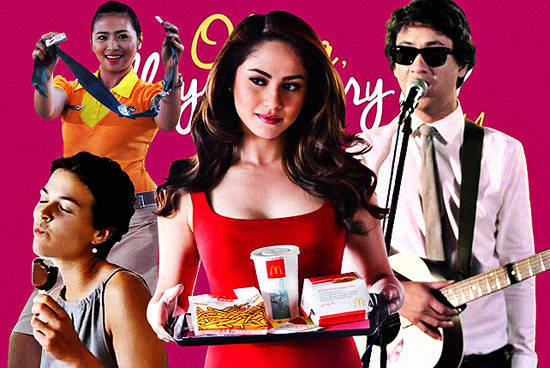 (SPOT.ph) "Viral," a word for our time, lately seems to be the common objective for the ultra-sophisticated world of PR and marketing in their mission to catch the fleeting attention of the citizenry in cyberspace. It all seems facile, this virtual environment we live in. Yet we (both the public and the forces seeking its response) also reveal much of ourselves:  our temper, spirit, and character as Filipinos, and our dynamism and creativity amid the modernity of the 21st century.
Here are 10 marketing campaigns that have caught the Internet's interest, making them spread like the proverbial common cold.
This list is not ranked.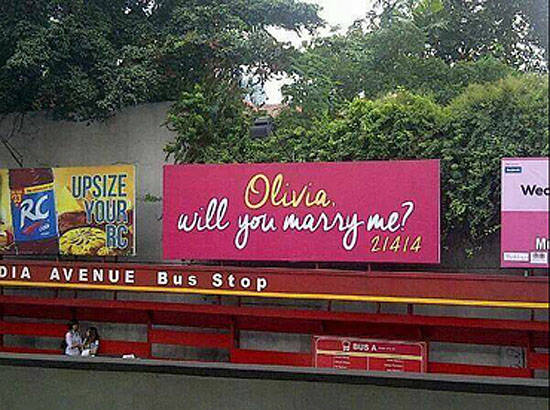 Marketing goes kilig with the Olivia billboards. Photo by cosmo.ph
1. Olivia, will you marry me?
The word (or phrase) here was literally out in the streets in the commercial season leading up to Valentine's Day. And, of course, this cryptic billboard in electric pink had elicited widespread speculation online that turned into a predominantly disappointed "Ay," and "Asar," when the Olivia teaser turned out to be a marketing campaign by Empire East Land Holdings Inc. for prime real estate "as low as Php 2,141.4/week"-this rate resembling the date of Valentine's Day 2014. The real surprise about this anti-climax was that not a few among the public had really expected this outcome to be all-the-way kilig. People were guessing other things that were still in the neighborhood of romance, going by a list drawn up by Cosmo.ph. So there it is-our collective aspiration for fulfilled love, tapped by the marketing-savvy team that drew up this campaign.
ADVERTISEMENT - CONTINUE READING BELOW
2. Pantene: Whip It! Ad
BBDO Guerrero's "Labels Against Women" commercial for Pantene is a striking depiction of our zeitgeist: the modern Filipino woman who has evolved further from the cosmopolite Filipina of the '60s and '70s and asserted her sovereignty and authority in today's hyper-corporate world. Except that this ad was also marred by accusations of plagiarism because of its eerie similarity to a Glee music vid that an executive of the ad agency claims is purely coincidental. Oh well, good or bad publicity is still publicity. And this staunchly sleek, visual glory of a commercial has acquired a life of its own, carrying as well its baggage of controversy.
CONTINUE READING BELOW
Recommended Videos
3. The Teng Brothers Surprise
McDonald's is legendary when it comes to marketing-remember Karen?-and they just keep getting better. The CBCP might have frowned upon little kids sharing French Fries innocently, but the series of advertisements involving Jessy Mendiola and the McSpicy, Shake Shake Fries, and, finally, the surprise of UAAP star baller Jeric Teng was a streak of brilliance that we have to applaud. The video, which involved Jessy transforming basketball court royalty into a blushing boy spread like Nutella on everything. They weren't even promoting a single meal, but it made people feel like going to McDonald's may lead to magical experiences.
4. Cebu Pacific's dancing attendants
In the event of an emergency: dance! That's not really a good tip, but it's nice that Cebu Pacific spiced up the flight safety spiel of the attendants. Admittedly, it's frightening to discuss emergency evacuation procedures thousands and thousands of feet up in the air, and doing it to a fun beat makes it easier to swallow. They don't do it anymore, but the strength of the campaign still flies high.
ADVERTISEMENT - CONTINUE READING BELOW
5. #MedyoBadBoy
We're not really sure what hashtags are good for in the offline world, but Oishi (Marty's) definitely did something right-and they even used the perfect face for it. It reminds us of the kind of guy DJ Alvaro prefers (maginoo, pero medyo bastos), and we do love guys who know how to balance swag with sweet.
6. Magnum ice cream
You just had to have an opinion on it. There's nothing more effective than a word-of-mouth campaign, and when Magnum hit the market, the entire population couldn't shut up about the luxury ice cream bar. Selfies were posted, hatred was expressed, and a buzz that couldn't be filtered from your ears was created. People flocked to the nearest convenience store to see what the hullabaloo was about. Admit it, you gave in. We certainly did.
7. Coca-Cola: Where Will Happiness Strike Next?
A billboard that cleans the air, equating opening a bottle with joy, practically owning Christmas...Coca-Cola is a giant. But as far as giants go, at least, they're benevolent ones. They played the adorable 100 years of Coke video for us, and as if that wasn't enough to reduce us to puddles of tears, along came The OFW Project.  It bagged the top honors in the 2012 Asia Pacific Digital Media Awards, riding the river of tears people cried over the touching story to victory.
8. The Million People March
Moving on now to that loftier plane of the public interest, the public good. This is one "campaign" that's outside marketing as it crosses over to the spontaneous, volatile realm of populist movements. The Million People March provoked by the raging pork-barrel controversy may not have matched the massive protest rallies in the twilight of the Marcos regime (beginning with the funeral march for Ninoy Aquino in 1983). But it was all crowded in cyberspace, as civil society, the celebrity world, and the netizenry voiced their unanimous objection to this long-standing bane in Philippine politics that became highlighted by the Napoles scandal. Yet amid the seriousness of this campaign, there was also as much fun on the 'Net as in the streets. At least this facet the government itself will affirm.
ADVERTISEMENT - CONTINUE READING BELOW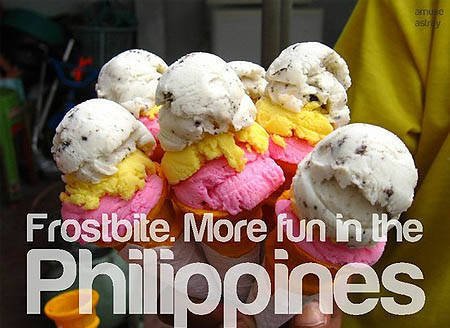 9. It's More Fun in the Philippines
This slogan had also prompted skeptics to spot a similar-themed campaign from the past. But the government went earnest and headstrong in this campaign, which elicited widespread, spontaneous variations on social media. It's an affirmation of this slogan that it still thrives, two years into its existence-perhaps indeed enticing the growing community of foreigners to relocate here. And "more fun in the Philippines" is still being referenced even until recently by the likes of Paris Hilton.
10. "Tayo'y Mga Pinoy" commercial
This campaign by Smart Bro is inspired yet practically simple: put four of the biggest icons in today's music scene in an affirmative update of the Heber Bartolome classic, and you have a spot that is retro-futurist in its objective and result-celebrating the legacy of OPM and charting its directions for the future. That genre, indeed, thrives in that campaign and in the public memory.
ADVERTISEMENT - CONTINUE READING BELOW
[poll]241[/poll]
Share this story with your friends!
---
Help us make Spot.ph better!
Take the short survey
Load More Stories