MOVIE REVIEW: Need for Speed
SPOT.ph blogger Paul Daza's take on the videogame-turned-movie.
STORY: Based on the multi-billion dollar videogame franchise, Need for Speed is about Tobey Marshall (Aaron Paul), a talented street racer who's unjustly jailed for the death of his friend Pete (Harrison Gilbertson) in a car accident. When Tobey's released from prison after two years, he joins the De Leon, a super secret racing contest where millions of dollars worth of muscle cars are the prize. But Tobey isn't after the prize or the bragging rights. What he wants is revenge on former NASCAR driver Dino Brewster (Dominic Cooper), the man who actually caused Pete's death. But as Tobey embarks on his cross-country drive to exact revenge, Dino puts a six million-dollar price on Tobey's head, imperiling his chances of even making it to the De Leon race alive.
PLUSES
The sweeping scenery. Because Need's story involves a cross-country, east-to-west road trip, the movie at times becomes a de facto travelogue. Among the vistas on display are vibrant aerial shots of the outskirts of New York and Utah's magnificent Monument Valley. For nostalgia seekers, there's an early scene which takes place in a charming drive-in theater that was filmed in one of the few such surviving establishments in Georgia.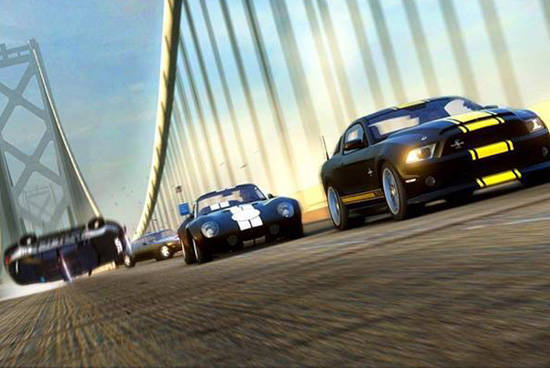 ADVERTISEMENT - CONTINUE READING BELOW
The muscle cars are this film's stars. Photos from the Need for Speed Facebook page.
Those super sleek speedsters. I'm not into muscle cars, but I know there are quite a few aficionados out there who'll argue that Need for Speed's real stars are the Shelby Mustang, Swedish Koenigsegg, and McLaren P1 that figure in the plot. If you want to gawk at a Lamborghini Sesto Elemento or a Saleen S-7 on a larger-than-life cinema screen, this one's for you.
The kinetic car chases and races. The Fast & Furious franchise lost some of its allure when the filmmakers revealed how much computer animation was used to deliver the breathtaking stunts that fans expected from the series. Not wanting to be accused of the same type of cinematic sleight-of-hand, Need for Speed's producers have proudly declared that most of the car stunts seen in their movie were done practically, with minimal help from digital wizardry. And so, when you see those costly muscle cars zoom, crash, burn, turn turtle, and even fly (!) in Need, spare the stunt drivers and coordinators an ounce of more respect than you'd give to a film that had an army of visual effects artists listed in the end credits.
CONTINUE READING BELOW
Recommended Videos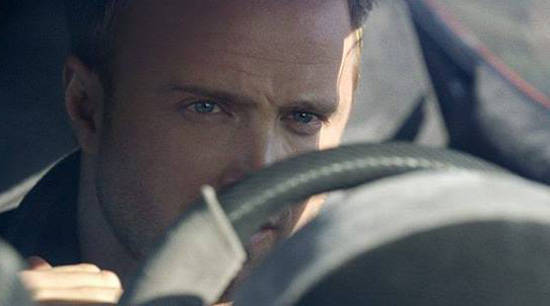 ADVERTISEMENT - CONTINUE READING BELOW
Aaron Paul handles a movie vehicle that's anything but Breaking Bad.
MINUSES
The improbable story. In telling us about the early years of Aaron Paul's character in its opening credits, Need for Speed seems to be trying its darndest best to improve on other videogame inspired movies by actually creating a protagonist we can care about. Unlike Tomb Raider, Prince of Persia, and the Resident Evil films, Need for Speed expends a lot of effort humanizing its main guy so we can root for him when the arrogant villain starts messing with him. The producers even hired a two-time Emmy award-winner to play him. Alas, not even an actor as gifted as Breaking Bad's Aaron Paul can save a script as inept as this one. The broad strokes of Tobey's backstory are fine, but it all goes downhill when bad guy Dino frames Tobey for Pete's death using a preposterous detail involving mass amnesia worthy of the Men in Black movies. Also absurd is a subplot that has the character Anita (Dakota Johnson) becoming engaged to Dino against all the rules of logic.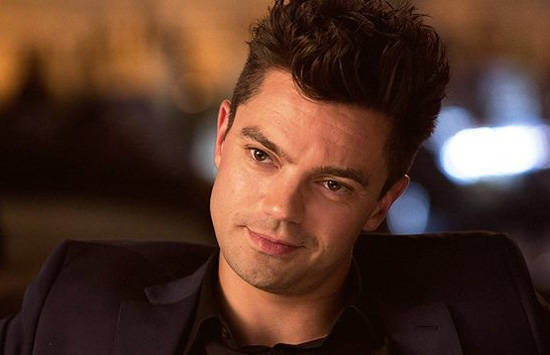 ADVERTISEMENT - CONTINUE READING BELOW
Versatile actor Dominic Cooper makes the most of his paper role as the bad guy.
The thinly-sketched characters. Dakota Johnson, soon to be seen as Anastasia Steele in the film adaptation of the bestseller Fifty Shades of Grey, isn't the only actor the lame script wastes. The talented Dominic Cooper is also saddled with the task of portraying a two-dimensional baddie who has no redeeming traits whatsoever. Likewise, as the "Monarch" who hosts the De Leon, Michael Keaton does his best to make his car-obsessed character come to life onscreen even if the script deprives Monarch of a dramatic payoff worthy of his intriguing role in the tale.
IN BRIEF: If costly cars, spectacular chases, and high velocity races are what you're looking for, Need for Speed will satisfy. The faulty script, however, is a lemon that leaves much to be desired and wastes the talents of skilled actors like Aaron Paul, Dominic Cooper, and Michael Keaton.
RATING: ••. 2 ½ spots out of 5
Share this story with your friends!
---
Help us make Spot.ph better!
Take the short survey
Load More Stories