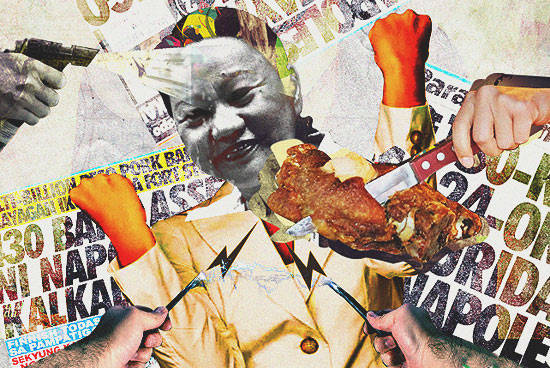 (SPOT.ph) We don't know if she was literally swimming in cash, but based on Benhur Luy's testimony, we're convinced that Janet Lim Napoles had so much of our money, she had to put it in her bathtub. Now, we've never been millionaires, but we can imagine how hard it must be not to be able to afford certain luxuries in life that one once enjoyed and flaunted so lavishly.
To save her from going into shock due to withdrawal, our generosity as a nation soars as we kindly allow her to use our taxes to cope with failing mental health (the memory gaps worry us) and the loss of a steady social support system (e.g., former allies who are now denying that they ever knew her).
Here are 10 Things Janet Lim Napoles is enjoying out of the goodness of our hearts.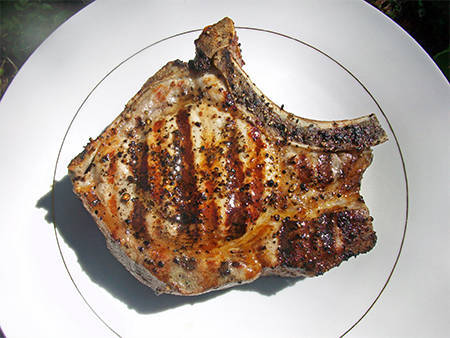 ADVERTISEMENT - CONTINUE READING BELOW
We wonder: are they serving her pork? (Photo from fourstringfarm.me)
1. Food.
She also has food tasters, in case someone wants to poison her. Meanwhile, worms were found in relief goods for those devastated by Supertyphoon Yolanda.
2. Water.
Did you come across PAG-ASA's announcement that we're going to have a terribly hot summer? It would be nice if we could all have a refreshing shower whenever we want without worrying about the water bill. Madam Jenny has that luxury.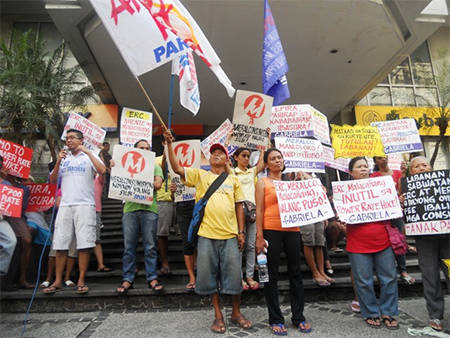 ADVERTISEMENT - CONTINUE READING BELOW
Recommended Videos
"Meralco? What's that?" (Photo from bulatlat.com)
3. Electricity.
Madam Jenny doesn't have to worry about the brouhaha over Meralco.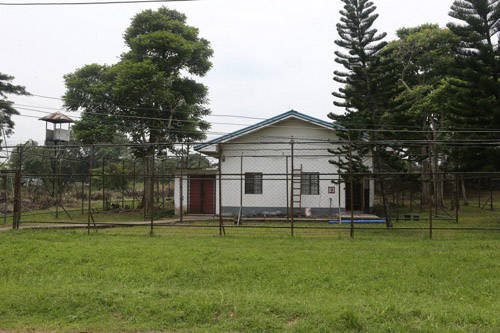 It has steel bars, but it's still pretty homey. Photo from ABS-CBN.com
4. Lodging.
While some people make do with bus stop benches for beds, Madam Jenny has a mattress. She's always had a decent roof over her head too-a special office furnished with a desk and couch in Makati City Jail and then off to Fort Santo Domingo, where she has her own little bungalow.
ADVERTISEMENT - CONTINUE READING BELOW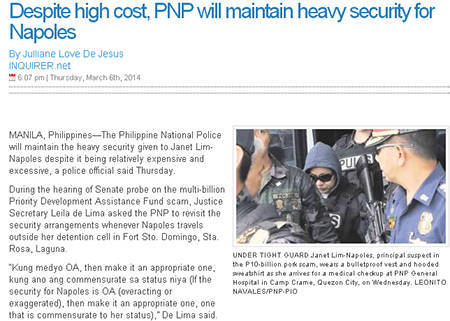 Because nobody wants her to die, right? (Screencap of photo from Inquirer.net)
5. Security.
She has guards. If you're not familiar, guards are like pepper sprays, but more efficient.
6. Transportation.
She doesn't pop a vein like most of us do when the MRT goes on the fritz.
ADVERTISEMENT - CONTINUE READING BELOW
7. Medical Check-ups.
Yes, we did foot her P3,000 medical expense. And it looks like we will continue to pay to find out if she has cancer.
8. A bullet-proof vest.
Hopefully, what she's wearing is better than the substandard equipment she supplied the military in 2001.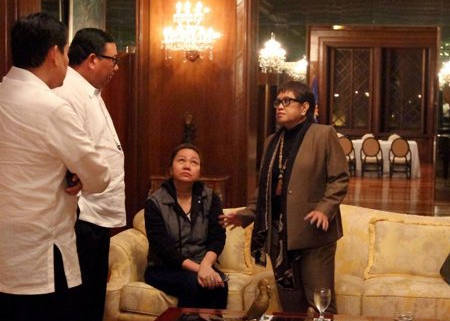 She seems unsatisfied with the Palace. Perhaps her house looks a tiny bit more posh.
ADVERTISEMENT - CONTINUE READING BELOW
9. A direct line to the Palace.
President Aquino is a very busy man. It's hard to get a hold of him. You  have to be a high-level criminal to enter the Palace.
10. Dignity.
She's not living in squalor, she doesn't have to worry about food, and, because she has forgotten so much about her stint as a scammer, she probably isn't losing a wink of sleep over her predicament. Basically, Madam Jenny is still living a much better life than most of us.
Share this story with your friends!
---
Help us make Spot.ph better!
Take the short survey
Load More Stories