What kind of game is Kris Aquino playing? (The Bistek Issue Reloaded)
We bet she's enjoying our collective confusion.
With Instagram as her platform of choice, Kris Aquino has continued to stir up controversy. As the Philippines' national gossip fodder, Aquino's antics often become the topic of Pinoys' conversations, whether they like it or not and whether they admit it or not. Each time we come up with a story on her life, particularly her love life, many people claim that they don't care. But, oh, the clicks we get for it say otherwise.
ABS-CBNnews.com reports that Aquino recently posted a photo showing Quezon City Mayor Herbert Bautista hanging out with her clan. As usual, the photo has already been deleted from Aquino Instagram page.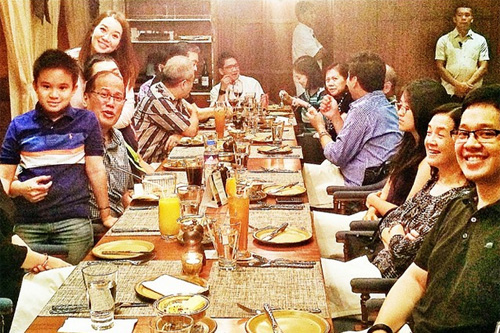 ADVERTISEMENT - CONTINUE READING BELOW
CONTINUE READING BELOW
Recommended Videos
There's Bistek at the back! (Screenshot of Kris Aquino's Instagram photo, as posted on ABS-CBNnews.com.)
What is up? Aquino was also recently linked to Bataan Governor Abet Garcia and actor Derek Ramsay, so this is confusing. But something tells us she likes it that way. Maybe it's all a ploy to conceal the fact that she's running for senator or something. (Or: She's involved with one of the guys mentioned but she makes it look like she's seeing all of them so we won't know which one is really her latest man.)
For more on this story, log on to ABS-CBNnews.com.
Load More Stories