10 Things You Might Not Have Known about Araw ng Kagitingan
Fact check: What exactly is this holiday about?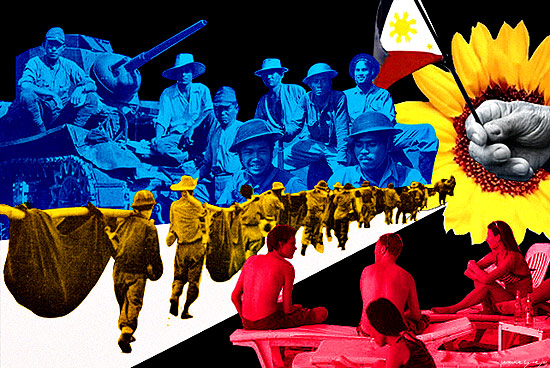 (SPOT.ph) Filipinos have been honoring Araw ng Kagitingan since 1987 by just going on a "no work-no school" day.  Though we aren't into the celebrations of flag-raising, military parades, and honoring our World War II veterans (after all, April means summer romps on beaches and vacation spots),  it won't hurt to learn some things on what this holiday is all about.  So here are 10 Facts that you should know about Araw ng Kagitingan:
ADVERTISEMENT - CONTINUE READING BELOW
CONTINUE READING BELOW
Recommended Videos
1. This used to be two national holidays.
Araw ng Kagitingan is actually the commemoration of what was formerly two national holidays:  the Fall of Bataan (April 9) and the Fall of Corregidor (May 6).  Executive Order 203 signed by President Cory Aquino revised national holidays, combining the two into Araw ng Kagitingan.
2. We're commemorating two major defeats.
Araw ng Kagitingan is, ironically, a commemoration of two major defeats in the Philippines in the annals of World War II.  But these were defeats that left the Filipino soldier with "bloody but unbowed" heads.
3.  The battle wasn't a single incident.
The Battle of Bataan wasn't one single battle but a series of clashes following the retreat of the United States Armed Forces in the Far East (USAFFE) in December 1941. One of the famous battles was the month-long (January 13 to February 13, 1942) "Battle of the Points" which involved the defense of the Bataan coastline against Japanese landings where a small unit of Filipino-American soldiers held off a large number of enemy troops before being finally overwhelmed.
ADVERTISEMENT - CONTINUE READING BELOW
4. Reinforcements did not arrive.
The retreat to Bataan was part of a plan called War Plan Orange 3 which involved moving the entire Army in the Philippines to the Bataan peninsula (which guarded the entrance to Manila Bay) where they would fight a delaying action until the arrival of the US Pacific Fleet.  Unfortunately, reinforcements did not arrive.
5. Bataan's origins.
Bataan was a province that was carved out of territories from Pampanga, the nearby military district (corregimiento) of Mariveles, and parts of Maragondon, Cavite. It was established in 1754 by Governor-General Pedro Manuel Arandia.
6. The one piece the writer S.P. Lopez must have been loath to write.
The radio announcement of the surrender of Bataan over the Voice of Freedom on Corregidor Island ("Bataan has fallen....") was written by Lt. Salvador P. Lopez (who later became UP President) and read by Lt. Norman Reyes.
7. The Death March.
The  Bataan Death March, which was one of the Japanese atrocities during World War II wasn't entirely a march.  The estimated 70,000 American and Filipino soldiers were forced to walk 128 kilometers under the hot sun from Mariveles, Bataan, to San Fernando, Pampanga, before being herded into railway cattle cars to Camp O'Donnell in Capas, Tarlac, which the occupying Japanese turned into a prison camp.
ADVERTISEMENT - CONTINUE READING BELOW
8. A soldier's delaying action.
A famous veteran of the Battle of Bataan was Sgt. Jose Calugas who was awarded the Medal of Honor for leading his unit in a defense position under heavy Japanese artillery fire on January 6, 1942.  His action caused a delay in the Japanese attack on their position, giving time for his fellow soldiers to reinforce their defense line.
9. Memorial for the fallen.
The Dambana ng Kagitingan (Shrine of Valor) which was built in 1970 near the top of Mount Samat in Pilar, Bataan is a monument to the gallant Filipino and American soldiers who died during World War II.  It consists of a cross measuring 302 feet in height.
10. And for those who remain.
There are only some 18,000 living Filipino veterans of the estimated 200,000 soldiers who fought during World War II.
Load More Stories