10 Most Inspiring Graduation Speeches
Because sometimes "be yourself" just doesn't work anymore.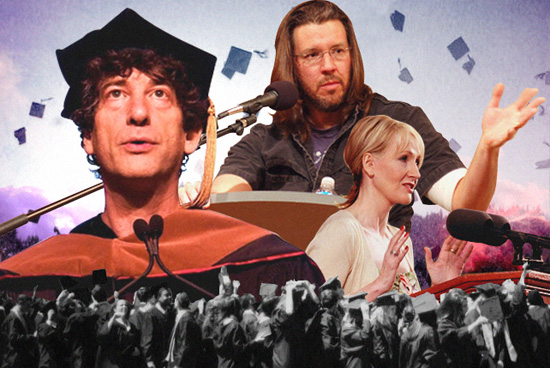 (SPOT.ph) College commencement speeches are best kept brief and brisk. After all, the target audience has been sitting through lectures for four years (or more). Regardless of how they feel about learning, it just seems wasteful to throw clichés or touchy-feely messages of hope and false positivisms at fresh graduates. The last stretch-the last 20 or so minutes they are forced to sit and listen-should be filled with both style and substance.
In the unfortunate event that you were deprived of a spectacular speech from a distinguished speaker, we've compiled 10 of the best college commencement addresses to inject you with some motivation, inspiration, with some practical wisdom on the side.
This list is not ranked.
1. David Foster Wallace (This is Water, Commencement Speech to Kenyon College Class of 2005)
After dissecting and deconstructing the anatomy of a commencement speech, David Foster Wallace carefully arranges the rest of his own speech to deliver a depressing but important fact of life, i.e., "the most obvious, important realities are often the ones that are hardest to see and talk about." The impact of his the sentences he'll read out will depend on your receptiveness, because as he himself disclaims, they may sound nothing more than a series of banal platitudes. The speech was adapted into a book a year after Wallace died, which is a testament to the elasticity of his sentiments.
2. J.K. Rowling (The Fringe Benefits of Failure and the Importance of Imagination, Commencement Address at the Annual Meeting of the Harvard Alumni Association 2008.)
ADVERTISEMENT - CONTINUE READING BELOW
She says, "There is an expiry date on blaming your parents for steering you in the wrong direction," and the crowd roars in cheers and laughter. The author of the widely popular Harry Potter series then de-romanticizes poverty, and introduces the idea of failure and the security in knowing you can survive. Her English accent softens the harsh reality about the stories from letters she read while working for Amnesty International, but as it concludes, you'll find yourself seeing this woman who writes about witches and wizards in a very different light.  (She was, after all, talking about empathy more than anything else.)
CONTINUE READING BELOW
Recommended Videos
3. Steve Jobs (Commence Address to Stanford University Class of 2005)
Unlike Wallace and Rowling, Steve Jobs' words don't resound with kindness but the speech is empowering nonetheless. Jobs encouraged the Stanford Class of 2005 to follow their gut, never settle, and to never let the opinion of others drown out their inner voice. It's aligned with everything Jobs stood for when was still alive-a strong sense of individualism and style.
4. Bill Gates (Commencement Address delivered at the Harvard University's 2007 Commencement Afternoon Exercises)
In contrast with Jobs' "connect the dots" theory, Bill Gates shared his one big regret. He managed to be one of the richest people who have ever lived, but he "left Harvard with no real awareness of the awful inequities in the world - the appalling disparities of health, and wealth, and opportunity that condemn millions of people to lives of despair." Gates and his wife are currently in the process of "doing the most number good to the greatest number with their resources." It's not easy, but he also remarked that complexity is not a thing to be feared and encouraged his listeners to experience the joy of curing the world from inequities.
ADVERTISEMENT - CONTINUE READING BELOW
5. Neil Gaiman (Keynote Address 2012 for the University of the Arts Class of 2012)
There's a funny part in the speech where Gaiman jokes about the events rumored to have transpired after his work, Sandman # 19: A Midsummer Night's Dream, won the World Fantasy Award for Best Short Fiction. Those who were familiar with the alleged change in criteria for the category cheered but instead of smugness, Gaiman encouraged his audience to make up their own rules too. He ends the speech with a note that will sound familiar to those who have read Kurt Vonnegut (hint: something about pretending). Above all things: make mistakes and make art.
6. Ellen Degeneres (Commencement Speech to Tulane Class of 2009)
It's funny, witty, and smart when it needs to be. "Be yourself" is terrible advice and "live your life with integrity" doesn't really work for everyone...but if you follow it up with a metaphor that likens life to Mardi Gras (only you show people your brains instead of boobs)? You can laugh because it sounds like a joke but it's actually a good rule to follow.
7. Meryl Streep (Barnard Commencement Speech in 2010)
The phenomenal actress speaks for nearly 30 minutes but take a moment to mince these words, "Pretending is imagined possibility. Pretending or acting is a very valuable life skill and we all do it. All the time, we don't want to be caught doing it but nevertheless it's part of the adaptations of our species, we change who we are to fit the exigencies of our time, and not just strategically, or to our own advantage, sometimes sympathetically, without our even knowing it for the betterment of the whole group."
ADVERTISEMENT - CONTINUE READING BELOW
8. Toni Morrisson (Commencement Address to the Rutgers University Class of 2011)
Morrisson hits hard by touching upon the implications of slavery in her speech and then refelction on what happiness means. She wistfully states that Thomas Jefferson should have written the pursuit of meaningfulness instead of the pursuit of happiness-to be citizens instead of consumers. It's nowhere near upbeat, but it's the kind of thing we all need to hear at some point or another.
Full speech here.
9. Conan O'Brien (Dartmouth College Commencement Address 2011)
The biting snark of this lovable ginger is an acquired taste and if you love it, you'll find this speech strangely comforting-despite the fact that he depresses you by opening with a list of injustices in the world. The Conan Doctrine is hilarious, of course, and his practical tips for life are great, but when he gets to the part where he shares his story in the late-night show industry and relates it to how dreams (among other things) change, it gets really touching. "Work hard, be kind, and amazing things will happen."
10.  Joss Whedon (Wesleyan University Commencement Speech 2013)
Contradiction and tension-some words you rarely hear in a motivational speech. Neither is "you are going to die," but that's what you get with Josh Whedon. The acclaimed screenwriter and director went beyond the "listen to yourself" paradigm. He acknowledged the other voice-a dissenting voice inside you. Are there multiple voices inside you? Sounds crazy, but as you mature, you'll realize that you need to learn how to talk to yourself-and listen.
ADVERTISEMENT - CONTINUE READING BELOW
Bonus: "The Sunscreen Song"
Often erroneously attributed to Kurt Vonnegut, "The Sunscreen Song" is a spoken-word song based on an essay by Mary Schmich. It's the best thing you can do with the spare five minutes that you have.
---
Help us make Spot.ph better!
Take the short survey
Load More Stories