Heartache haircut? Kris Aquino debuts her "Miley Cyrus look"
She went hardcore cryptic when she was asked why she cut her locks.
Watch the video and see if you can figure out what Kris Aquino is talking about. Also, what do you think of her new 'do?
You gotta hand it to Kris Aquino, she knows how to stir things up-so much so that she should consider teaching a course on it.
In the wake of her admission that she is exploring the possibility of forever with her work-in-progress almost-but-maybe-not-quite-a-relationship with actor-turned-Quezon City Mayor Herbert Bautista, Aquino is now hinting that it's time to move on.
In the Monday, April 21 live telecast of the primetime talk show Aquino & Abunda Tonight, Aquino showed off what she claims her son had called her "Miley Cyrus look." She then smiled and hinted that her hair change was due to a "heartache." (Or something to that effect.) She also explained that women often cut their hair when "may pinagdadaanan."
Naturally, her critics and fans (ourselves included, although we play both sides) immediately speculated that, perhaps, she had chucked Mr. Work-in-Progress because he allegedly hadn't really broken up with his longtime partner and mother of his two kids, Tates Gana (photo below). She and Bautista have been together for 20 years.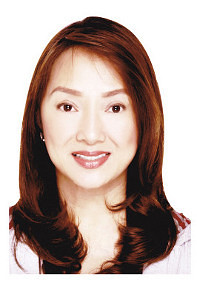 Ma. Teresa "Tates" Gana (Screenshot from the iHelp Foundation website)
Load More Stories