Get your trashy news fix: Lindsay Lohan explains why she made a "Sex List"
She has confirmed that the written inventory of her sexual partners is real.
The recently-publicized list of Lindsay Lohan's sexual partners reads like a guest book for a Hollywood party. It's so over-the-top that some people may have trouble believing it. Lohan has confirmed that the list is authentic, though
E! correspondent Zach Johnson reports that "in the conclusion of her eight-part Oprah Winfrey Network (OWN) docu-series, 27-year-old actress Lindsay Lohan opened up about the handwritten 'sex list' that revealed 36 men she's allegedly hooked up with over the years."
It turns out that Lohan made the list as part of one of the exercises given to her while she was in rehab.
Lohan disclosed, "That was a part of my [time at] Betty Ford. It's step number five or step number eight. It's your sexual inventory. That was in my Betty Ford book, so that was really personal to my sponsor. You write that for your sponsor."
The "steps" that Lohan is referring to are part of the 12 steps followed by Alcoholics Anonymous. Step 5 involves admitting the exact nature of one's wrongs. Step 8 entails listing all who one has harmed. By "sponsor," she means a rehab "buddy" who is supposed to make sure that the person in treatment keeps it together.
ADVERTISEMENT - CONTINUE READING BELOW
CONTINUE READING BELOW
Recommended Videos
The story is the list was accidentally left at a hotel bar. It's not clear if it was Lohan who left it. A "source" then gave the list to In Touch magazine, which published it. Check out a photo of the list, which (in case you didn't notice) has 36 names.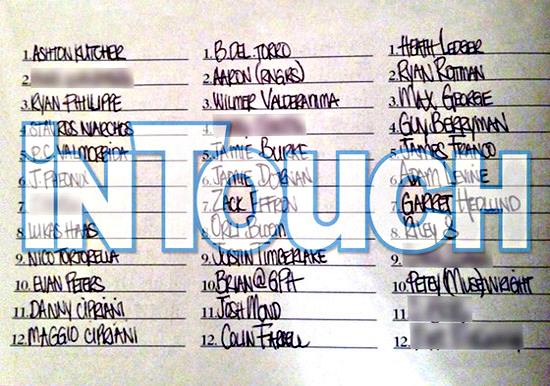 ADVERTISEMENT - CONTINUE READING BELOW
For more on this story, log on to the E! website.
Load More Stories