What to Wear to a Music Festival: An Illustrated Guide
It's a free-for-all, so you can choose to dress as loud as the music. But here's a template for those who want to blend in.
(SPOT.ph) The wave of music festivals has only quite recently hit the Philippines-we had 7107 in February, the CloseUp Forever Summer 2014 kicked off just last year, and next month, the Wanderland Music and Arts Festival will once again gather those who are mad for music and outdoor revelry. But these occasions are more than just concerts-they're scenes. So we thought we'd take note of the most common style trends in these music festivals, just to make it easier for you to blend in with the crowd.
"More is more" is the rule when it comes to music festival style. More patterns, more colors, more accessories, and more skin (which is actually advisable due to the extreme heat). Cultural apparel is another staple at music festivals-bindis, headdresses, various "tribal" iconography... These are just some of the overdone elements found at musical festivals. But they're festivities for art, music, and expression, which includes the festival-goers and their no-holds-barred styles.
Author's note: This article is satirical, hence its categorization under Humor rather than Shopping+Services. SPOT.ph does not endorse cultural appropriation through the trivial accessorizing of bindis and Native American head dresses.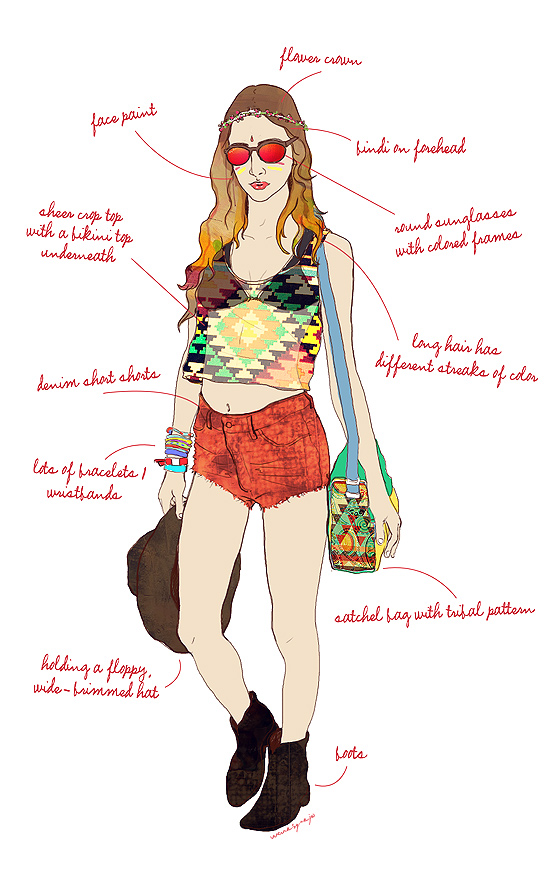 ADVERTISEMENT - CONTINUE READING BELOW
Clothes: For the ladies, the shortest of denim shorts are your best friend. They're durable and one can easily brush grass stains and dirt off of them. Heat is the number one enemy at Philippine music fests, so the more cropped the top, the better. Bare your soul and go with sheer, which will allow you to wear a cute bikini top underneath. There may be no swimming pool or beach nearby, but there's no way a stifling lace or cotton bra is fit for the heat.
Footwear: While boots seem like a stuffy choice, they're more reasonable than sandals and sturdier than sneakers. But by the end of the day, you may need five pedicures, if not foot surgery. Just make sure to wear breathable socks and pack some foot powder.
CONTINUE READING BELOW
Recommended Videos
Accessories: Anyone with a pair of eyes must have noticed that flower crowns have become such a hit that people are actually selling them. Whatever happened to "the best things in life are free"? Or what would the hippies of yesteryears say? But floppy, wide-brimmed hats are practical, especially if you want to protect your hair. A stack of wristbands and bracelets (the brighter the better) are ideal when you're lost in a crowd and waving to a friend.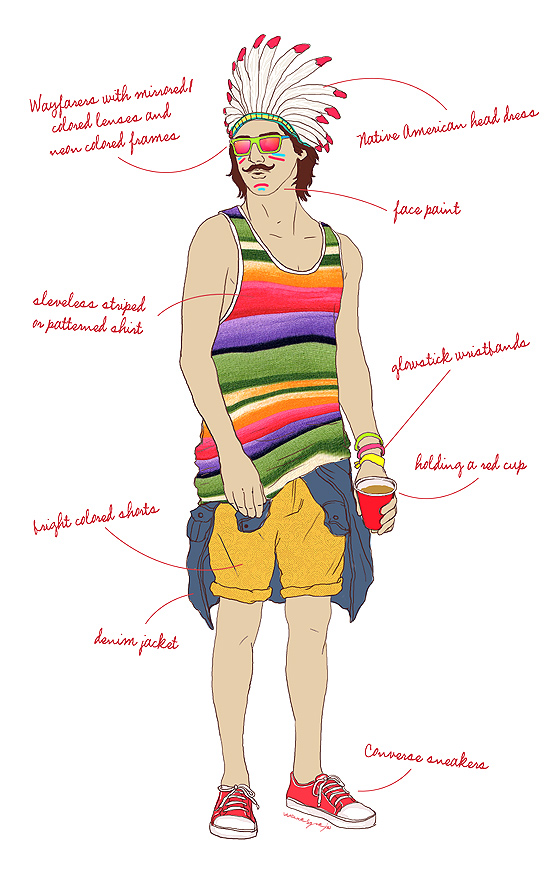 ADVERTISEMENT - CONTINUE READING BELOW
Cothes: Like the ladies, men aren't afraid to test out tight, bright-colored shorts for these festivities. The occasional awkward bulge may be in sight, but that's the purpose of that long-sleeved denim or plaid shirt tied around your waist. Sleeveless tops keep the guys cool.
Footwear: You can't go wrong with classic Chuck Taylors. They're better than the popular choice of music-fest footwear for men, which is usually none.
Accessories: Guys at music fests can get adventurous with colors, patterns, and facial hair, beneath which one may find bits of face paint. Glowsticks as wristbands are at the ready when the sun goes down, while a red Solo cup is always at hand, filled with warm beer.
Special mentions: Temporary tattoos, scribbled messages on one's body ("free hugs"), feathered earrings (feathered anything, for that matter), tie-dyed clothing, statement trucker caps, crochet accessories, face masks (bonus dude-bro points if it's a Guy Fawkes mask), kawaii animal hoods, fedoras.
Enjoy.
Illustrations by Warren Espejo
Also read:
Just Announced: The line-up for Wanderland 2014
PHOTOS: Scenes from CloseUp Forever Summer 2014
PHOTOS: Red Hot Chili Peppers Live at 7107 International Music Fest
---
Help us make Spot.ph better!
Take the short survey
Load More Stories