HOT ON SPOT: Keeping Up with the PDAF Scam
We're giving you a list of lists: the most painless way to stay in the loop!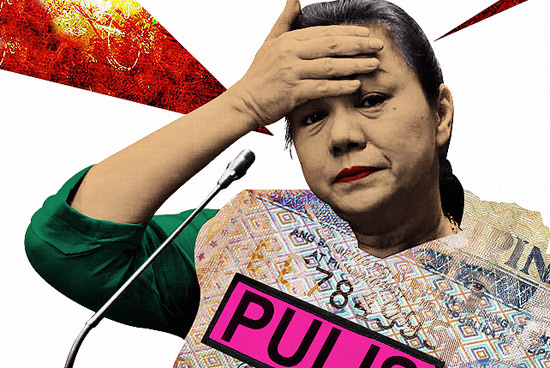 (SPOT.ph) There are a lot of reasons why it's hard to follow the facts involving the PDAF Scam. First, we're constantly bombarded by other problems and we don't really want to deal with more. We know that the Senate hearings and privilege speeches are occasionally amusing, but once the intensity (not to mention the scope) of the damage hits you-you start feeling like you understand why Batman thought being a vigilante was a good idea even though he had to wear tights (and a cape) to be one.
ADVERTISEMENT - CONTINUE READING BELOW
Second, it feels like everyone is lying. We're not saying anyone is actually lying-we're just saying that we don't really know who's clean...or if anyone is clean at all. The mudslinging between camps really isn't helping anyone, which brings us to the third and most important reason why following the PDAF Scam is getting harder: public interest is waning.
We all know that they did something wrong, but getting to the truth of who "they" really are becoming increasingly complicated. The picture that the facts are painting is one that involves only two kinds of public officials: corrupt and incompetent. Nothing about it is good. It's like watching The Human Centipede.
However, we know that it's important to stay vigilant about this...and we're going to give you the details in manageable pieces. We're providing you with a list of lists. Handy facts to know about what was and what is happening with the PDAF Scam.
ADVERTISEMENT - CONTINUE READING BELOW
Enjoy.
1. Animals* that have been unwittingly involved in the mudslinging
Pigs
Female llamas
Parrots
* We want to include fishes, but Senator Jinggoy Estrada was referring to smell and not the actual behavior of the animal. We're not sure if it counts.
2. Things we know after Madam Jenny's confession
* Or so she wants us to believe. Napoles' lawyer, Atty. Bruce Rivera, said that her confession shows that she did not create this system-which makes sense. The problems with the pork barrel dates back to its conception. Madam Jenny is just another player in the game.
3. Things we don't know after Madam Jenny's confession
Who the mastermind is
Who the people involved are
What she actually said
4. What we know from the Lacson list*
*Lacson has stated that he will not reveal the names on the list despite pressure from senators and other groups.
5. A list of defense strategies used by the accused
* Perhaps they really didn't know, but they're not really going after the people behind it. Senator Bong Revilla filed a case against the whistleblowers, but not Janet Lim-Napoles-because she never implicated him. Correct us if we're wrong, but if you believe you were scammed by the JLN Corporation...you should really sue the entire enterprise.
ADVERTISEMENT - CONTINUE READING BELOW
** After Atty. Gigi Reyes' baffling return to the Philippines, Atty. Jose Antonio Evangelista said that it was he who dealt with the "scammers" but he didn't understand that they were scamming.
6. Things Madam Jenny said during her Senate appearance that are no longer true
"Hindi ko po alam."
"Hindi po totoo 'yan."
"Naawa po ako sa kanila."-referring to the three senators facing plunder charges.
7. People who have been tagged as masterminds
Senator Juan Ponce Enrile*
Janet Lim-Napoles
Heck, even Benhur Luy. That's why Senator Revilla filed a case against him.
* Senator Miriam Defensor-Santiago even implicated Rehabilitation Czar Lacson in the conspiracy
8. Cases that have been filed*
*The NBI is preparing a plunder case against more lawmakers, including Senator Gringo Honasan, who was implicated around the same time as Senators Enrile, Estrada, and Revilla.
9. Senators that have officially declared innocence after Napoles' tell-all
Actually, all of them. Even those facing plunder charges. The closest admission to guilt we've heard is that they didn't realize they were sending money to fake NGOs.
On the other hand, Senator Santiago thinks her name will be on the list. Her enemies might put it there, she disclaimed. It's easy to believe her but unfortunately, all humans are fallible. Let's just get to the truth already!
10. Who we trust to fix all this
God.  The Heavens. The Universe. Whoever or whatever you pray to at night. Institutionalized corruption needs divine intervention.
If the facts seems scarce and vague, it's because this is all we can really know.
Load More Stories