A Manila Girl and the Empire Days
A page of vivid history by Nick Joaquin on the occasion of his 10th death anniversary.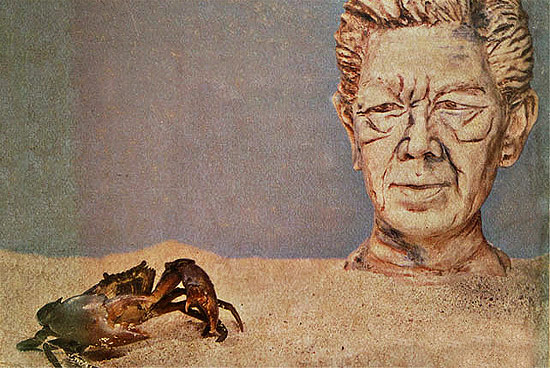 Back cover of Nick Joaquin's second novel Cave and Shadows features his bust, as rendered by sculptress Julie Lluch.
(SPOT.ph) April 29, 2014, is the 10th death anniversary of National Artist Nick Joaquin. As a fictionist, poet, playwright, and journalist, Joaquin remains the most widely celebrated Filipino writer even 10 years after his death at the age of 87. He inspires continuing admiration for his literary work as much as for his journalism, which provides a vivid portrait of his beloved city of Manila, its past and present. Here's one such chronicle by Joaquin, bringing to life a time and place in Manila's history that we now value among our heritage. This article was first published in the December 12, 1953 issue of the Philippines Free Press, where Joaquin worked as editor for 21 years. Our gratitude to Rosario Joaquin-Villegas, executrix of Nick Joaquin's estate, for her permission to reprint this piece.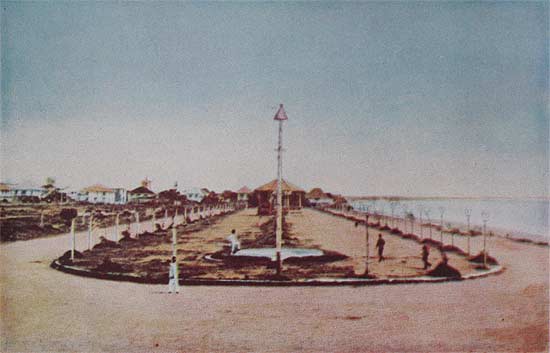 ADVERTISEMENT - CONTINUE READING BELOW
The old Luneta, right alongside the Manila Bay, as it appeared when the Americans arrived. Images from the archives of the Free Press.
When the Philippine-American War broke out, Maria M. was sixteen and had just finished a normal teacher's course. She lived in a southern district of Manila, in a house on the river bank. Beside the house was a pottery factory, where her father worked as a maquinista. Maria was the eldest in a family of four other girls and a boy. Though the Americans had been in Manila some six months, no one in Maria's barrio had yet seen an Americano.
In January, 1899, the folk in the outlying barrios of the city were bidden to move out by the Revolucionarios. Relations with the Americans had become strained; fighting might start any moment. In those days, passenger boats were being operated on the Pasig by Don Faustino Lichauco, who was a friend of Maria's family and who offered them transportation to Calamba.
To Calamba, therefore, Maria's family evacuated. They found the town crowded with refugees but as gay as in fiesta time. They were lodged in a house not far from the Rizal house, which was occupied by the hero's sisters. War with the Americans had begun but for about a year Calamba was untouched. Maria's father decided to go back and see what had happened to their house.
While he was away, a ship appeared on the bay, flying a white flag. The townspeople ran out to greet it, thinking it was a shipment of rice they had long been expecting. As the ship approached, the white flag was hauled down and the people saw that the ship was filled with strange-looking men-huge men with great beards and fiery-red faces.
ADVERTISEMENT - CONTINUE READING BELOW
"The Americanos! The Americanos!"
Screaming, the people rushed to their homes, assembled their families, snatched up a few belongings, and fled. In less than an hour, before the Americans had landed, Calamba was totally emptied. Carried along in the wild flood were Maria and her family. Day and night they trudged across the mountains, without stopping, until they reached Sto. Tomas in Batangas, where they found shelter in the convent.
Meanwhile, Maria's father had reached their barrio, which he found burned to the ground and occupied by the Americans. He was granted a permit to bring his family back. He got a horse and rode back to Calamba, where he found no one except the Americans. For months, the frantic old man scoured the hills for his family. His horse died; he reached Sto. Tomas on foot. His family was still there.
To return to Manila, they had to make another epic journey by foot to Biñan. They started out at early dawn and reached Cabuyao by nightfall. Cabuyao was deserted except for an old couple, in whose hut Maria's family spent the night. Early the next day, they set forth again-over mountains, across the swamps and rivers, through desolate ghost villages. Maria was wearing boots; by the time they reached Biñan, the soles of her boots were gone and her feet were bruised and swollen.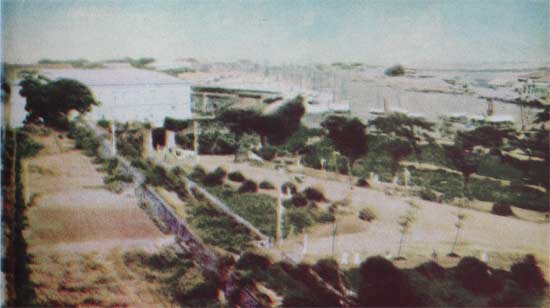 ADVERTISEMENT - CONTINUE READING BELOW
Ships anchored off the old Puente de España. The Pasig at the time was wide and deep enough to be able to accommodate these vessels.
In Biñan, they boarded a sailboat for Manila. From time to time during the voyage, the boat was halted by a Quién vive? The Revolucionarios had established checkpoints along the Pasig. Maria's mother would cover her daughters with black shawls, while her father told the sentries that he had no one with him but sickly old women. As they approached Manila, Maria saw her first Americano. On the azotea of a house by the river, a huge bearded soldier was strolling about in a saya de cola, nonchalantly puffing at a cigar.
When they reached their barrio, Maria's family couldn't even tell where their house had stood before. Nothing remained except the church and the municipio. The next day, they went to live in a relative's house in Binondo.
The Americans seemed everywhere in Binondo. They had turned Hotel de Oriente into a barracks and the Binondo waterfront into docks. All night you heard them roaring and fighting inside the bar at the foot of Binondo bridge. Maria's relatives had an American Negro friend, who often came to the house loaded with presents-apples and candies and hams. He gave Maria a harmonica and taught her to sing "Sweet Marie" and "Swanee River."
In 1900, Maria's family returned to their native barrio, where her father had built a new house. The Americans opened a grade school in the municipio ; Maria was appointed teacher, at P30 a month. She taught the children, in Spanish, until ten o'clock in the morning, then she was taught English by an American named Rigger. In six months, she had mastered enough English to be able to talk with Mr. Rigger and to teach the children in the new tongue. Mr. Rigger was delighted and had her assigned to the public school in Sta. Ana. She taught in the mornings; studied under American teachers in the afternoon. She was being paid in dollars-$35 a month-and got a five-dollar increase every year.
ADVERTISEMENT - CONTINUE READING BELOW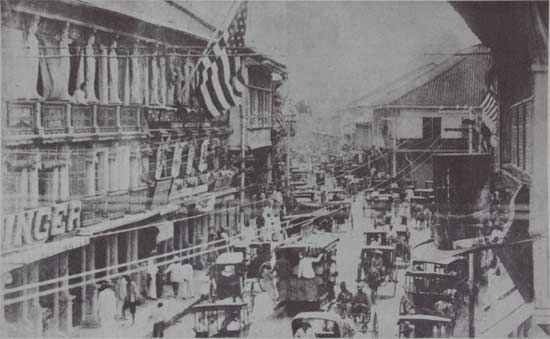 Trolley cars on Escolta upon the advent of American rule.
Young Maria was now the sole breadwinner in the family; her father was too old to work; her mother had died in a cholera epidemic after the birth of another girl. Maria showed herself fully capable of supporting a large family. (The generation of Maria Clara was not as frail and limp as we like to believe nowadays.)
When the first intermediate school was opened in Paco, Maria was given a class there. She had a moment's panic on the first day of her new assignment. She was used to teaching children; this new class of hers was composed of grown men and women, older than herself. But she didn't lose her head. She bade her students open their books and read the first lesson. With their eyes turned away from her, she had time to overcome her dismay. She was presently handling night classes, too, for businessmen who wanted to learn the language of the Americans.
ADVERTISEMENT - CONTINUE READING BELOW
All this time, the city had been changing around her. Electric lights had replaced gas lamps; streetcars and automobiles had appeared on the streets. On the Escolta, the old Spanish almacenes de novedades were giving way to American department stores and Indian bazaars. Cinemas had opened in Sta. Cruz; one of them advertised the "latest art films from Europe, moving pictures full of dramatic power-from 4:00 p.m. to 11:00 p.m. every day." But Manileños told each other that the moving pictures could never take the place of the zarzuela, then in glorious flower. Though the women stuck to their ternos, the men had abandoned the camisa-chino for the white drill coat with tie.
In the streets, no longer cobbled but asphalted, and still vivid with flame trees, the soldier in khaki and the sailor in white had become familiar figures-familiar but strange, nearby but distant; for not until his " second coming" in 1945 was the American to become an intimate friend. Around the old barracks on Arroceros and in Intramuros, odd new houses sprang up-houses of a single story, built close to the ground and ringed around with verandahs, behind whose dark window screens blonde women nursed blonde babies.
In the first rapture over Dewey's victory, Americans had felt that the Philippines was to be their India, producing, if not diamonds, at least an American literature à la Kipling. The dream never came true; the romance of the early soldiers, teachers and missionaries in the Philippines has been ignored by the American writer. Filipinos, on the other hand, have also neglected the richer drama of the shanty towns around McKinley, Makati, Sta. Ana and Singalong, where still another Philippine tribe was born-the American mestizaje. For both Americans and Filipinos, "The Empire Days," a theme worthy of a Kipling or a Maugham, have become merely an ironic footnote to history.
ADVERTISEMENT - CONTINUE READING BELOW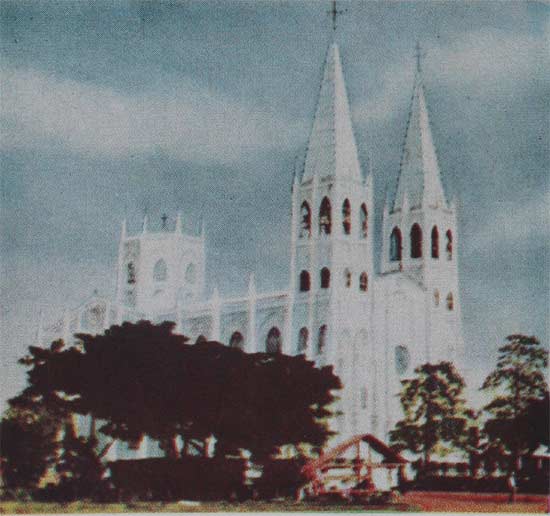 The rustic suburb of San Sebastian, a few steps away from Malacañan Palace.
By 1907, when Maria stopped teaching to get married, Americans were no longer cause for astonishment or terror. The change was symbolized for her by a gift-a little table clock from a Mrs. Miller, who had been Maria's supervisor in Sta. Ana, and a strict one.  Mrs. Miller was tall, thin and straight as a rod; she wore glasses and never seemed to smile. Maria walked in terror of her. Once, Maria had come very late to class. She went to school by banca and the banca had capsized that morning; she had had to go back home and change. When she arrived in school, she was met by Mrs. Miller, who looked even taller, thinner, straighter and grimmer. When Maria tried to explain, Mrs. Miller had cut her short: "I do not want excuses, Miss M. I want punctuality!"
ADVERTISEMENT - CONTINUE READING BELOW
After Maria was transferred to the school in Paco, she had not met Mrs. Miller again, had almost forgotten her. But, after all these years, Mrs. Miller had remembered and had sent the table clock and an affectionate note to say she remembered. As she smiled at the unexpected gift, Maria recalled that long-ago day on the Pasig, when she had been so terrified of the Americanos, and how her terror had changed to delight when she saw that bearded soldier on the azotea, cigar in mouth, and nonchalantly strolling about in his elegant saya de cola.
Some of the pictures accompanying this article were among a series of photographs taken in natural color, during the Spanish-American War, by American photographer F. Tennyson Neely. His pictures, reproduced in three-color process letterpress, were published in 1901 by the International View Company of Chicago in what was possibly the very first picture book of over a hundred pages in which only full-color reproductions of natural-color photographs were used. Among the pictures Neely took were action shots of General Arthur MacArthur during the Philippine-American War.
Load More Stories