Top 10 Craziest Pinoy Guinness World Records
From largest shot slam to longest basketball game to mass laundry-washing, here are 10 ways we Filipinos go over the top in breaking records.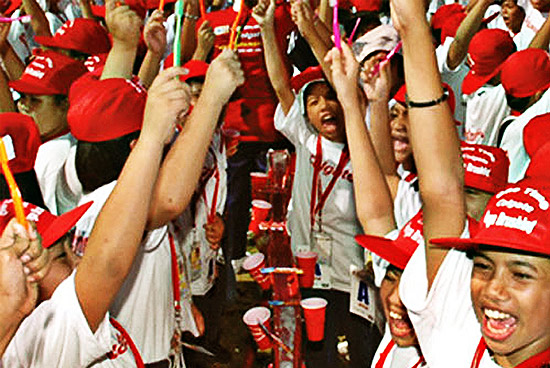 (SPOT.ph) Whether for pride, glory, principle, or charity, Filipinos never lag behind in the quest for world record-breaking. Even though some of our triumphs might be crazy or bizarre, we go forth with good hearts and good intentions, showing the world what we've got. Here's a list of 10 craziest Guinness World Records earned by Pinoys.
10. Most rocket fireworks launched in 30 seconds
Cebu relived all the New Year's festivities in the country in half a minute through a world record attempt to launch the most number of rocket fireworks. In May 2010, a total of 125,801 rockets created a huge explosion that broke Britain's past record of 56,405.
9. Most Mentos-and-soda fountains
We all wanted to try the magic science trick when we saw it on Mythbusters, but one Coca-Cola bottle and a couple of Mentos just weren't enough for Perfetti Van Melle. On October 17, 2010, the company set up 300 tables at the SM Mall of Asia with 10 Coca-Cola bottles and 10 Mentos for each bottle. All in all, this resulted in an astounding 2,865 soda geysers. The more the merrier, indeed.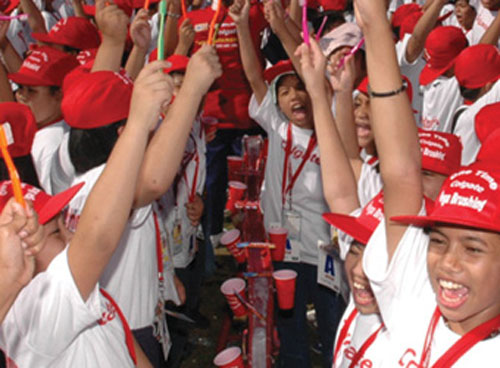 ADVERTISEMENT - CONTINUE READING BELOW
Better teeth, better smiles. Photo from MEC: Active Engagement
8. Most people brushing their teeth simultaneously
On February 21, 2007, the DepEd's Health and Nutrition Center, in partnership with a toothpaste brand, organized the Super Mega Brushing event joined by 41,038 public school elementary students in 13 venues across the country. As a promotional endeavor to encourage kids to brush their teeth daily, it broke the world record for "most people brushing their teeth simultaneously." It was a proud achievement for the organizers because it led to a presidential memorandum requiring all schoolchildren to brush their teeth every morning.
CONTINUE READING BELOW
Recommended Videos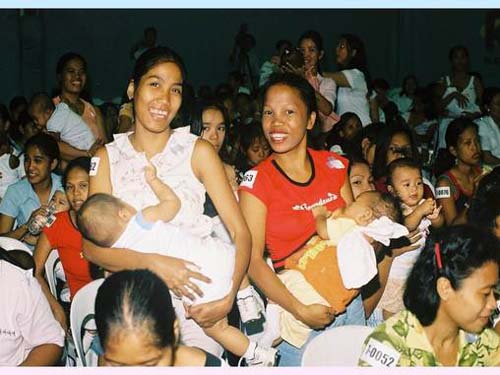 Mothers know best. Photo by Breastfeeding Philippines
7. Most women breastfeeding simultaneously at multiple venues
Breastfeeding advocate groups organized a mass breastfeeding event in 295 different places around the country on May 2, 2007. Mothers totaling 15,128 joined this mass undertaking, spearheaded by the Department of Social Welfare and Development and its other partners in government and the private sector.
ADVERTISEMENT - CONTINUE READING BELOW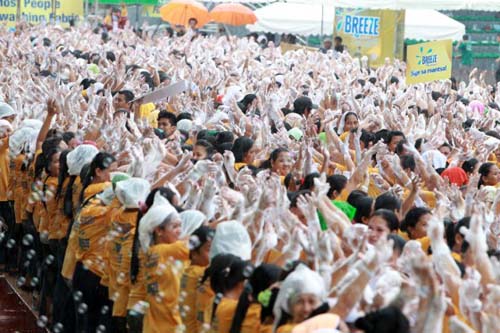 A laundry party. Photo from the official website of Breeze
6. Most people hand-washing fabric simultaneously
More than 2,000 mothers from all over the Philippines gathered at the University of Makati on August 17, 2013 to hand-wash a 1,200 meter-long piece of fabric stained with chocolate milk, ink, and grape juice. This collective attempt, as adjudicated by Kristy Bennet of the Guinness World Records office in London, broke Vietnam's previous record of 1,968 people.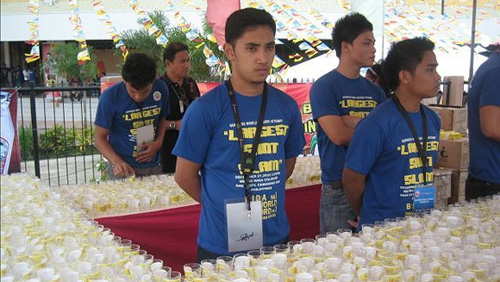 ADVERTISEMENT - CONTINUE READING BELOW
The determination in this participant's face shows he's not kidding around. Photo from the official website of Guinness World Records
Our beloved inuman session was raised to an astronomical level with this world-record attempt of "largest shot slam" in Naga City on December 27, 2010. It was deemed successful by Guinness adjudicator Seyda Subasi-Gemici, with a total of 2,435 gin shots downed by almost the same number of participants. The previous record belonged to Mexico, with 1,412 shots.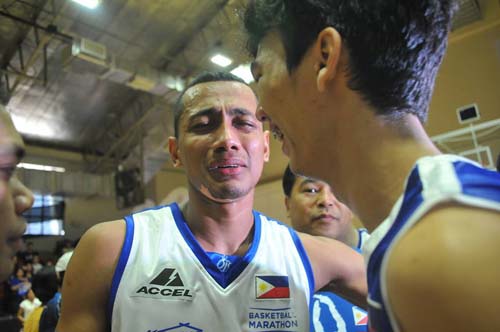 Tears of pride and joy (and probably exhaustion) at the end of the five-day basketball marathon. Photo by Never Stop PH
No doubt, one of the biggest events in basketball history was the country's success in breaking the world record for "longest game of basketball," which lasted from March 24 to 29, 2014. It was recorded to be exactly120 hours, one minute, and seven seconds. Now, this is sheer proof that no other country is crazier about the sport. But the athletic feat wasn't just about national pride-it was actually a big charity event to raise funds for victims of super typhoon Yolanda. More of a bayanihan effort than a competition, as one organizer described it. At the end of the game, the 24 players cried tears of joy and relief and made their fellow Filipinos proud.
ADVERTISEMENT - CONTINUE READING BELOW
3. Most number of people to sign up as organ donors
The Department of Health (DOH) got 3,548 people to sign up for organ donation in a span of 30 minutes at the Polytechnic University of the Philippines, Manila, on February 28, 2014. This was initiated to encourage more people to pledge for organ donations, said Dr. Antonio Paraiso of DOH's Philippine Network for Organ Sharing. "We're asking people to pledge, not to donate today," he said. Pledging means that, after you've gone, your organs become serviceable, shall we say, to patients who need them.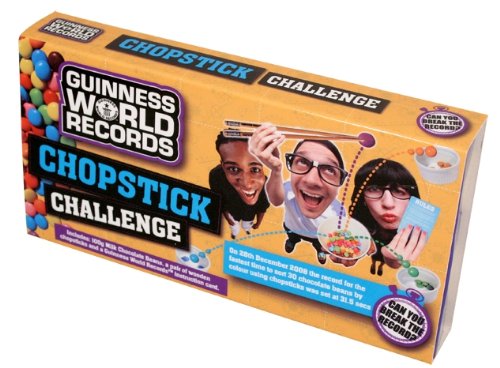 Better break this before China does. Photo from Amazon
2. Most coffee beans moved with chopsticks in one minute
One for the oddbooks is Filipina Cynthia Noyicio's world-record achievement. On June 5, 2011, she was able to move 38 coffee beans with chopsticks in one minute at Butlins in Bognor Regis, UK. Just goes to show how far talent can get you.
ADVERTISEMENT - CONTINUE READING BELOW
1. Most blood identification tests taken in 24 hours
Grace Gupana, the Filipina with the Most Guinness World Records, took 260 blood identification tests in 24 hours on March 15, 2008. She has currently broken 10 world records, two of which are the largest tablet of the Ten Commandments, which she donated to the city of Baguio, and the largest flag, which she sewed herself-thereby outdistancing Marcela Agoncillo, the seamstress of the first official Philippine flag. Who knows what world record she'll break next?
Share this story with your friends!
---
Help us make Spot.ph better!
Take the short survey
Load More Stories