MOVIE REVIEW: X-Men: Days Of Future Past
SPOT.ph blogger Paul Daza on the seventh installment of the glorious X-men franchise.
STORY: In the year 2023, mutants and the humans who help them are being exterminated by the robotic Sentinels in an apocalyptic, genocidal war. With time running out, the surviving X-Men led by Charles Xavier (Patrick Stewart) convince Logan (Hugh Jackman) to travel back in time to 1973 to seek out Xavier's younger self (James McAvoy) and other X-men to prevent the creation of the Sentinels. It's a dangerous mission further complicated by the participation of such unpredictable mutant wild cards as Magneto (Michael Fassbender) and Mystique (Jennifer Lawrence).
PLUSES
The X-cellent ensemble. The X-Men movies have always been about the characters as much as they've been about action and adventure. And so, with its A-list roster of Oscar winners and nominees (Jennifer Lawrence, Halle Berry, Hugh Jackman, Michael Fassbender, and Ian McKellen), you're guaranteed darn good acting that's as memorable as the dazzling, computer-generated spectacle. In X-Men: Days of Future Past, there's a superb scene where the old Charles Xavier dialogues with his younger self. At the screening I attended, you could hear a pin drop during the sequence because the audience was mesmerized by the powerful dialogue and the pitch-perfect performances. Jennifer Lawrence and Michael Fassbender also get their fair share of meaty sequences to enthrall the audience.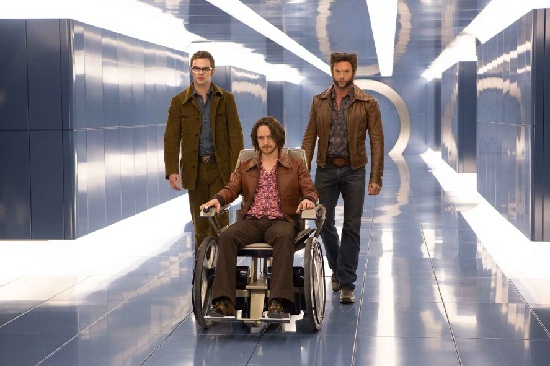 Beast, Professor X, and a nostalgic Wolverine
ADVERTISEMENT - CONTINUE READING BELOW
That unexpectedly funny Quicksilver sequence. Viewers expect nothing less than gobsmacking, visual effects perfection in the superhero flicks of Marvel and DC. What Days of Future Past (from hereon, referred to as DOFP) serves up that no one was expecting is a special effects sequence that's as hilarious as it is jawdropping. Don't make the mistake of leaving your seat to go to the restroom when the X-Men try to break Magneto out of his Pentagon prison with the help of new recruit Quicksilver (Evan Peters).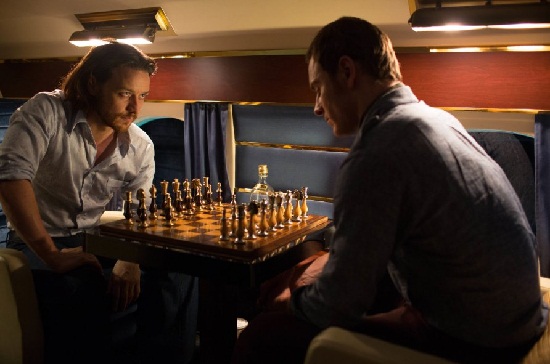 Charles Xavier is the last person you want to play chess with.
CONTINUE READING BELOW
Recommended Videos
1973, Marvel Universe style. Like its predecessor, X-Men: First Class, DOFP incorporates actual events and historic figures in its plot. Where the previous film took place against the backdrop of the Cuban Missile Crisis of 1962, even showing JFK, much of DOFP is set 11 years later, in the days leading to the signing of the Paris Peace Accord that ended US involvement in the Vietnam War. And so, DOFP has a scene where Richard Nixon is shown greenlighting the creation of the Sentinels, and a brief shot foreshadowing the Watergate scandal that forces the disgraced US president to resign. We're also told that Magneto is being held in the Pentagon for manipulating the "magic bullet" that killed JFK in Dallas in 1963. More fun perhaps than these serious political touches are the pop-cultural signposts that director Bryan Singer uses to make 1973 come to vibrant life again. My favorites include the employment of a lava lamp and the arcade video game Pong in key sequences, and the use of songs like Roberta Flack's "The First Time Ever I Saw Your Face" and Jim Croce's "Time in a Bottle" in the soundtrack.
ADVERTISEMENT - CONTINUE READING BELOW
MINUSES
The graphic violence and child-inappropriate shots. In the epic battle between Sentinels and mutants which takes place in the 2023 sequences, mutants both good and bad get impaled, crushed, torn apart limb from limb and decapitated. There are even a couple of nightmarish, Holocaust-referencing shots which owe their design to Terminator 2: Judgment Day as much as they do to Schindler's List. On a lighter note, Wolverine shows his butt when he wakes up in 1973. Although I'm happy that DOFP has been rated with the more commercially viable PG instead of the more restrictive R-13, be warned that some scenes may be quite disturbing for very young viewers.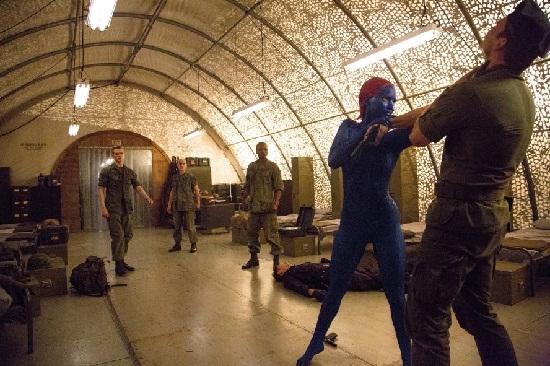 Mystique showing femme fatale at its finest.
The inconsistent continuity. Professor X clearly died in X-Men: The Last Stand. So how is he alive in 2023? The scriptwriters couldn't even be bothered to explain his resurrection.
It's not for newbies. If DOFP is the first X-Men movie you're watching, be prepared to be completely confused by the plot. DOFP does assume that you've seen the three previous X-Men films and the two Wolverine offshoots.
ADVERTISEMENT - CONTINUE READING BELOW
There's no IMAX release. Does 20th Century Fox have some kind of a dispute with IMAX? Following Life of Pi, DOFP is the second film from the studio you'd totally expect to see in that large format. Yet it's not available in IMAX here. What's the story?
IN BRIEF: The most star-studded superhero movie of them all is also one of the best sci-fi adventures ever made. X-Men: Days of Future Past gets my vote for best X-Men movie ever.
RATING: ••••. 4 ½ out of 5 spots for 3D release
Share this story with your friends!
---
Help us make Spot.ph better!
Take the short survey
Load More Stories