10 Things Manila is Better at Than Any Other City
We probably love waiting more than any other city.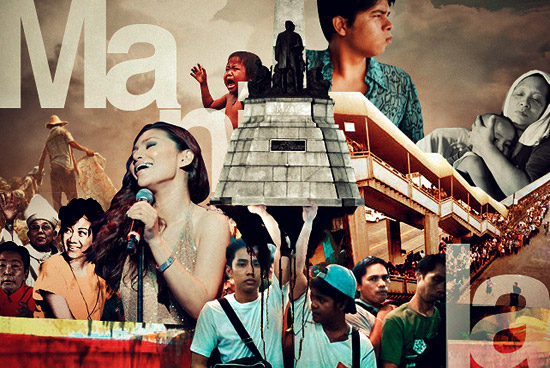 (SPOT.ph) We understand why someone would say that New York or London is better than this city. The traffic situation may be as bad (or worse even), but there they have the Empire State Building and The Gherkin. We have...Zuellig, which is glamorous in its own right. Nonetheless, we think our city, despite the flaws, has character and that the little problems, in fact, make us better citizens. In the spirit of optimism, we list the 10 things Manila is better at than anyone, any place else.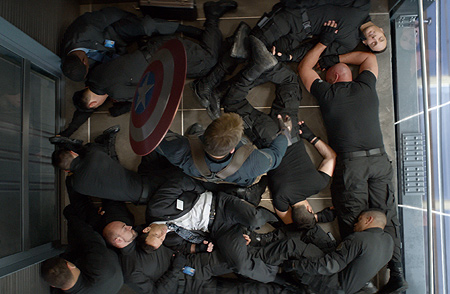 This is what happens when you don't make room.
1. Fitting in
Whether it's a crowded elevator or the narrowest aisles on the road, we find ways to fit in. Rush hour is a game of twister and the pull of going home will force the stiffest body into the strangest shapes just to make use of every spare inch of space. Wasted space, after all, is a wasted minute. (Read 10 Awkward MRT Positions During Rush Hour.)
ADVERTISEMENT - CONTINUE READING BELOW
A Bloomberg article posted only this April predicts that Metro Manila's population will increase to over 30 million by 2025. "If the government fails to address the infrastructure gaps, this will become an unlivable city," says Gil-Hong Kim, the Asian Development Bank's director of sustainable infrastructure, to Bloomberg. You heard the good man. Squeeze together, guys!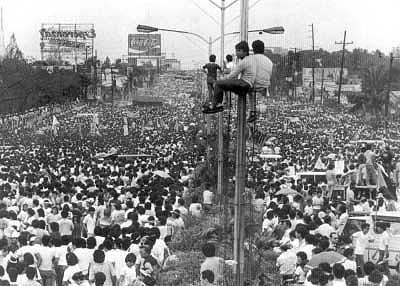 CONTINUE READING BELOW
Recommended Videos
2. Protesting
Every country, every city has their fair share of protests, but we do it in style. Manila was the base for the People Power Revolution, which helped end the dictatorial 20-year rule of President Ferdinand Marcos. Remember when CBS anchor Bob Simon said with great presumption, "We Americans like to think we taught the Filipinos democracy. Well, tonight, they are teaching the world."
The 1986 protest inspired other countries to do similar actions. Manila also rediscovered its efficacy in the 2001 EDSA Revolution, which prompted President Erap Estrada to resign. There was an EDSA Tres soon after as a counter to the Estrada's disposal, but it was unsuccessful.
ADVERTISEMENT - CONTINUE READING BELOW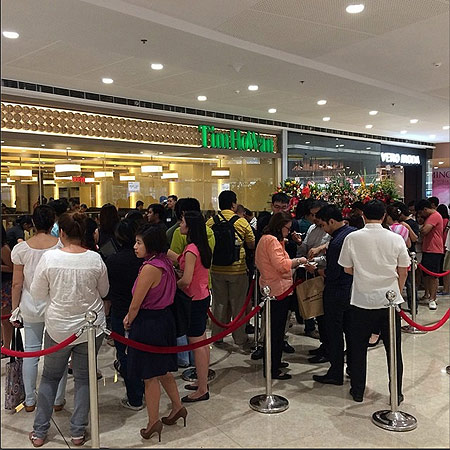 An example
3. Waiting in line
Here's a day in the life of an average Manila citizen: wait in line to get a train ticket, wait in line in for what we now call tusok-tusok security, wait in line to slip in your card, wait in line to get on the actual train, wait in line for the single-file escalator. Then there are the lines at 8 Cuts, Tim Ho Wan, Ramen Nagi, Magnum Café, and Max's. There was waiting for the Reproduction Health Bill (which is now a law), waiting for the Freedom of Information Bill, waiting for the whole Janet Napoles thing to make sense. You'd think all this waiting would translate to patience.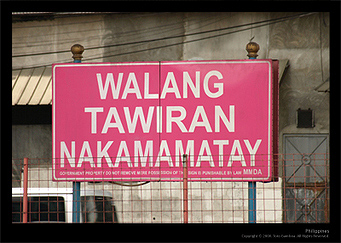 ADVERTISEMENT - CONTINUE READING BELOW
4. Playing dodge cars
We may be the only city with a sign on every thoroughfare that says, "Bawal Tumawid, May Namatay Na Dito," complete with a visual aid.
5. Holding your pee
On February 17, news reports started warning Manila residents about the Traffic Armageddon caused by the 14.8-kilometer Skyway Stage 3 project. The news of worse traffic wasn't exactly surprising. A short rain shower has been known to stop the flow of transportation in the city, mostly due to partial flooding-and consequent car breakdowns-on major roads. Motorists' tendency to squeeze into the cramped road blocks (see No. 1) also causes further delay with light collisions and fender benders. With the lack of decent public urinals, we've been trained to hold our pee until the nearest acceptable restroom.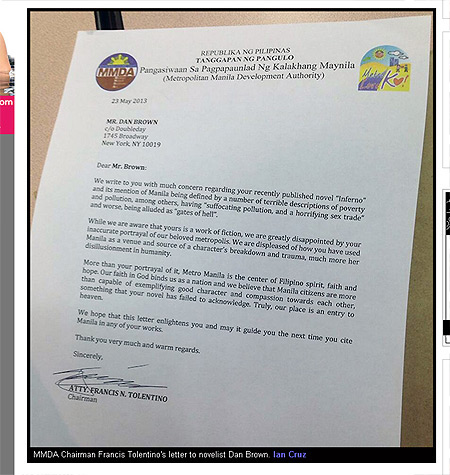 Screencap from www.GMAnetwork.com
6. Writing Letters
And they said writing letters was a dying art. Tell that to Metro Manila Development Authority chair Francis Tolentino who made a beeline for his writing desk upon reading Dan Brown's novel, Inferno. Brown made a passing remark about the city's "suffocating pollution," "horrifying sex trade," and described Manila as the "gates of hell." In his letter, Tolentino clarified that Metro Manila is "the center of Filipino spirit, faith, and hope. Our faith in God binds us as a nation and we believe that Manila citizens are more than capable of exemplifying good character and compassion towards each other, something that your novel has failed to acknowledge. Truly, our place is an entry to heaven."
ADVERTISEMENT - CONTINUE READING BELOW
We do hope Mr. Tolentino also replies to each and every Trip Advisor commenter who complains about the hell-ish traffic situation in his city.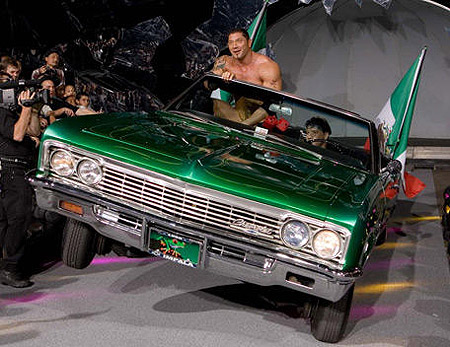 7. Bouncing
Dear Mr. Tolentino, we do know this is outside your jurisdiction, but you might have mixed up "holy" with "holey." In case you've ever wondered why Filipinos are such natural dancers, it's because we develop great rhythm from the bumpety-bump of the metro's perforated highways. It's like driving in permanent low-riders.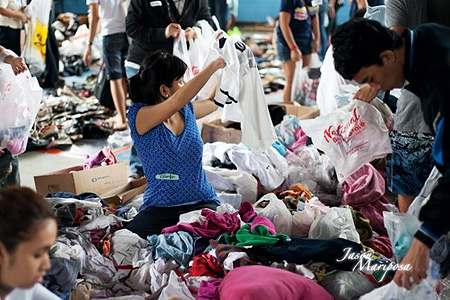 ADVERTISEMENT - CONTINUE READING BELOW
8. Organized relief effort
Particularly the private sector. It's unfortunate that it usually happens after some major disaster, but it's always impressive to watch the private sector quickly get together to send out help in any way. It's like clockwork. It may just also be due to practice especially since we've had several calamities in the last year, but it's good to know that hospitality and generosity seem to come in copious amounts. From the sudden devastation of Ondoy to the earth-shattering disaster in Bohol to the desolation of Yolanda, Manila citizens, assemble! This is modern-day bayanihan, and no one has to lift a single house.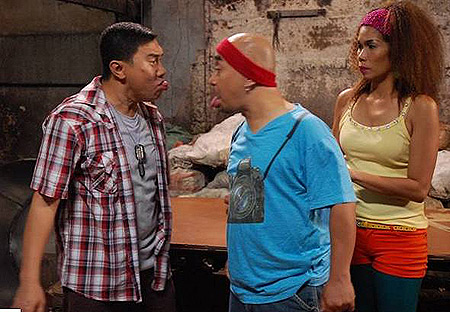 9. Lip service
We mean this quite literally, of course. It's a quality that's not exclusive to Manila, but we think it's best in this city. Filipinos are the only citizenry that can manage to give directions using only our lips. We communicate that well.
ADVERTISEMENT - CONTINUE READING BELOW
Watch Lani Misalucha pretending to be a bangketa singer.
10. Street entertainment
Someone has to do it. Filipinos were born entertainers. (Read our 50+ Filipinos Who've Shined on International TV Talent Shows.) We can sing anytime and anywhere, and you can see how true this is while walking along the sidewalks of the city. At almost every train station, you can see a choir of visually challenged men with makeshift instruments and enhanced pipes; a few meters away a pair of girls singing a capella. In Makati, urchins have a habit of invading jeepneys to shine passengers' shoes and treat them with a quick song backed by tansan tambourines. Carolers aren't limited to the Christmas season here.
Photos from Lakbay Diwa Pinas (road sign), Wikipedia (EDSA), Jason Mariposa (Ondoy Relief Operations), WWE (Eddie Guerrero and Batista)
Share this story with your friends!
---
Help us make Spot.ph better!
Take the short survey
Load More Stories