10 Highlights from the Clear Dream Match III
Team Phil vs. Team James. Who won the battle?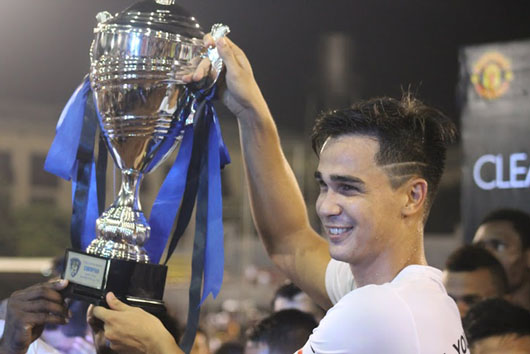 (SPOT.ph) The battle for clear supremacy went down on Saturday, June 7, at the University of Makati stadium. Unlike the first two games which rained field goals for both teams, the night's decisive conclusion only took a lone goal. Nevertheless, the rivalry that went down was all kinds of intense. And it was team James who reigned supreme in the end.
We relive the 10 highlights from Saturday night's football action.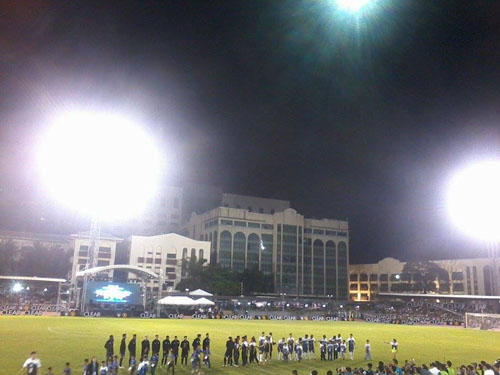 1. The starting lineup
Frequent rotations were present all throughout the game but the starting lineups of each team were all strong.
Team Phil: Roxy Dorlas, Samuel Bonney, Simone Rota, Andrew Santiago, Phil Younghusband, Patrick Deyto, Chris Greatwich, Kenshiro Daniels, Mark Hartmann, Matt Hartmann, Paul Scholes
Team James: Joaco Cañas, Anton del Rosario, Andrew Liauw, Valentine Kama, Jeong Woo Lee, OJ Porteria, Izzeldin El-Habbib, Roland Sadia, Simon Greatwich, Daisuke Sato, James Younghusband, Andy Cole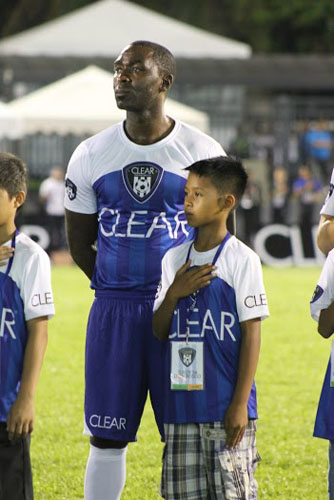 ADVERTISEMENT - CONTINUE READING BELOW
Photo by Carol Ortigas
2. Andy Cole for Team James
The man known as one of the top goalscorers in Premier League history who played for Manchester United and also the national team for six years, Andy Cole, graced the friendly headlining match.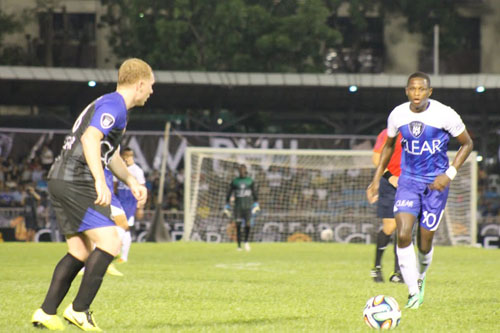 CONTINUE READING BELOW
Recommended Videos
Photo by Carol Ortigas
3. Paul Scholes for Team Phil
Manchester United's legendary midfielder, Scholes, who's made two World Cup appearances for England, also suited up for the match on Team Phil's side.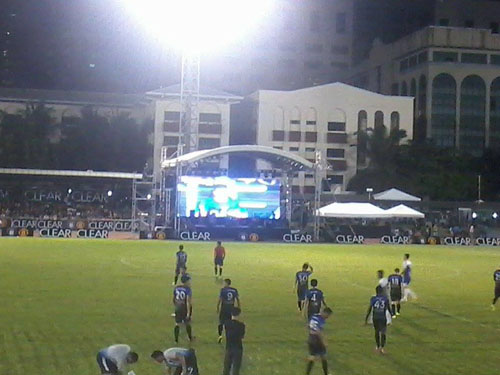 ADVERTISEMENT - CONTINUE READING BELOW
4. An "almost-goal" fest in the first half
It started as early as the 11th minute when Team James courtesy of Manchester United legend, Cole, was wide open for a shot at goal which was denied by Team Phil's Porteria who kept the ball to himself. A number of almost-goals later, the most promising chance came for Team Phil when Daniels volleykicked a sharp cross from Hartmann only to be dismayed by Sadia's defensive save on the other side in the 38th minute. After two minutes of added time, the almost-goals and the breathtaking action did not stop, both teams ending up scoreless at the end of the first half.
5. A Rivermaya treat
What better soundtrack to an epic battle than one from Rivermaya? The home-grown, well-loved group serenaded the crowd with classics like "Elesi" and "Kisapmata" during half time.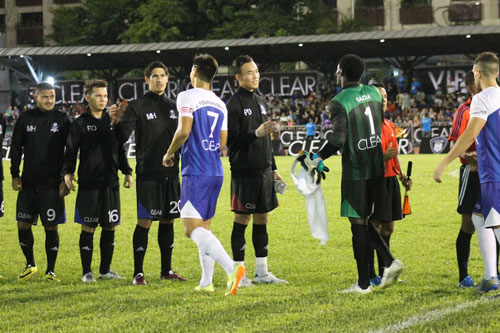 Photo by Carol Ortigas
6. Substitutions underway for the second half
ADVERTISEMENT - CONTINUE READING BELOW
This is where the many rotations come in. For instance, in the first few minutes:
Team Phil: Pasilan, Anto and Fadrigalan are in while Santiago and Daniels take an exit.
Team James: Misagh and Gadia are in while Porteria, del Rosario, Sadia, and JY Lee exit.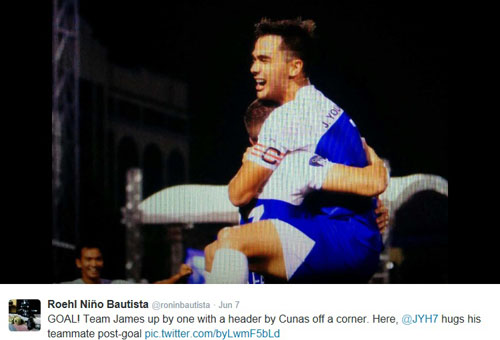 7. The 72nd Minute
A Twitter user posts this picture of team captain, James, overjoyed and hugging his teammate, Joaco Cañas, after his header turned the scoreboard into a 1-0 after 72 minutes of play.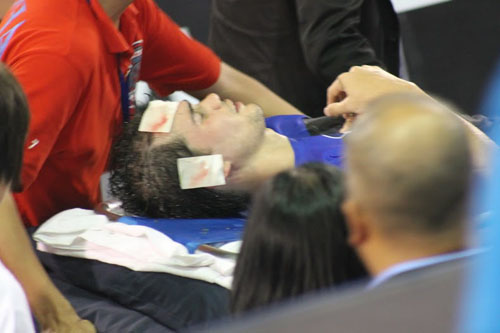 ADVERTISEMENT - CONTINUE READING BELOW
Photo by Carol Ortigas
8. Phil Younghusband rushed to the hospital
Jaws dropped as a loud thud was heard across the field in the 84th minute when Reynald Villareal and Phil Younghusband accidentally clashed heads after a running bout. The collision brought both of them down and the game stopped as the other players helped the two. After a few minutes, Villareal stood up to his feet and was good to go. The younger Younghusband, meanwhile, suffered a serious-looking head injury. He was brought out of the field in a stretcher while the crowd cheered him although he was unable to play in the remaining time.
An ambulance was heard outside the stadium that presumably brought PYH to St. Luke's. Reportedly, he was confined overnight and is already fine. Fingers crossed for his complete recovery soon.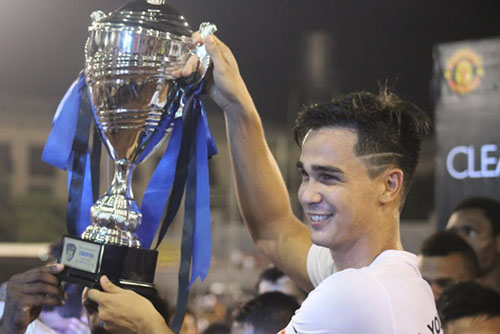 Photo by Carol Ortigas
9. And it's an official Team James victory!
An additional six minutes was added due to the accident in the second half's final minutes, but as all games go, even a heated match has to have an end and a winner. Team James took home the trophy from Saturday's 90-minute football match-up and eventually the three-tiered series which was tied before the third installment.
ADVERTISEMENT - CONTINUE READING BELOW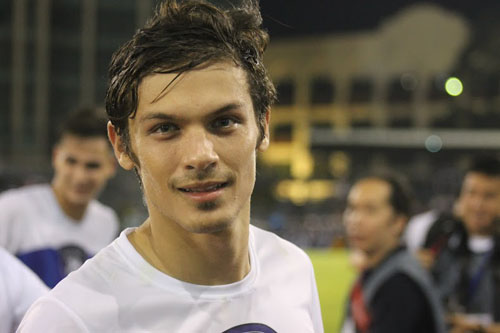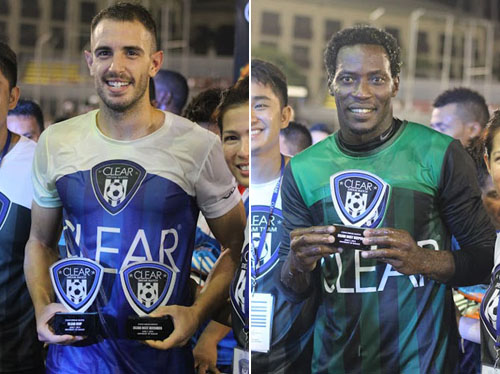 Photos by Carol Ortigas
10.  Who shined the brightest?
The Younghusband brothers and the Manchester United legends, Andy Cole and Paul Scholes, were not the only ones who took the spotlight for the battle for clear supremacy. The Team James squad also dominated the night's individual awards.
Best Striker: Izo El-Habib
ADVERTISEMENT - CONTINUE READING BELOW
Best Midfielder: Simon Greatwich
Best Defender and game MVP: Joano Canas
Best GoalKeeper: Roland Sadia
Share this story with your friends!
---
Help us make Spot.ph better!
Take the short survey
Load More Stories