Bank ad features Chinese actor playing a Pinay maid...and all hell breaks loose in Hong Kong
He wears dark orange make-up and a curly wig.
Agence France-Presse (via ABS-CBNnews.com) reports: "The domestic helper insurance ad for Malaysia's Hong Leong Bank shows the Chinese actor wearing dark orange make-up and a curly wig as he plays a clumsy maid named 'Maria.'"
According to the report, the ad was "aimed at the employers of Hong Kong's 300,000 maids, who mainly hail from the Philippines and Indonesia."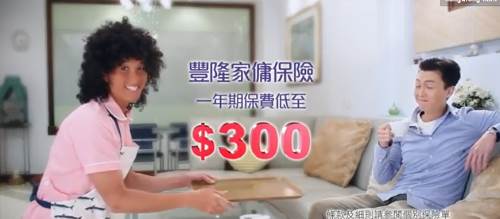 ADVERTISEMENT - CONTINUE READING BELOW
As soon as the ad was out, the report said it "drew outrage on social media in Hong Kong, with groups representing the city's legions of domestic helpers calling for an apology."
The report quoted Eni Lestari, spokeswoman for the Asian Migrants' Coordinating Body, who stated that the group found the ad "very racist." She also wanted to know why the bank didn't just hire an actress from the Philippines or Indonesia to play the part of a maid.
Recommended Videos
Load More Stories