Truly amazing: Top 3 crazy details about Senator Bong Revilla's first 24 hours of surrender
The actor-turned-politician's real life saga is far from being a box office hit.
Whether or not Senator Bong Revilla is indeed guilty of plunder and graft, the fact remains that there's been much fanfare surrounding his so-called surrender at the Sandiganbayan. Within a 24-hour period-which started on the morning of Friday, June 20-it seemed like Revilla was milking the event for all it was worth. (Ahhh...the perks of democracy!)
Here are three insane details of Revilla's surrender story that we think are truly facepalm-worthy:
1. He had his own camera crew with him when he turned himself in at the Sandiganbayan. While the rest of us would have been content with selfies, Revilla required a group of people to catch every move he made on video. Philstar.com reports, "Revilla had a camera crew follow him from his house in Bacoor, Cavite all the way to the Sandiganbayan in Quezon City."
2. He smiled for his mugshot. In one of the photos released by the Philippine National Police's Public Information Office, it looked like Revilla thought his mugshot was a headshot.
ADVERTISEMENT - CONTINUE READING BELOW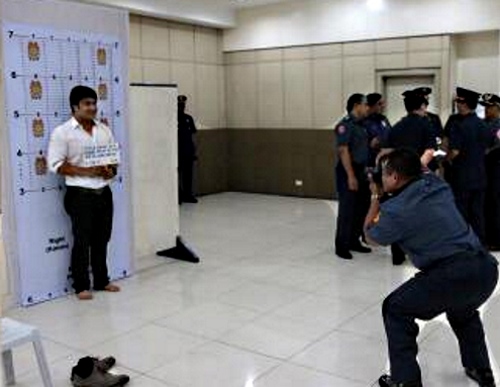 3. He had a health complaint faster than you could say, "Kap's...Amazing Stories." According to ABS-CBNnews.com, Revilla complained about his detention cell at Camp Crame being "too hot" in the first few minutes that he was in it. His wife, Cavite 2nd District Rep. Lani Mercado said that Revilla had a migraine attack, which, she said, was very dangerous since it made his blood pressure go up. She added that his migraine may lead to more serious health complications. She has asked permission to bring in an air cooler to cool her husband's head. (Er, what did we say about this feeling like it's "recycled"?")
ADVERTISEMENT - CONTINUE READING BELOW
Recommended Videos
Load More Stories