SONA 2014: Things You Might Have Missed
State of the Nation 2014: He spoke for an hour and a half. We're providing a very concise version.
(SPOT.ph) Did he mention the Zamboanga Crisis? The Central Visayas earthquake? The devastation in Tacloban post-Yolanda? Yes, yes, and yes. President Aquino talked about being human...and talked about teaching men to fish. He talked about building infrastracture and pre-empting problems (while also saying that there are things that can't be helped, like, say, blackouts). Are we still his boss? Definitely. Did he mention the Freedom of Information Bill? Not once.
There were a lot of numbers, but most importantly, he's hoping that Congress approves of the P2.606 trillion budget that he's proposing. A lot of money for the last stretch of his presidency.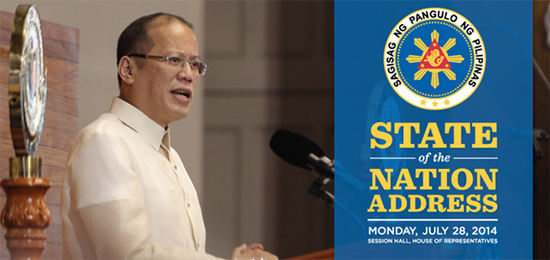 1. Numbers to know: There were four video testimonials. This is new.
2. Numbers to know: He coughed or cleared his throat about eight times (and tripped on words roughly 52 times).
Among the words he tripped on are "pasamay" and "patatay. " He also invented the word "pasasatayo." His stress placement on words faltered frequently, which is expected if you're talking from 4:01 to 5:35 p.m.
ADVERTISEMENT - CONTINUE READING BELOW
3.  Numbers to know: The audience clapped about 73 times (ANC estimates it at 85, so we might've tuned out 10 or so rounds of applause involuntarily).
4. By the way: Kris Aquino cried towards the end after the President quoted their late father, saying, "The Filipino is worth dying for, the Filipino is worth living for, and if I may add, the Filipino is definitely worth fighting for."
5. Metaphor Alert: We've been trapped on an island, making do with just one store providing all of our needs. The owners of the shop want to tie us to their docks and prevent us from exploring other shores. (We're seeing vivid visions of Tom Hanks.)
CONTINUE READING BELOW
Recommended Videos
6. Metaphor Alert: The government is a broken-down house that he inherited with little materials to rebuild.
7. Metaphor Alert: We are patients in an emergency room and our needs need to be tended to immediately.
8. Did you know...that Albay is a highway for storms?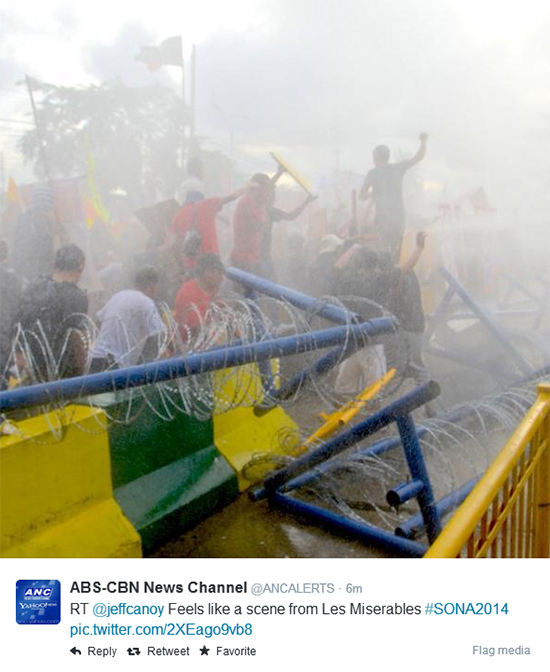 ADVERTISEMENT - CONTINUE READING BELOW
9. Did you know...that while the President was talking about storms and Project NOAH's mapping of flood-prone places, the police were hosing down protesters? (Coincidence, ain't it grand?)
10. Can you feel it? Umaarangkada daw ang Pilipinas.
11. Do you want to know the Presidential menu? According to his address, it's pang-aalipusta, pang-iinsulto, at pambabatikos for breakfast, lunch, and dinner. (Yum.)
12. DILG Secretary Mar Roxas received acknowledgement twice. BIR Commissioner Kim Henares was never mentioned and neither was Budget Secretary Butch Abad. Energy Secretary Jericho Petilla was praised by the President, directly and indirectly, for his excellent work. (The blackouts are not his fault, apparently.)
13. Our President's message to rice hoarders, "Subukan niyo kami."
14. Our President wants to know, "Sino ba ang naghahanap ng sakit ng ulo?"
15. Keywords: DAP. Tiwala. Tiwala. DAP. DAP. Mabuting pamamahala (about four times). Tiwala.
Share this story with your friends!
---
Help us make Spot.ph better!
Take the short survey
Load More Stories