10 Most Embarrassing Things Parents Do on Facebook
From the mild and amusing to the downright mortifying.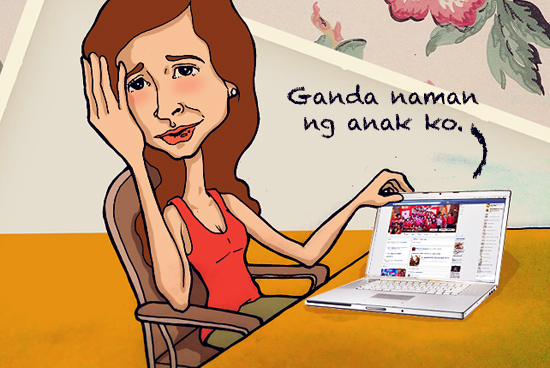 (SPOT.ph) It's an ironclad rule of life: parents can and will, at some point, embarrass you. They've done it when your friends came over or when they were at a parent-teacher conference. Just when you thought you've outgrown it all, here they are suddenly sending you a friend request on Facebook.
Before you accept that request, it might be a good idea to check this list first. Or, if you've already had your fair share of regret, maybe it's not too late to set some ground rules. After all, they're still learning the complicated ways of the Internet.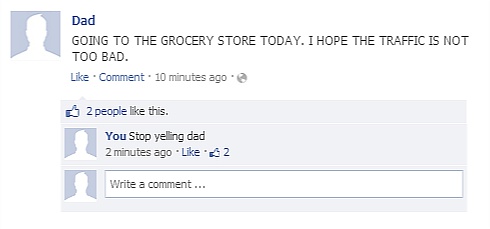 They type in all caps
Your dad is just really, really excited to be on Facebook. Or he probably pressed the caps lock by mistake and has no idea how to turn it off. Even better, he needs the letters to be bigger so he can read what he's typing.
ADVERTISEMENT - CONTINUE READING BELOW
CONTINUE READING BELOW
Recommended Videos
They're completely clueless about the Internet
What's LOL? How do I look at my profile? Why is it called a "Wall"? Anak, paano mag-post ng picture? It's like playing 21 questions: Facebook Edition. We recommend sitting your parents down and teaching them the basics. It will save you both a lot of time and headaches. A couple of learning sessions might be necessary.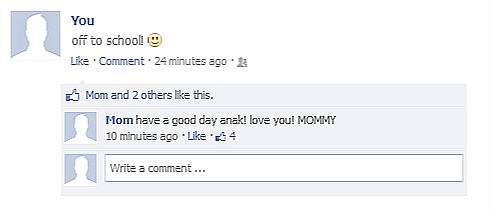 ADVERTISEMENT - CONTINUE READING BELOW
Signing off with "mom" or "dad"
Your mom finally figured out how to post and comment. The only problem is, she seems to have forgotten that her name is already there whenever she makes a post. Or maybe she's just trying to remind you of her authority by ending every post with a big, fat "MOM" at the end.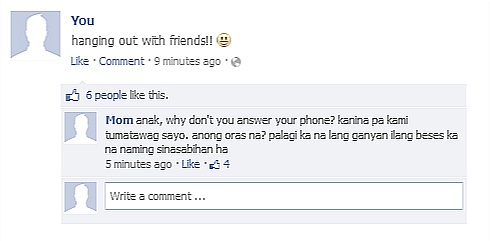 It's always a lecture with them
You know when you're joking around with your mom and she suddenly turns it into a lecture on how you need to get your life together? It's like that, but online.  Sometimes, she'll post deep and insightful sayings. She'll spout words of wisdom that you've probably already heard before and can quote verbatim. Whatever it is, you're going to see it and she'll make sure your friends will, too.

ADVERTISEMENT - CONTINUE READING BELOW
They tag you in everything
Great news! Your parents have just discovered the tag function. Not-so great news: the chances of being associated with something cringeworthy has significantly increased. A message update about family dinner is harmless enough, but it's another story when it's something embarrassing from your childhood. Oh, and that "timeline review" function is a lie. You can screen the tagged posts on your timeline, but you have no control over what shows up on your friends' news feeds. It's all there for everyone to see.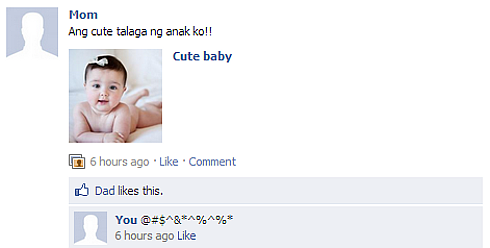 Throwbacks are not just on Thursdays
Some of us were blessed with adorable baby pictures. Others were cursed with an awkward phase that spans half their lives that unfortunately has been documented. Enter your parents who have an all-access pass to this treasure trove of humiliation. (Caption: "Ang cute-cute mo sa picture na 'to, anak!") Even if you could un-tag yourself from the photo, it's still on their Facebook wall... at least until you beg them to take it down. And stop. Forever.
ADVERTISEMENT - CONTINUE READING BELOW

They "like" everything
We'd all want more likes on our posts but when it's mom and dad liking every single one, we've got a problem. Yes, even that one status where you said you'd go drinking all night. Maybe it's time to explore that option where you can choose who sees certain posts.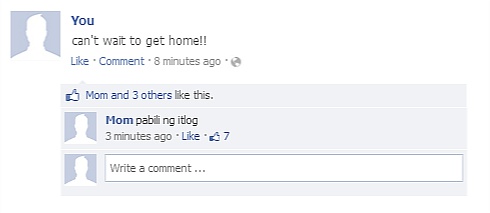 ADVERTISEMENT - CONTINUE READING BELOW
They're serial commenters
You get a lot of variety with this one. It ranges from the thoughtful "Hello anak, we miss you. Uwi ka naman minsan" to the opinionated "Ano ba 'yang mga pinagpo-post mo dito?!!" Our personal favorite: a selfie post with the comment, "Ganda naman ng anak ko." Thanks.

They want to be friends with everyone
Someone had too much fun with the "People You May Know" section. Suddenly, mom's mutual friends with your entire barkada. Or worse... your new boyfriend.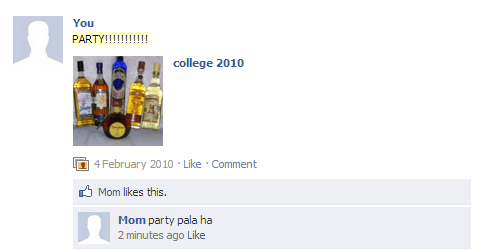 ADVERTISEMENT - CONTINUE READING BELOW
They check your Facebook profile. All the time.
It's when your parents badger you to post those family reunion photos from last night because "bakit wala pa sa Facebook?" Or when they say your last post was five months ago and you should really update your page so your titas abroad will know how you're doing. Then again, nothing is as bad as when they uncover those unflattering and drunk photos of you from college when you should have been studying hard.
Share this story with your friends!
---
Help us make Spot.ph better!
Take the short survey
Load More Stories