Top 10 Favorite Celebrity ALS Ice Bucket Challenge Videos
Nothing like famous people getting soaked in ice water...for a good cause.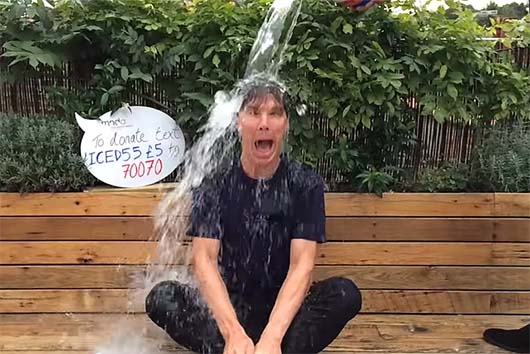 (SPOT.ph) Getting tired of this trend yet? Hey, at least it's for a good cause. Aside from promoting awareness of the disease amyotrophic lateral sclerosis (ALS) and encouraging donations to support research, we also get to watch our favorite famous people get drenched in freezing water. Thankfully, some of them make things a little more interesting than just having ice water dumped on them. So we've narrowed down our favorites. Who else do you think had standout ice bucket challenge videos, Spotters?
Click here to donate to The ALS Assocation.
10. Vice Ganda
Vice Ganda went all out with his challenge, dressed for a Lad Gaga-esque stage performance when a huge bucket of ice was dumped on him. We give him extra points for explaining what ALS is about...while dripping with ice water and retaining his composure.
9. Mark Wahlberg
Mark Wahlberg gathered his wife and three kids to take the ice bucket challenge with him. Because the family that pours ice water on themselves together stays together. He also nominated Manny Pacquiao. We're still waiting!
8. Bogart the Explorer
Bogart may just have set the record for most water dumped on him. Check out the video to see what we mean.
7. Nick Offerman
There are only two things that unnerve Nick Offerman's character on Parks and Recreation: not enough meat and the U.S. government. Much like his character, a cooler full of ice water was nothing to him.
6. Bill Gates
ADVERTISEMENT - CONTINUE READING BELOW
Leave it to the man who invented Microsoft Windows to take the ice bucket challenge a step further. After getting nominated by Facebook CEO Mark Zuckerberg, Bill Gates set out to build the perfect contraption to make a solo ice bucket challenge as easy and seamless as possible.
5. Isaiah Mustafa
Ladies, look at your man, and now look at this. Isaiah Mustafa a.k.a "Old Spice Guy" continues to prove his extreme manliness by actually beating the power of ice water.
4. Chris Evans
Captain America shows us a thing or two about executing the perfect ice bucket challenge. One, you have to make sure the water is actually freezing and two, look classy as hell while doing it.
CONTINUE READING BELOW
Recommended Videos
3. Tina Fey
We want to high-five a million angels for this video.
2. Benedict Cumberbatch
Benedict Cumberbatch did not take on the ice bucket challenge just once, but four times. One even includes a strip-tease.
1. Patrick Stewart
And while getting soaked in ice water can prove to be amusing, Sir Patrick Stewart  quietly reminds us that, in the end, the point is to promote awareness and raise money for a good cause. Thanks for keeping it classy, Sir Patrick.
Click here to donate to The ALS Assocation.
---
Help us make Spot.ph better!
Take the short survey
Load More Stories