Live Blog: Your Front-Row Seat to the Bench Body Fashion Show 2014
Up close and personal with The Naked Truth
Check out: Tom Rodriguez, Ellen Adarna, Marian Rivera + more celebs reveal The Naked Truth for Bench for more photos!
(SPOT.ph) We are live from the MOA Arena, where everyone is gathering to, uh, receive The Naked Truth. Time check: 6 p.m. and the crowd is eagerly waiting for the show to start.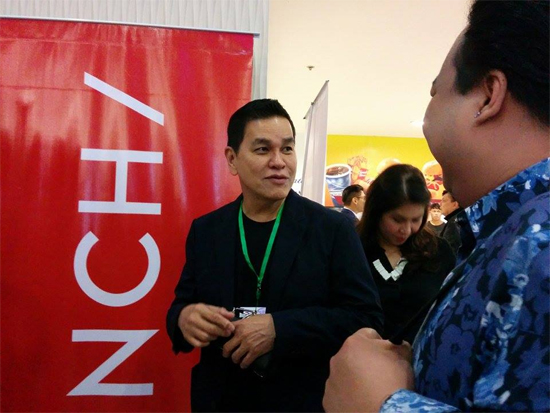 We spotted Ben Chan earlier, who spent about five minutes mingling with the crowd in the lobby.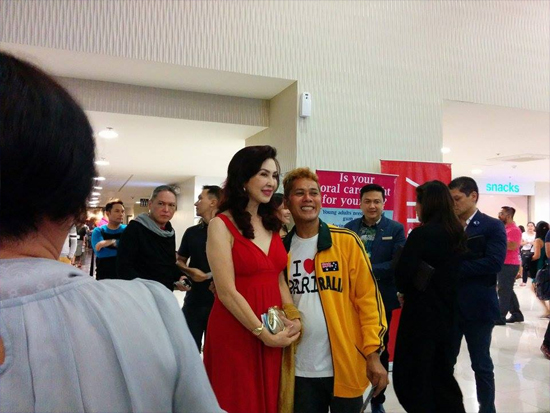 Cory Quirino was in attendance as well. Selfie, selfie.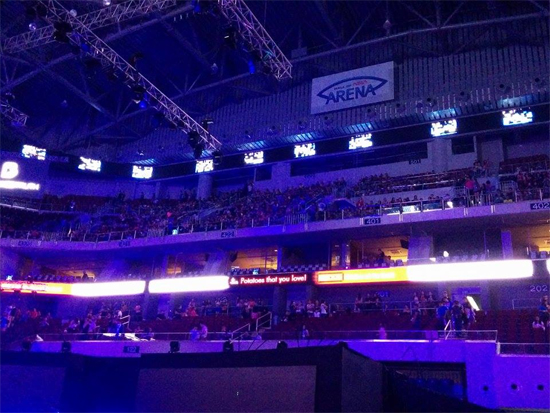 Here's a shot of the arena, filled with people. All of them probably grateful that the show is happening now instead of yestersday.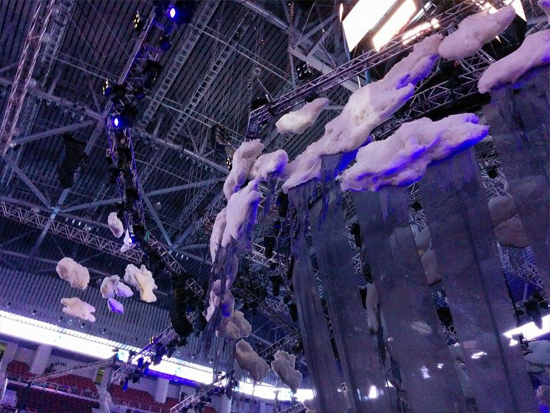 Storm clouds are part of the set. Perhaps a nod to yesterday's deluge?
It's 6:19 p.m. and every announcement from the voiceover elicits cheers. We have two more minutes to go before the show starts! The crowd is urged to scream, "We want the naked truth!" It's about time they gave it to us.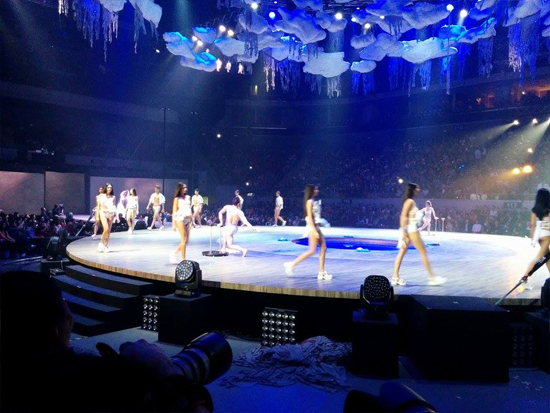 Models clad in white and stange pointy masks take the stage. It's 6:30 p.m. and the screaming hasn't stopped.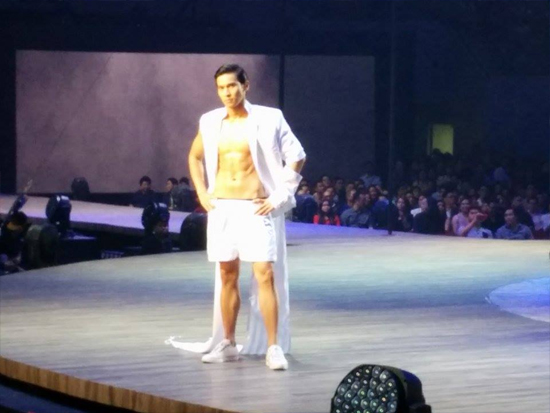 Borgy Manotoc begins to strut. The screaming grows feverish. Barely a minute later, Enchong Dee climbs a pole. The crowd grows wild! Time check: 6:32 p.m. and Enchong Dee is now sans shirt...and pants!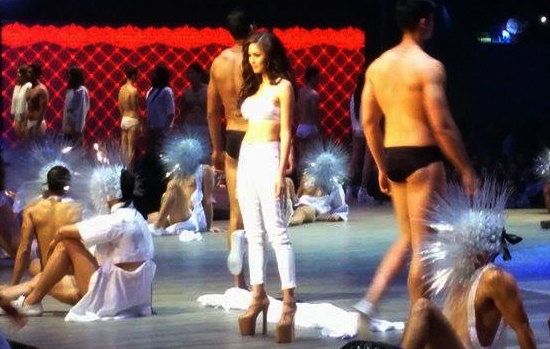 It's a tough act to follow but Kim Chiu is now on the stage. Georgina Wilson joins her from the other side.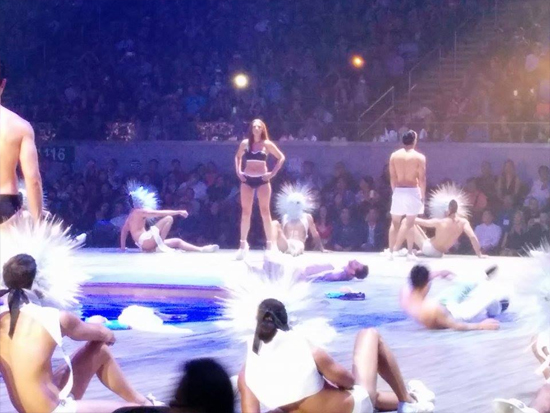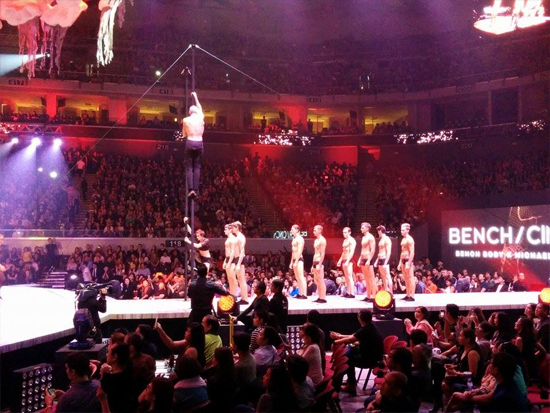 Solenn Heussaff in black, looking like a slinky queen of the night. (See also: foreign male models in tight black briefs!) Martin del Rosario stretches, flexes, and generally makes people go nuts. He runs a hand down his body...and briefs. Woo!
ADVERTISEMENT - CONTINUE READING BELOW
Marki Stroem teases the crowd by pulling on the waistband of his briefs. If he wanted people to go crazy with that, he was not disappointed. Lots of smoldering from these guys!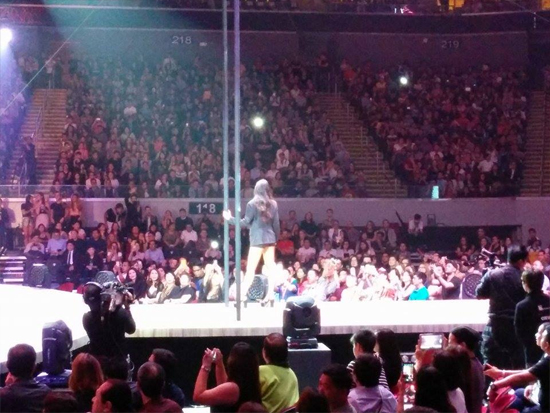 It's Isabelle Daza's turn to dazzle the crowd in a black blazer she will undoubtedly peel off. Wait...surprise! She didn't. Boo!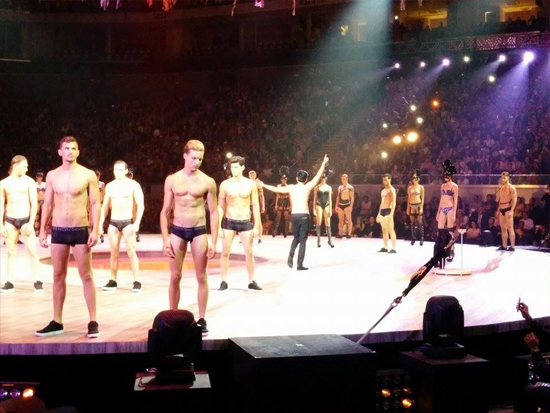 Paulo Avelino smolders and points at the crowd, drawing one of the loudest cheers so far. He apparently commands an army of half-naked white people, telling them to face the crowd as he wishes. Aaand now, two people are being held aloft onstage. Time check: 6:50 p.m.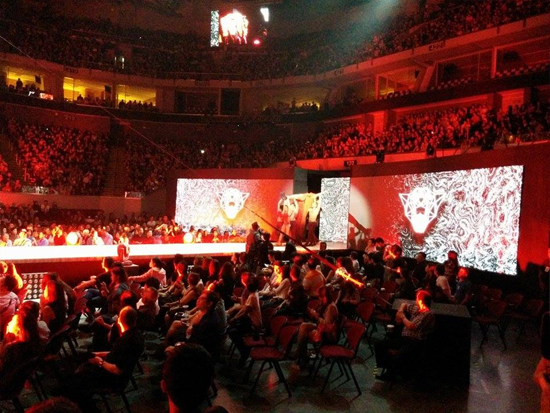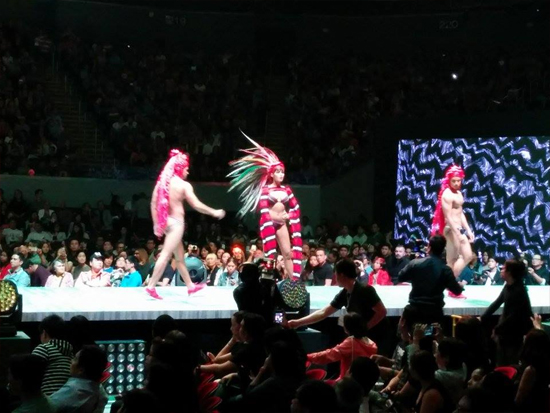 For this segment, the theme is cultural appropriation, it seems. A mishmash of Native American and Indian.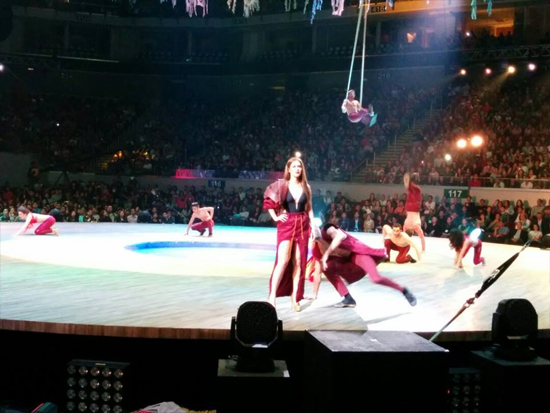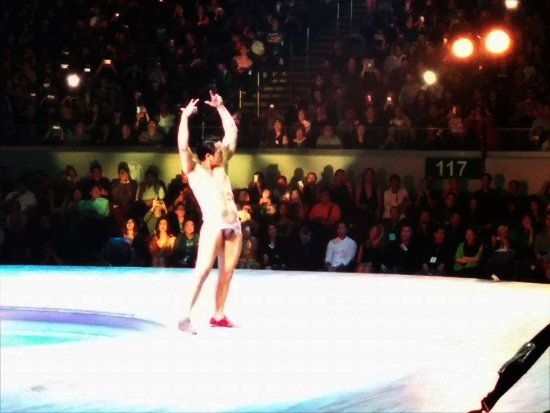 Shaina Magdayao takes the stage in maroon garb. Jake Cuenca struts in, looking grumpy. He then mugs for the crowd. Raciest so far, bare butt yet again!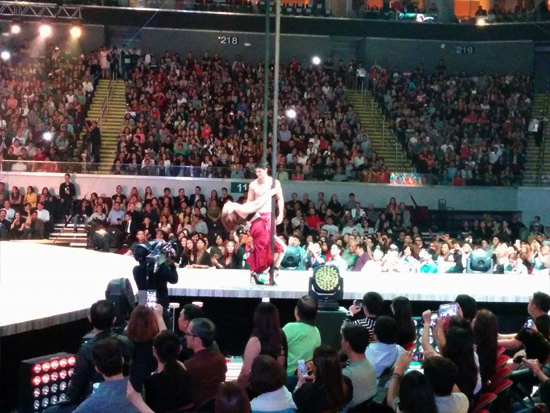 Jessy Mendiola walks with Joseph Marco and Rayver Cruz. We didn't know this crowd could get louder but oh yes, louder the crowd got. Coco Martin walks in, leading a woman in on a leash. He marches as the woman writhes around him, then sends her off with a kiss.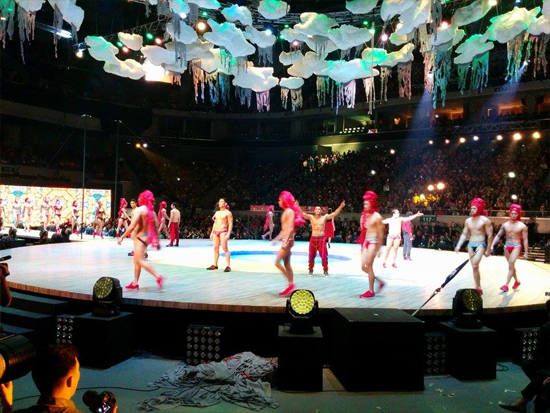 All celebs and models for this segment gather around what we could only call a watering hole.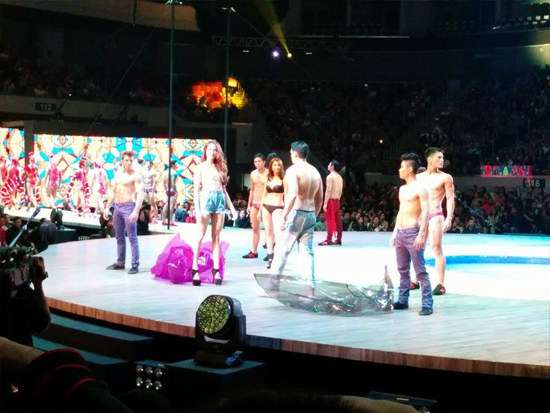 Richard Gutierrez and Sarah Lahbati walk in a raincoat, then share a kiss that is apparently so passionate they had to be pulled apart. Now it's Sam Concepcion and Max Collins' turn.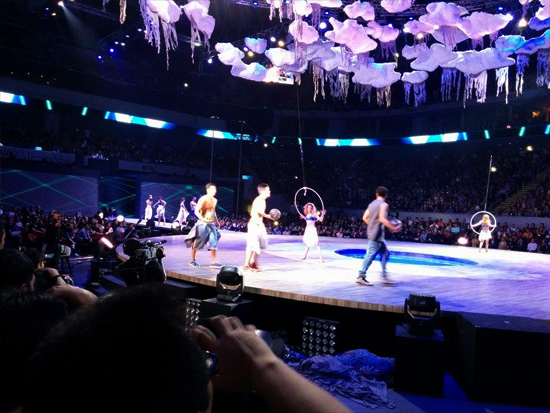 Andre Paras and the Teng brothers! Because sports...and balls. Time check: 7:08 p.m.
ADVERTISEMENT - CONTINUE READING BELOW
Carla Abellana saunters in, hair flying. She is then hoisted in the air and she waves to the people. Models take a dip in the pool in the middle of the stage and have fits of ecstasy, flinging water in the air.
In marches Ellen Adarna, in white. John Spainhour joins her. Ellen looks all dainty in a white dress...but not for long. She disrobes and unveils a set of lilac underwear. John takes her in his arms and they cross the pool.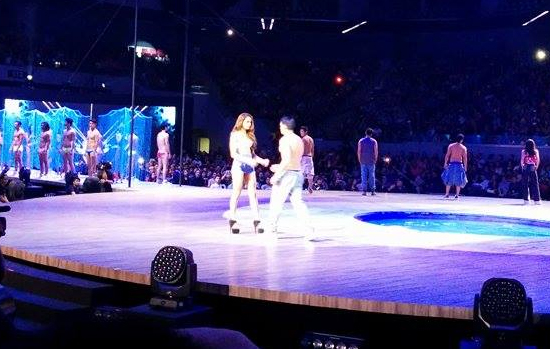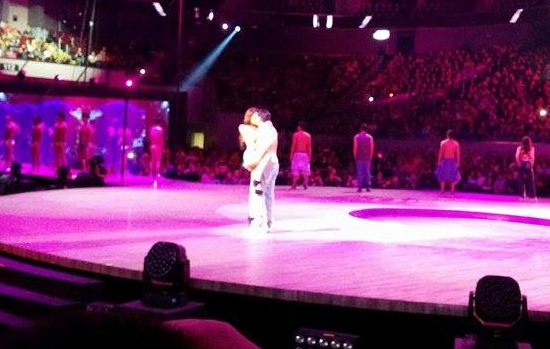 Sarah Lahbati and Richard Gutierrez make their way to each other again through the veiled people. They meet each other in the middle and kiss (yet again!), with Richard pulling up Sarah's leg to his hips. The crowd eats that up, of course.
KathNiel. Oh my gods, this arena is shaking! Time check: 7:21 p.m. and Daniel just offered Kathryn a rose, which she accepts. They hug. It's the most innocent thing in this show and yet it draws the major cheers. There is hope. Yes?
Models walk in carrying balloons, which they toss to the crowd. Shirtless men ogle them on their stability balls. There's a metaphor here. Allison Harvard and her hair are positively glowing.
And it's Tom Rodriguez! Please MOA Arena, don't collapse around us. Tom slllooooowlyyyy inches the waistband of his briefs. The look on his face is one of unbridled ecstasy...which is exactly what the crowd must be feeling right now.
Dennis Trillo comes next. Wow, he's gone pretty buff! These two dudes onstage together. WHAT NEXT? They draw close together, but are promptly pulled apart by two women. The two women take the stage instead AND KISS. OMG the CBCP will have a fit. Time check: 7:31 p.m.
ADVERTISEMENT - CONTINUE READING BELOW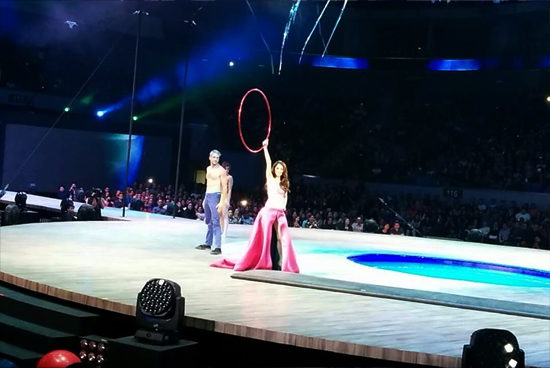 Marian Rivera looking resplendent in pink. Yes, resplendent. Marian held a hoop up, and a guy just LEAPED into it. Well done, guy.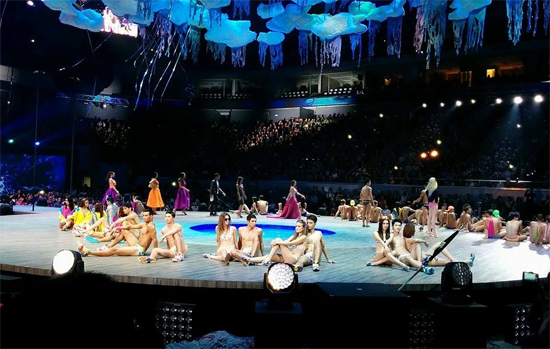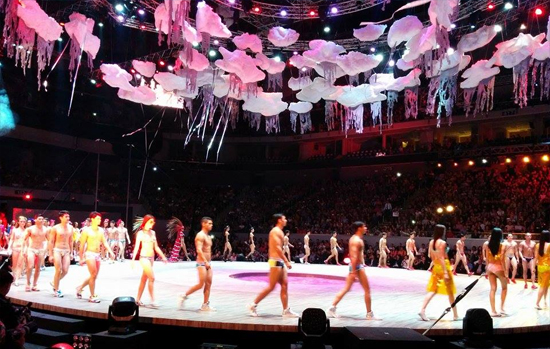 All models march across the stage. It's an army of gorgeous beings, and they're here to make us feel ashamed of our sloppy, sobby selves. Everyone's back on stage, led by Georgina Wilson. Circling the pool and generally looking fabulous. Time check: 7:40 p.m.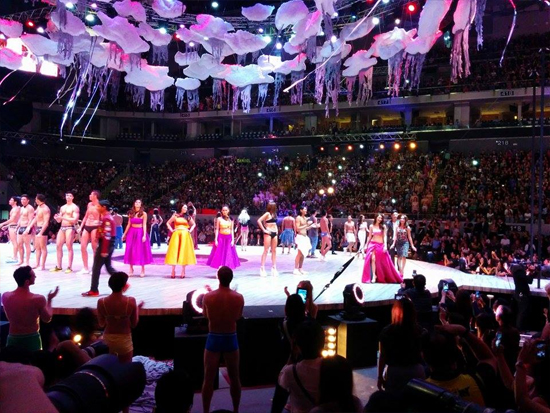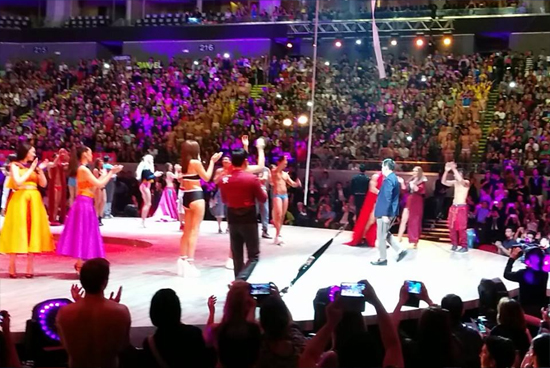 Ben Chan is the last to go on stage. The arena is filled with blue lights! The show closes with cheers at 7:45 p.m. Time to go home and think seriously about our fitness goals...for maybe an hour or so.
Check out: Tom Rodriguez, Ellen Adarna, Marian Rivera + more celebs reveal The Naked Truth for Bench for more photos!
Load More Stories