Live Blog: Up Close and Personal at the Cosmopolitan Bachelor Bash 2014
We're giving you an access pass to the hottest office in town.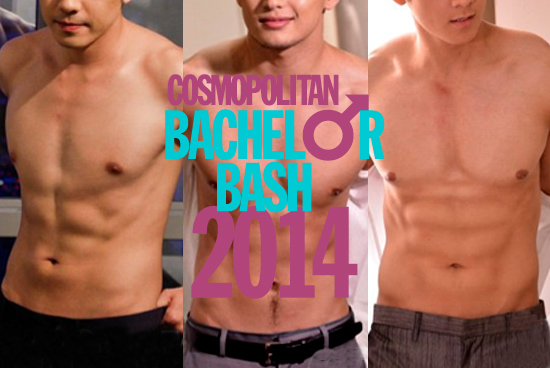 (SPOT.ph) We are live from the World Trade Center to give you an inside look at the Cosmopolitan Bachelor Bash 2014. It's going to be a steamy late night at the office, so keep refreshing this page for updates!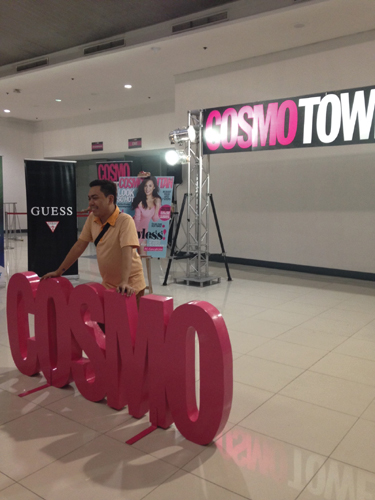 It's 8:05 p.m. and the fans are busy taking photos by the Cosmo sign, as they eagerly await for the gates to open. Lots of screaming (and half-naked men) to be had later on, for sure. This guy, though, still has his shirt on.
19 minutes past 8: The gates are now open and fans start to crowd around the stage. The #cosmo69 video starts playing, and the ladies can't help but squeal when they see their favorite bachelors.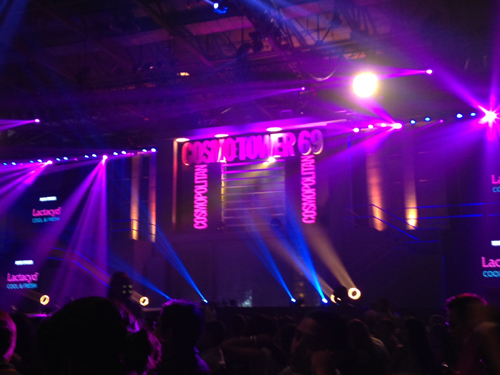 ADVERTISEMENT - CONTINUE READING BELOW
The fans anxiously wait for the show to start. Come on now, everyone' s waited long enough! The venue is practically bursting at the seams with the crowd's anticipation for the upcoming ab-fest.
This year's theme takes inspiration from the workplace. We wonder how we'd be able to get any work done surrounded by all this hotness.
For the few unlucky ones who weren't able to score tickets to the show, there's a livestream for your viewing pleasure, so you won't have to miss out on all the fun. So far we've seen some Cosmo hunks play games and, what else, show off their amazing bods.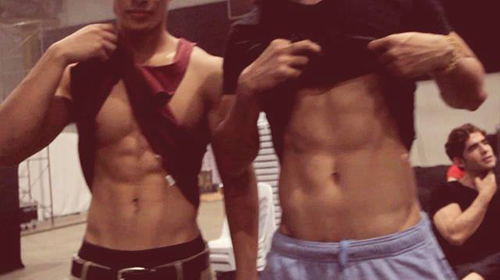 Abs galore. Expect lots of it tonight. (grabbed from the Cosmo FB page)
Time check: It's 8.54 p.m. and more people fill the venue. We look down on the floor and there's no space left so we manage to keep still for the meantime (until the screaming commences). Do we have to wait much longer?
CONTINUE READING BELOW
Recommended Videos
Twenty minutes have gone by and there's not much to report, except for the fact that we're a lot closer to the start of the show (we hope). It's 9:21 and we can definitely feel the excitement in the air. Oh but wait, they've turned down the music. Any second now!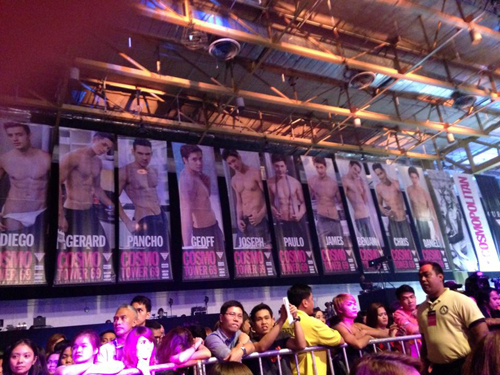 Check out those 10 centerfolds. Whew!
Cosmo Tower 69 will be opening its doors any minute now. Get ready to work hard with your hot bachelors in tow!
It's quarter to ten and they've finally dimmed the lights. Welcome to Cosmo Tower 69! And the crowd goes wild!
The first batch of "applicants" walk in. Time check: 9:51 p.m. Oh, look, men! But with clothes on? Sporting the latest office and casual wear, courtesy of Guess.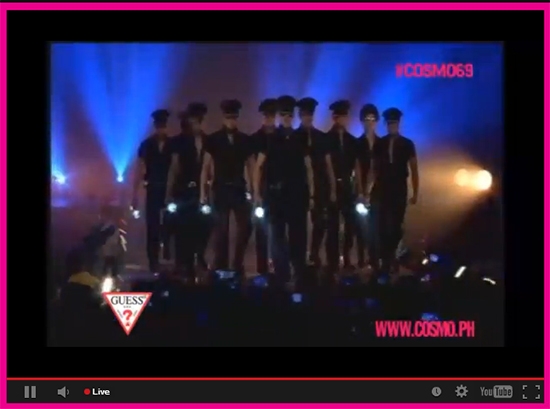 ADVERTISEMENT - CONTINUE READING BELOW
Sex-curity (screencapped from the Cosmo.ph livestream)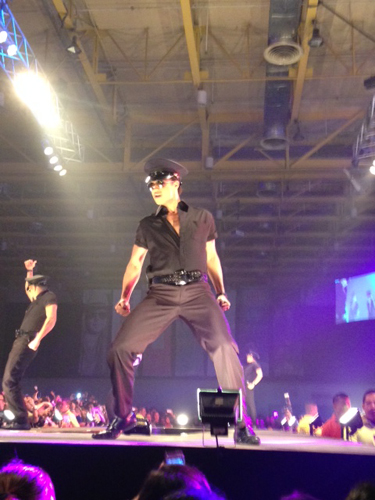 Here at Cosmo Tower 69, everyone is a looker... even the men who stay up all night to guard the premises.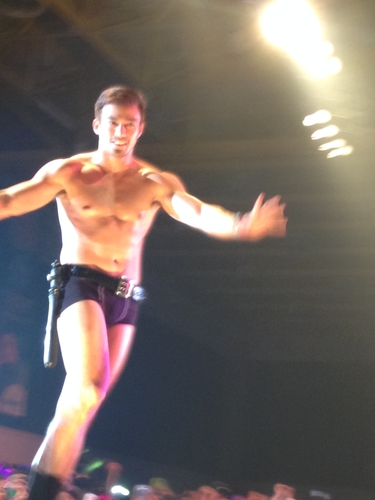 Joining the hottest force in town is real-life policeman and recently-crowned Mister International Philippines, Neil Perez.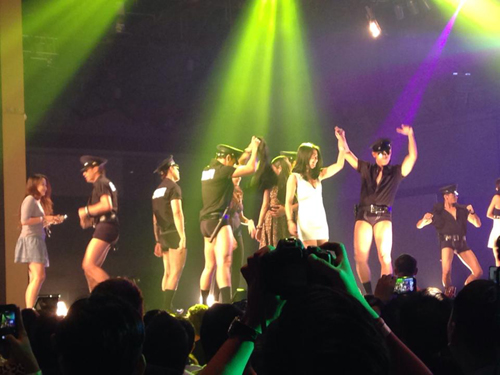 ADVERTISEMENT - CONTINUE READING BELOW
Girls just want to have fun.
Time check: 10:00 p.m. The Cosmo bachelor "trainees" of the office have now taken over.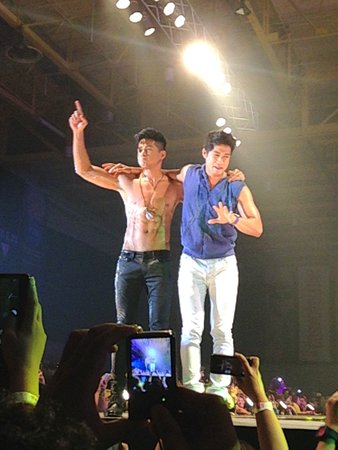 These newbies would do just about anything to get into Tower 69, including pour water on each other. The audience goes wild!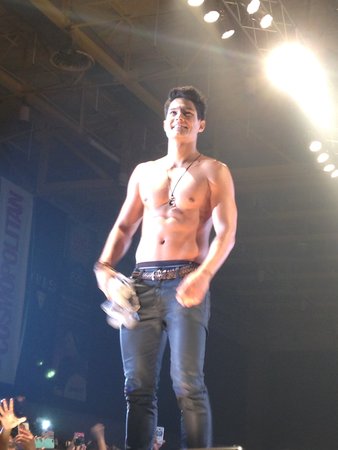 Surprise! It's Daniel Matsunaga, and he's even hotter under these strobe lights.
ADVERTISEMENT - CONTINUE READING BELOW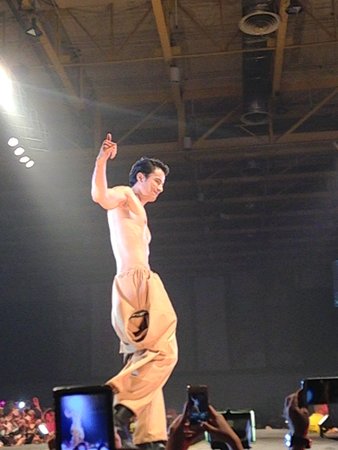 Rafael Rosell dances among the brooms and helmeted men, ready for some serious cleaning and fixing. So far we've seen security guys, and now the maintenance team. More attractive office personnel: check and check.
10:45 p.m. Here come the Cosmo centerfolds, also known as the "Executive Board' of Cosmo Tower 69. The crowd erupts in screams, and we can't blame them. We wish our bosses looked this sizzling.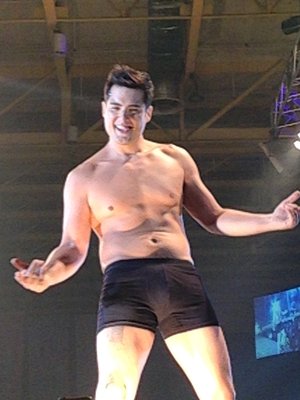 ADVERTISEMENT - CONTINUE READING BELOW
Geoff Eigenmann is dubbed "Director of Internal Affairs," and Pancho Magno is the office's "Director of Engineering."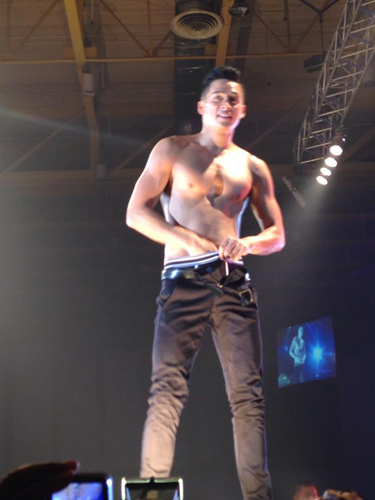 "Business Controller" Diego Furoni throws his necktie towards the crowd. The rest of his clothes suffer the same fate.
Daniel Velasco is out to cure aching hearts as "Chief Medical Officer," while Gerard Garcia is given the title "Chief Creative Officer."
Joseph Marco wows the crowd as he slowly unbuttons his shirt. He runs back and pulls out...a bra from his pants. Wonder whose it is?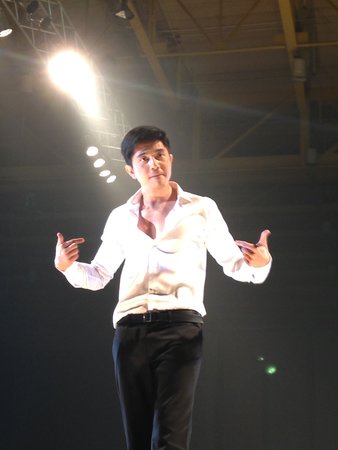 ADVERTISEMENT - CONTINUE READING BELOW
The CEO teases the crowd. Take it off already!
Finally, the main boss of Cosmo Tower 69 arrives. Paulo Avelino ("Chief Executive Officer") has the entire venue screaming! Clad in a smooth and pristine suit, he strides down the catwalk as he slowly takes off his blazer. What a slow burn!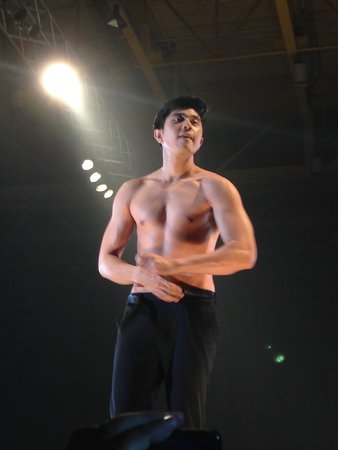 He tears off his shirt and brings everyone to their feet, even the well-behaved and seated press.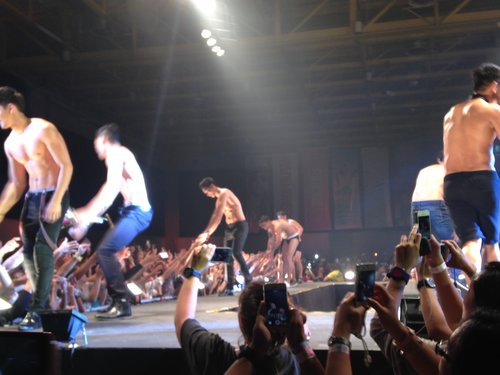 ADVERTISEMENT - CONTINUE READING BELOW
The "Executive Board" make their way down the catwalk. Shirtless, of course.
And just like that, the show is over. Sadly, our steamy overtime has come to an end. Time to head home and wish our offices looked like this everyday. Until the next Bachelor Bash!
Share this story with your friends!
---
Help us make Spot.ph better!
Take the short survey
Load More Stories