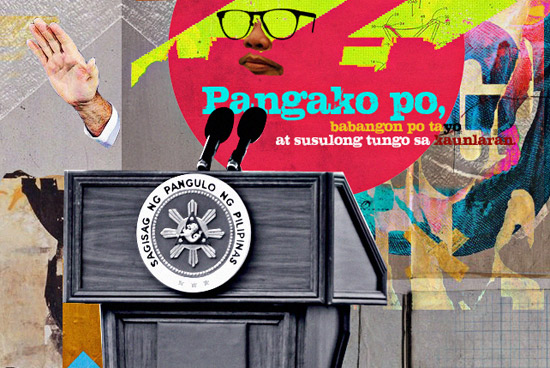 (SPOT.ph) Now that everyone's playing the game like it's already 2016, we think it's time to get our priorities straight. We're going to be selecting a new president soon and we want to pick the right one. Do we have time to check out what policies they wrote or supported? Plenty. Is there a way to track their attendance? If you Google a bit, you can get as far as June 2014. (Cuties behind rollcall.ph, we miss you.)
But who wants to peruse the BillTracker by the Philippine Star? It's an amazing web app, sure. But that's not what matters. What matters is heart. We must vote with our heart for the person who has heart. Puso lang 'yan.
1. Must be the voice of the people (read: SING)
Crooning is a relatively painless way to people's hearts. A politician is lucky if he worked his way up the political ladder and practiced serenading people back when he was running for mayor. If he's suddenly in the big leagues, he can get away with coyly reciting lines with a bit of tune into the microphone. The pros know that what matters is you seem game to do it. ("It" here could mean "anything to lull the audience into complacency.")
2. Has "da moves"
Swaying a bit? That can be adorable. We'll likely vote for the guy who lifts his forearms level to his chest and does two-inch punches. He doesn't have to be great. In fact, the more awkward he is, the more relatable he seems. We want to be entertained.
ADVERTISEMENT - CONTINUE READING BELOW
3. Married to Cinderella
The people will eat up a good fairy tale romance, but it can't be all Princess-y and happy endings in an instant. We really mean the Cinderella kind of girl-she's a bit noble but she knows what it's like to scrub floors. She must be plain but can look pretty in an instant. They must seem very in love and destined to be together, even if the odds were at one point against them. (A cheat to this is marrying someone whose prestigious last name will look good next to yours.)
Pro tip: Sharing wedding photos is easier than inviting the entire country to your wedding.
4. Speaks in the third person fluently
Repeat until sincere: "Tayo po ay nagtatrabaho lamang" or "Huwag na po nating pansinin ang mga naninira sa atin" or "Pangako po, babangon po tayo at susulong tungo sa kaunlaran."
5. Comes with catchy tagline
This will be repeated forever and ever or until the last drop of the fruit of your loins gets voted out of power, so it better be good and heavy on recall. Para sa mahirap, matuwid na daan-positive, vague, and miraculous. Why go with "Sipag at Tiyaga"? You want the people to work for progress? Who does that nowadays? Who actually succeeds with sipag at tiyaga? Remember: Positive. Vague. Miraculous. Gaganda ang buhay. (See how that works?)
6. Approachable (Down to earth)
When you're wallowing in muck, you want a candidate who's in the muck with you. You want to see his face, cheery and bright, handing out bags of relief goods right after a typhoon. His clothes are perfectly disheveled and his hair is just messy enough. He can scrub it off with a hot shower in his impeccable bathroom later, but right now, it's all about you. You need those cans of sardines and repacked noodles.
ADVERTISEMENT - CONTINUE READING BELOW
Recommended Videos
7. Underdog
Aww, look at him. All of those mean politicians are picking on him just because he's different. We must root for him now. Damn those other people plotting against him! Damn those people doing a demolition job, exposing his corrupt ways. They're no good snitches. We know the real deal.
8. Must be funny
Oh, gosh, he's so witty with those puns and one-liners! We love people who can make us laugh. Charm us with your humor. Make jokes out of everything, including public policies and our hard life.
9. Celebrity seal of approval
Well, if [celebrity ] likes him, he must be awesome. [Celebrity] endorses [Brand X] and we like that. We share the same taste. This politician must be totally cool. It makes so much sense.
10. God-fearing and God-loving
End of conversation. Amen.
Share this story with your friends!
---
Help us make Spot.ph better!
Take the short survey
Load More Stories