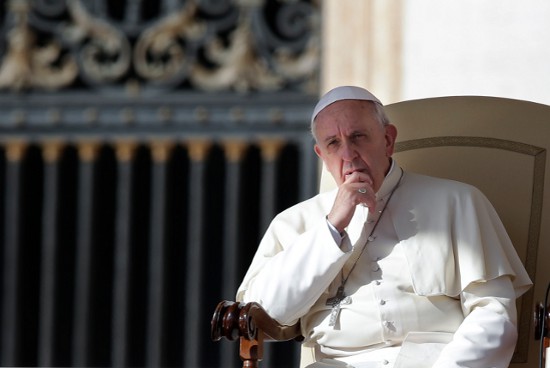 (SPOT.ph) Busy day, Spotters? We quickly recap 10 things you might have missed while you were off the radar.
1. Vatican document challenges Church to change attitude towards gays
A Vatican document said on Monday (October 13) that homosexuals had "gifts and qualities to offer" and asked if Catholicism could accept gays and recognize positive aspects of same-sex couples. The document, prepared after a week of discussions at an assembly of 200 bishops on families, said the Church should challenge itself to find "a fraternal space" for homosexuals without compromising Catholic doctrine on family and matrimony.
2. 9News to become CNN Philippines
9News, the current affairs arm of 9TV and formerly known as Solar News Channel, will again be rebranding itself, but this time as CNN. Media Newser, an online community site, earlier reported that the channel's news division will be closely working with CNN's international arm, who will also provide its local counterpart with original reporting and programming.
3. Amal Alamuddin Has Taken George Clooney's Last Name
She is now Mrs. Clooney by name. Several weeks after her wedding to George Clooney, Amal Alamuddin has adopted her Hollywood husband's surname. The news comes courtesy of Alamuddin's London-based law firm, Doughty Street Chambers, which updated its site to reflect that the lawyer is now going by Amal Clooney.
4. Stop Nognog 2016: Binay camp blasts LP for "conspiracy"
Binay spokesperson Atty. JV Bautista has alleged that Oplan "Stop Nognog in 2016" is an organized take-down orchestrated by members of the Liberal Party (LP) including Mar Roxas and members of the Nacionalista Party (NP) including Senators Alan Peter Cayetano, Antonio Trillanes IV, and other Binay accusers. "This is a well-funded, well financed, well organized conspiracy, the principal aim of which is to destroy the chances of Vice-President Binay to become the next president in 2016," said Bautista. Plus points for the creative name.
ADVERTISEMENT - CONTINUE READING BELOW
Update: Roxas allies have responded and they, of course, denied it.
5. DOTC chief backtracks on MRT shutdown proposal
Transportation Secretary Joseph Emilio Abaya has backtracked on his proposal for a temporary shutdown of the Metro Rail Transit (MRT), a Malacañang official said yesterday. "According to Secretary Abaya, it was a hypothetical answer to a hypothetical question," said Presidential Spokesperson Edwin Lacierda.
Lacierda verified the matter with Abaya, who had a meeting with President Aquino yesterday morning. He also added that Malacañang is leaving the matter to the Department of Transportation and Communications (DOTC).
6. New music from Taylor Swift
Don't get too excited; it's just a quick preview of her latest song, Out of the Woods. Some have said it sounds like Savage Garden, if you still remember them.
7. Palace questions "daang matuwid" poll
Malacañang on Monday refused to accept that 36% of Filipinos believe that President Aquino has failed to deliver on his "daang matuwid" promise. Presidential Spokesperson Edwin Lacierda questioned the timing of Pulse Asia's survey saying, "The 'tuwid na daan' has been an ongoing campaign for the past four years. Why is it that they conducted the survey only now?"
8. Top 10 New Convenience Store Food Finds
When you're hungry and in a rush, sometimes all you can do is head to the nearest convenience store. Check out these cheap and quick thrills for a no-nonsense meal that will fill you up with no trouble at all.
ADVERTISEMENT - CONTINUE READING BELOW
Recommended Videos
9. I'm not a Binay dummy, says Chinese-Filipino businessman Antonio Tiu
Antonio Tiu issued a statement on Monday after senators advised him to admit fronting for Vice President Jejomar Binay on the ownership of a 350-hectare property in Batangas. Tiu said that his accusers were wrong and that he would prove his innocence when he appears before the Senate Blue Ribbon subcommittee investigating the Vice President's alleged hidden wealth.
"I am not a dummy. I am engaged in legitimate business here and abroad primarily on agriculture. I made my fortune through sheer hard work and my determination to succeed. If we really want to count the number of farmers we have been providing jobs and markets [sic], it will run into more than 100,000," he said.
10. Obama girls, Malala, Lorde make Time's 'influential teens' list
First daughters Malia, 16, and Sasha, 13; Grammy-winning New Zealand singer Lorde, 17; and Nobel Peace Prize Winner and Pakistani education activist Malala Yousafzai, 17, are all on the annual Time Magazine list of most influential teenagers. Time said it compiled its list by analyzing the teens' social media following, business successes, and cultural importance.
Share this story with your friends!
---
Help us make Spot.ph better!
Take the short survey
Load More Stories