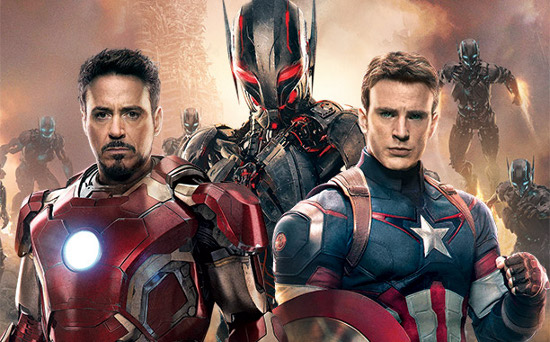 (SPOT.ph) Busy day, Spotters? We quickly recap 10 things you might have missed while you were off the radar.
1. Watch: The Avengers: Age of Ultron trailer
Just a week before the highly anticipated movie's teaser trailer release, the footage has been leaked early...much to the delight of eager Marvel fans. The clip features glimpses of Ultron, Iron Man's Hulkbuster armor, and a possible look at the Black Widow's backstory. See for yourselves.
Update: Marvel has relented and released the official teaser trailer in all its HD glory.
2. IKEA Singapore recreates hallway scene from The Shining for its spooky Halloween ad
In the spirit of Halloween, IKEA Singapore has unveiled its newest ad, and it's a pretty spot-on recreation of the famous hallway scene from Stanley Kubrick's classic film, The Shining. Created by BBH Singapore, it features a little boy riding a tricycle around a darkened IKEA store with ominously flickering lights.
ADVERTISEMENT - CONTINUE READING BELOW
3. Three of six Sunchamp board members linked to VP Binay, says Tiu
Three of the six members of the board of Sunchamp Real Estate Development Corporation, which claims ownership over the 350-hectare property in Rosario, Batangas, were lawyers linked with Vice President Jejomar Binay, particularly his daughter.
During Wednesday's Senate hearing, businessman Antonio Tiu admitted that he nominated to Sunchamp's board three lawyers connected with the Subido Pagente Certeza Mendoza & Binay Law Firm, where Binay's daughter, Makati Representative Mar-Len Abigail Binay, is a former partner.
4. KBP prepares for Binay-Trillanes debate
The Kapisanan ng mga Brodkaster ng Pilipinas (KBP) said on Thursday that they are now preparing for a one-on-one debate between Vice-President Jejomar Binay and Senator Antonio Trillanes IV. KBP Chairman Jun Nicdao said he is coordinating with both the Trillanes and Binay camps on the format and venue for the debate.
"Pwedeng mangyari ito next week kung pumayag silang dalawa or the week after next," he said.
5. Chickensad Part 2? It could happen
According to ANC's Dateline, fast food giant Jollibee warned that infrastructure problems could hurt its distribution and force it to close stores again, just like what it did back in August when a systems upgrade glitch led to limited availability of some of its products like the much-beloved Chickenjoy.
6. Palace: Respect PNoy's decision not to attend Laude's wake
Malacañang on Thursday urged Filipinos to respect President Benigno Aquino III's decision not to attend the wake of slain Filipino transgender Jennifer Laude. "Kung maaari sana ay igalang natin ang kanyang saloobin," Communications Secretary Herminio Coloma said at a televised press briefing.
On Wednesday, P-Noy explained he has no plan to visit Laude's wake. "In general, I don't attend wakes of people I don't know. I find it-and I'm speaking for myself-I'm uncomfortable in trying to condole with people who don't know me," he said.
ADVERTISEMENT - CONTINUE READING BELOW
7. Watch: A 14-year-old Kim Kardashian predicts her future
For Kim Kardashian's 34th birthday, Entertainment Tonight has released some throwback footage of the celebrity celebrating her eighth grade graduation. Among a number of pretty entertaining quotes, she also says, "Does everyone get a tape of this? Because I hope you do, so you can see me when I'm famous and old you'll remember me as this beautiful little girl."
8. Renée Zellweger: "I'm glad folks think I look different"
In an exclusive statement to PEOPLE, actress Renée Zellweger has responded to recent Internet chatter about her appearance, saying she looks different because she is healthier and happier than ever-and she's fine with people taking notice. "I'm living a different, happy, more fulfilling life, and I'm thrilled that perhaps it shows," she added.
Brad Pitt's latest World War II flick is finally showing in theaters! Before lining up for tickets, check out our movie review. It's a star-studded cast, but one star shines the most. Can you guess who?
ADVERTISEMENT - CONTINUE READING BELOW
Prepare your sweet tooth. We've scoured the metro for the best of this indulgent Italian layered dessert.
Share this story with your friends!
---
Help us make Spot.ph better!
Take the short survey
More Videos You Can Watch
Load More Stories