10 Things the LTFRB Could Be Busy With Instead of Uber
...like buses on fire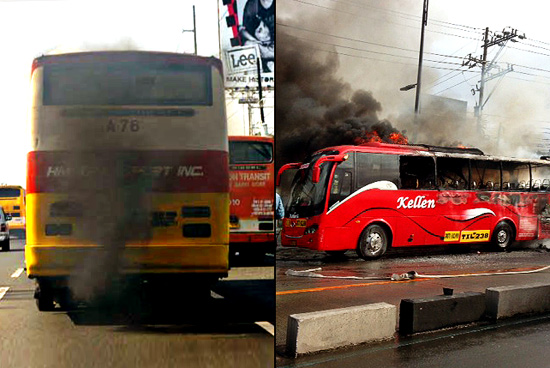 (SPOT.ph) We have this theory that if everything were going smoothly, we would understand why the Land Transportation Franchising and Regulatory Board had so much time on their hands, they couldn't find anyone else to arrest.
But no. Oh no. It takes exactly one rush hour morning to point out a few things the LTFRB could be busy with, instead of Uber.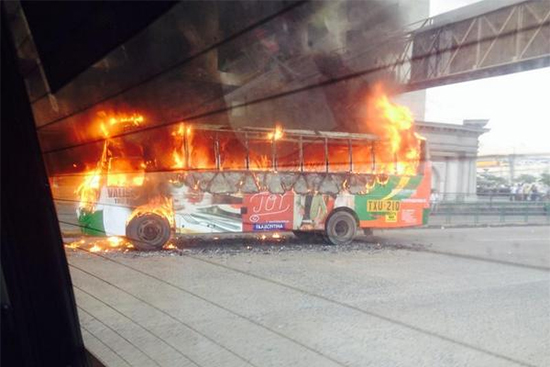 1. Buses that suddenly catch fire
Call us worry warts, but this seems like a very pressing matter-especially considering some people, like us, value their lives. November opened with one bus catching fire like a Hunger Games sequel and we're thinking: Surely, there's some way to determine whether a bus is close to spontaneously combusting.
Photo from GMA News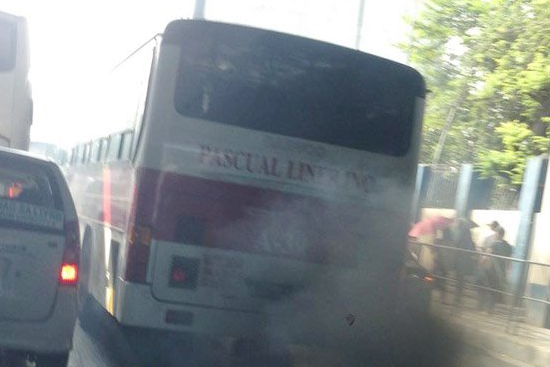 ADVERTISEMENT - CONTINUE READING BELOW
2. Smoke belchers
They're fairly easy to spot. No need for elaborate entrapment plans.
Photo from TopGear.com.ph
3. Coordinating with LTO (and MMDA) better
We're not entirely sure what the "he said, she said" between agencies achieve, but we're certain it's close to nothing. One agency rolls out a "special" bus, the other arrests the driver of said bus. One agency wants to arrest Uber, the other defends it. It makes everyone looks shabby. Is mobile service terrible in your office? Can't send a text? Also: Why does there have to be three different government offices dealing with traffic matters, again?
CONTINUE READING BELOW
Recommended Videos
4. Provincial buses
Should they be allowed on EDSA? Should they be banned? We don't know...but someone should definitely do some research. This doesn't seem to be something that should be decided on a whim, to be switched on and off depending on a random variable.
5. Private vehicle proposals
Banning private cars on EDSA seems insane, mostly because the LTFRB isn't producing data needed to prove their claims that this makes sense. Nor are they explaining everything clearly. Will they provide alternate routes? Can people still use their cars when it isn't rush hour? High school Science projects have higher standards than some of these schemes.
6. Trucks and truck problems...
Mostly because it probably hurts to hear senators call you "thick-faced" and "foolish."
7. ...and on that note, rethink rules like "No Apprehension" policies
Firing warning shots is okay, but how many do you make before going in for the...uh, arrest? It's not like the rules on franchising are new. Don't the operators have to abide by them all the time?
ADVERTISEMENT - CONTINUE READING BELOW
8. Enforcing the speed limit
When there's a gridlock, this hardly makes any sense...but past 10 or 11 at night? It's like the buses are trying to make up for lost time. Doesn't matter how you feel about Jesus during these occasions, you're going to want to talk to Him. As in, "Jesus, I don't want to die. Please don't let me die."
9. Coordinate with E-jeep makers
This COMET thing seems like a great idea. They have terminals and everything. Maybe see how this can be implemented more widely or something productive like that?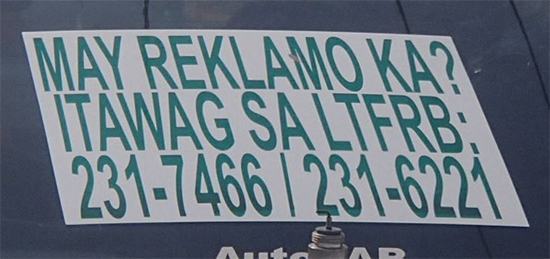 10. Suspend people with complaints
Because when you see a bus that blocks the entire road and then leaves a cloud of black smoke as it zooms away, the answer to the questions "May reklamo ka?" becomes very, very clear. Marami.
Share this story with your friends!
---
Help us make Spot.ph better!
Take the short survey
Load More Stories