10 Ways to Make the Most of Your Credit Card
Not just for swiping things you don't need and can't buy.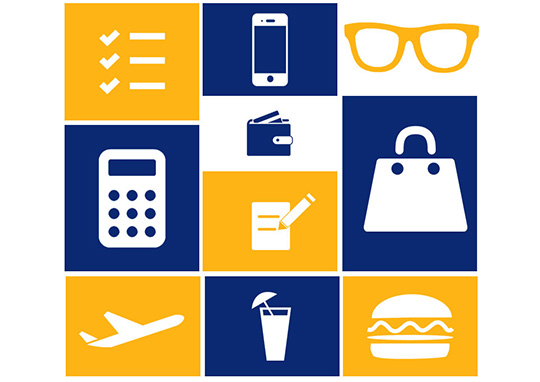 A credit card can be a blessing. It's safer, freeing you from carrying cash; and, when used properly, can help you manage your finances by letting you pay for needed items in advance. But with purchasing power comes great responsibility. Here are some things to keep in mind when using your credit card for stress-free spending all-year round.

1. Make a list, check it twice

Making a shopping list isn't something you do only during the holidays or for trips to the grocery store. Making a list of things you need before going to the mall is a visual reminder of why you're there in the first place. The list also helps keep you focused on your task, so there's less chance of impulse buying.
2. Make a budget and stick to it
A budget is important because it gives you an overview of your needs versus your expenses. Having a concrete amount of spendable income helps keep you aware about where your money goes, which in turn helps you use it wisely.
3. Planning is everything
Malls are like mazes, and intentionally so. To make the most of your afternoon, plan your route so that you get everything you need in the least amount of time, with the least amount of effort.
4. Preparation is the key
Treat your shopping expedition like a high profile mission. Wear comfy clothes and footwear, use a bag that's light and hard to pickpocket, and make sure that you take breaks to rest your legs and to fuel up. Just because you're in an air conditioned mall doesn't mean that you don't get tired; and the less tired you are, the more errands you can finish.
ADVERTISEMENT - CONTINUE READING BELOW
5. Fuel Up
Rushing to and fro making sure you finish your errands will leave you hungry, but you might be too caught up with the weekend rush to notice it. Remember to stop at a cafe for a snack, or if you're in a real hurry, pack some water and easy-access snacks like nuts that you can munch on while in line for the cashier.
6. Make it Plastic

Consider carrying cards instead of cash. They're lighter and less of a hassle to whip out. Just be mindful of your credit limit, not to mention your shopping budget.
7. Get out of your comfort zone

CONTINUE READING BELOW
Recommended Videos
This year boasts a number of long weekends, giving you opportunity to travel. Whether it be to a favorite destination like Baguio, or to someplace completely exotic like Korea, you don't have to worry as long as you book your airfare and accommodations in advance, and confirm everything before you leave Manila. And if you go overseas, shopping becomes less of a hassle because credit cards are safer, not to mention lighter, than cash.
8. A staycation is an option
Who says you have to leave town to have fun? Take advantage of the long weekend--or even just an ordinary weekend--downtime and stay in Manila. Many hotels offer a discount on published rates to Manileños, especially during holidays. Now you can feel like you're overseas without having to leave the metro.
9. There's an app for that
There's an app for everything, even for finding the best deals. BDO's Deal Finder App keeps you in the loop, providing  daily updates on the the hottest deals and keeping you up to date with BDO Credit Card's new and exciting offers. The app also lets you locate BDO branches and ATMs and check your credit card balance.
ADVERTISEMENT - CONTINUE READING BELOW
10. Don't forget to relax
After spending all that time running errands and shopping for gifts, don't forget about the most important person in your life--you! Pamper yourself with an invigorating workout or a day at the spa. After all, you deserve it.
---
Shopping with your credit card need not be a thraumatic experience. Indeed, it can be very enjoyable and can save you a lot of time and money if used properly. So the next time you decide to go shopping, take these tips to your heart and never hesitate to use your credit card to find ways to make every day more meaningful for your loved ones and more rewarding for yourself.
Share this story with your friends!
---
Help us make Spot.ph better!
Take the short survey
Load More Stories