Director Quentin Tarantino plans to retire after 10th film + more things you might have missed today
The Kathniel "Pangako Sa 'Yo" remake is a go, the "kakanin" traffic enforcer gets a raise, and more.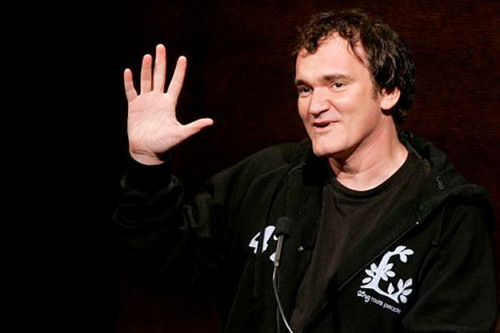 (SPOT.ph) Busy day, Spotters? We quickly recap 10 things you might have missed while you were off the radar.
1. Quentin Tarantino plans to retire after his tenth film
Say it ain't so! As Quentin Tarantino gears up for his eighth film The Hateful Eight, he's also got his eye on a more long term goal: retirement. "I do think directing is a young man's game and I like the idea of an umbilical cord connection from my first to my last movie. I'm not trying to ridicule anyone who thinks differently, but I want to go out while I'm still hard...I like that I will leave a 10-film filmography, and so I've got two more to go after this," he said.
Tarantino continued, "It's not etched in stone, but that is the plan. If I get to the 10th, do a good job and don't screw it up, well that sounds like a good way to end the old career. If, later on, I come across a good movie, I won't not do it just because I said I wouldn't. But 10 and done, leaving them wanting more, that sounds right."
2. Nicki Minaj apologizes for offensive music video
Rapper Nicki Minaj has apologized following backlash over the use of Nazi imagery in her "Only" lyric video. She took to Twitter on Tuesday to explain, saying, "The artist who made the lyric video for 'Only' was influenced by a cartoon on Cartoon Network called 'Metalocalypse' as well as the Frank Miller's Sin City. She also said that she did not come up with the concept but that she was very sorry and she'd 'never condone Nazism in [her] art.'"
ADVERTISEMENT - CONTINUE READING BELOW
Meanwhile, the director of the video, Jeff Osbourne had this to say: "So if my work is misinterpreted because it's not a sappy tearjerker, sorry I'm not sorry. What else is trending?"
3. MMDA's kakanin man gets a raise
The Metropolitan Manila Development Authority (MMDA) traffic enforcer who went viral for selling kakanin to augment his income has been given a salary raise. MMDA Chairman Francis Tolentino said traffic enforcer Fernando Gonzales' daily income will be raised. This means that from P15,000, Gonzales' monthly income will become P20,580.
Gonzales earlier earned praise for his honest way of augmenting his income instead of resorting to extortion.
CONTINUE READING BELOW
Recommended Videos
4. Pimentel to P-Noy: Keep hands off Senate probe on Binay
According to Senator Aquilino Pimentel III, President Benigno Aquino III should not meddle in the investigation being conducted by the Senate in connection with the allegations of corruption against Vice President Jejomar Binay. He said the President should ask the Department of Justice to expedite its investigation on Binay.
"What if there's an investigation of a department secretary or someone closely identified  with the President sometime in the future, can he still tell or advise the committee to speed up or terminate the investigation, or how to conduct the investigation," said Pimentel, chair of the Senate Blue Ribbon subcommittee conducting hearings on the allegations against Binay.
5. Watch: Girl pretends to be drunk in public, and things (sadly) go as expected
YouTube's Stephen Zhang decided to up the ante on the controversial catcall video, and see what would happen if a woman pretended to be drunk in public and asked strangers for help. While one guy tries to point her in the direction of the bus stop she asks for, most insist on taking her back to their place. One takes her from another guy who was hitting on her, saying, "You shouldn't be hanging out with losers like that" before trying to steer her in the direction of his house.
ADVERTISEMENT - CONTINUE READING BELOW
6. Binay decision to back out of debate last minute, says UNA
United Nationalist Alliance (UNA) Interim President and Navotas Representative Toby Tiangco described the decision of Vice President Jejomar Binay to back out of his public debate with Senator Antonio Trillanes IV as "last-minute." Tiangco said he was surprised by Binay's decision. He said he and some UNA members met with the VP on Monday to convince him to back out of the debate but Binay was determined to push through with it.
7. Kathryn Bernardo confirms Pangako Sa 'Yo remake
It's official! The hit teleserye Pangako Sa 'Yo will be remade starring Kathryn Bernardo and Daniel Padilla. The confirmation came from Bernardo herself when asked about her forthcoming projects on Tuesday. The show is slated for next year, and Jericho Rosales has already given the love team his blessing.
8. Beijing, Philippines move to calm South China Sea tensions
President Benigno Aquino III said he and Chinese counterpart Xi Jinping had a "meeting of minds" on Tuesday during talks which included a territorial row that has affected relations between the South China Sea states. "The warmth was there... there was sincerity," Aquino said in Beijing, where he was attending the Asia-Pacific Economic Cooperation (APEC) Summit.
"South China Sea was mentioned in passing... There was mention of finding constructive ways to solve this," he added. So it's "South China Sea" again, not "West Philippine Sea"?
9. 15 Minutes with Francis Libiran
From intricate and ethereal gowns to...a colorful pair of slippers? You read that right. Before you get your hands on a limited-edition Francis Libiran for Havaianas pair of slippers, check out our interview with the fashion designer himself. He dishes on his dream client, his love for beaches, and working with the footwear brand.
ADVERTISEMENT - CONTINUE READING BELOW
10. 10 Must-try Spa Treatments in Manila
Desperately need a break but can't get away? We've got a couple of ideas! From the affordable to the indulgent, take your pick from the best types of scrubs, massages, and other relaxing treatments across the metro.
Share this story with your friends!
---
Help us make Spot.ph better!
Take the short survey
Load More Stories