Top 10 Most Ridiculous Philippine Bills or Laws of 2014
...and even ridiculous ordinances. Ayayay.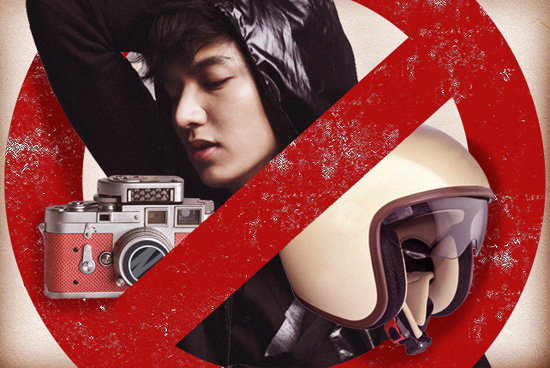 (SPOT.ph) Absurdity seems to be the name of the game in politics, and we're not limited to Upper and Lower houses anymore. This year, the Local Government Units have joined in the fun of proposing ordinances that really make you think...because surely, someone has to.
Vague wording, defiance of logic, and questionable motives litter some of the most ridiculous pieces of legislation we came across this year. Not all of them were approved...and we hope that some of them get banned from being written ever again.
Also read:
Top 10 Most Ridiculous Philippine Bills or Laws of 2013
SPOT.ph's Top 20 Crazy Laws in the Philippines
1. Mandaluyong Ordinance: No Relation, No Back Ride Policy
It's a thing in Mandaluyong and it was almost a thing in Manila. The great Senator Tito Sotto even proposed that the whole country follow this rule. Back ride, kids, pertains to the intimate act of putting your arms around someone while s/he drives off towards the sunset. Certain elements of that scene may vary, but for lawmakers, one thing is clear: If you are a man, this act is only proper if the person holding you in his arms is your brother. Mandaluyong City Mayor Benhur Abalos swears that this is a brilliant plan to decrease crimes committed by "riding-in-tandem." It just seems like the police or maybe traffic enforcers could do so much more with their time, like arresting jeeps parked right next to a "No Parking" sign...or smoke belchers...and people violating the speed limit...and jaywalkers. Or maybe catching killers who "ride in tandem."
ADVERTISEMENT - CONTINUE READING BELOW
2. Quezon City Ordinance (Proposed): The Polite Comedy Bar
According to Quezon City District 3 Councilor Allan Benedict Reyes, comedians shouldn't curse. They also shouldn't be unseemly, obscene, filthy, lewd, indecent, immoral, or insulting. Counselor Reyes said that he filed the ordinance as a response to a complaint made by a "concerned citizen" who didn't think singling out a person and making him or her the butt of the joke is funny. It hasn't been approved yet, but think of it: How fun would it be to implement this as a law? Somewhere out there, there's a person whose job would be to sit in comedy bars every night, monitoring the quality of the jokes. Think about it. Think of how fun that would be.
CONTINUE READING BELOW
Recommended Videos
3. House Bill 4807: Protection Against Personal Intrusion Act, a.k.a. The Anti-Selfie Bill
The name released to the media is ridiculous in itself. The bill has little to do with selfies and more to do with limiting where and what you can shoot. House Bill 4807's wording was a little broad (capturing the physical impression of a person would be illegal) and due to the strong reaction of photo journalists and street photographers, several authors of the bill withdrew their support. Besides, there are enough places in the city where taking pictures isn't allowed. (Why do we get the feeling that some people would actually support a proposal for people to stop taking selfies? Is it because they've turned into health hazards?)
ADVERTISEMENT - CONTINUE READING BELOW
4. Iloilo Ordinance: Bikini "Closed" in Iloilo
Truly, nothing is more frightening than a (semi-)naked woman. Pluralize that and you have yourself chaos and violence. Objectifying women-or anyone for that matter-seems obviously wrong. We can't really fault the local government unit of Iloilo if they want to maintain the sanctity of the human body by banning "sexy body" contests that only promote ogling. However, it's been proven that wearing as many layers of clothing as possible doesn't really stop men from objectifying them. Had they reasoned that these "best in swimsuit" competitions cause an unhealthy body image, it would be easier to agree with the ban. As it is, they seem to be following the "don't wear shorts if you don't want to get assaulted" logic.
5. House Bill 4438: No Helmet Bill
It almost seems insulting to the intellect of both the writer and the reader to have to use more words to explain why this is utterly baffling. Helmets: They're great. Should anything untoward happen to you on the road, helmets prevent fractures on your skull, which we heard is...you know, bad. In its defense, author Representative Celso Lobregat said that his bill will unmask criminals. We said it before, but it's worth saying again: Maybe he's trying to increase the risk of evildoers spilling their brains on the road, should they get into an accident while trying to escape? (P.S. Maybe it's better to develop strategies that don't require the public to risk injury or death to catch criminals, yeah?)
ADVERTISEMENT - CONTINUE READING BELOW
6. Senate Bill 2398: Yes to Hospital Arrest
Senator Nancy Binay told the media that the death of Andrea Rosal's newborn child prompted her to file this bill. Rosal was detained in a regular jail, despite her advanced pregnancy, and prematurely gave birth. The baby soon died due to the lack of proper care. Senator Binay's proposal to prevent this seems noble-until you reach the part where she writes house arrest options and provisions to attend funerals, visit a critically ill relative, and...having the right to obtain various health services? Hmmm. No wonder some folks caught a whiff of something wretched about this petition.
7. House Bill 3673: Renaming Commonwealth to Eraño Manalo Avenue
We feel compelled to say that we mean no disrespect to the memory of Ka Erdy, whom we're sure is considered great by his flock. A couple of other people have already pointed out that naming the entire stretch of Commonwealth after Manalo violates certain rules of secularism, so we won't dig a hole for ourselves by repeating them. Instead, we'll say this: Do his followers really want his name to be bestowed upon what is known as the Killer Highway? Imagine the headlines.
ADVERTISEMENT - CONTINUE READING BELOW
8. House Bill 3839: Pinoy Primetime or The Koreanovela Ban
Buhay Party-List Representative Lito Atienza likes his TV local, or does he actually watch TV? Is he aware that the companies who air Koreanovelas are the same companies who also make local teleseryes? And did he really say that local producers have stopped making original productions for television? They may be running out of original ideas, but that last one seems like a stretch. We'll give him props for saying that local creativity should be promoted. You know what would do that? Financing the arts. You know what else stimulates creativity and the appreciation for finer things in life? An economy that allows you to give a damn about culture, instead of making you want to numb yourself by watching TV.
9. House Bill 2072: Malunggay is the National Vegetable and House Bill 3926: Adobo is the National Food
ADVERTISEMENT - CONTINUE READING BELOW
This is where your taxes go. A tree had to die to make the paper for these bills. We don't want to get too deep, but we must ask: Who actually feels patriotic because of these symbols? Was Pangasinan Fourth District Representative Gina de Venecia hoping that our hearts would swell with pride when we use malunggay soap in the shower? And why is a dance of Hispanic origin our national dance? As the youth would say: Tinikling 5ever. A truly Pinoy dance! (By the way, congratulations. You made it to number nine with your head intact.)
10. House Resolution 1611: Go, Palawan, Go Bill
A copy of House Resolution 1611 has yet to be released. As far as the news go, it seems that 1-CARE Party-List Representative Edgardo R. Masongsong filed it to, um, give special citations to Palawan for being cited as the Top Island of the World by Condé Nast Traveler's readers? He's commending it for being commended. Praising it for being praised. You get the picture. Next move, making it the national island.
ADVERTISEMENT - CONTINUE READING BELOW
Notes: Due to its timing, The Lifetime Tax Exemption for Pacquiao is not on this list.

Share this story with your friends!
---
Help us make Spot.ph better!
Take the short survey
Load More Stories