Manila in Hashtags, 2014
Hashtag pa more!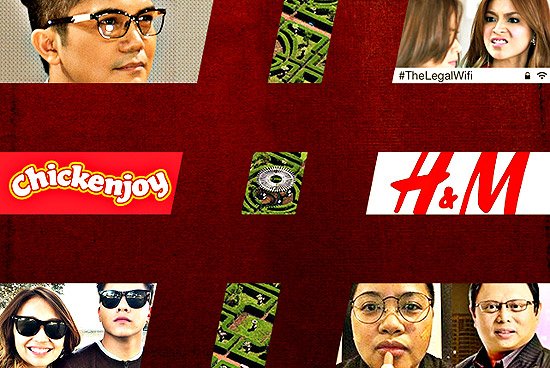 (SPOT.ph) It was one of the runners-up for the Word of the Year and it's a continuing trend not only on social media, but in verbal communication as well. Hashtagging has become such a part of how people express their feelings, we've all learned to stop flinching whenever someone, in person, says, "Hashtag what?"
It's a marketing tool, it's a call to action (#HeforShe, #BringBackOurGirls), and it's here to stay...so we're listing the 10 hashtags that defined Manila in 2014.
Also read:
Manila in Hashtags, 2013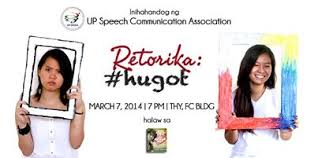 ADVERTISEMENT - CONTINUE READING BELOW
Hugot is a hot topic for college students
#Hugot
This is emo, without the eyeliner and whining about being misunderstood. The art of hugot is turning everything-and we mean everything-into a reference to one's despondent, abysmal, or non-existent love life.
Also read: #HugotSaTagUlan trends on Twitter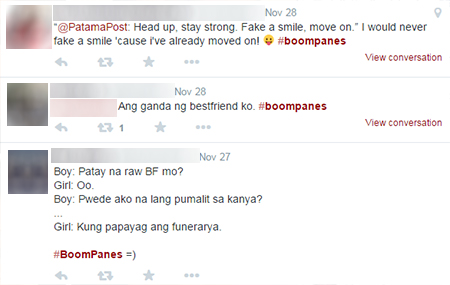 November and going strong
CONTINUE READING BELOW
Recommended Videos
ADVERTISEMENT - CONTINUE READING BELOW
#BoomPanes
Maybe people thought the more straightforward #supalpal just doesn't have the right amount of catchiness. Not that anyone would ever admit that Vice Ganda's song is infectious...but what else can you call something that hit everyone's feed like a plague? Whether we like it or not, we inadvertently had contact with this hashtag (or variations thereof, such as #BoomPaKiss or #BoomPanot) and wondered what we could do to become better human beings.
Also read: 10 Things That Kids Are Saying These Days and What They Really Mean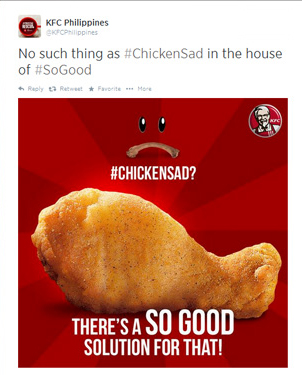 Touché
ADVERTISEMENT - CONTINUE READING BELOW
#ChickenSad
The hashtag that symbolized The Great Chickenjoy Shortage of 2014. Fellow fast-food giant KFC jumped on the demand for fried poultry when Jollibee's system upgrade caused an unexpected delay in chicken deliveries to their branches. People experienced symptoms of withdrawal and, of course, shared it all over social media.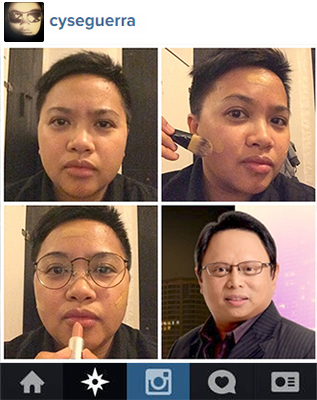 ADVERTISEMENT - CONTINUE READING BELOW
Self-reflexive, yes!
#MakeUpTransformation
The viral Instagram hashtag didn't start here, but that doesn't really matter. What's important is that we were entertained by absolutely clever four-panel transformations...and had even more laughs thank to folks who didn't quite understand how to tell the joke's punch line.
Also read: #MakeUpTransformation catches on, local celebrities make contributions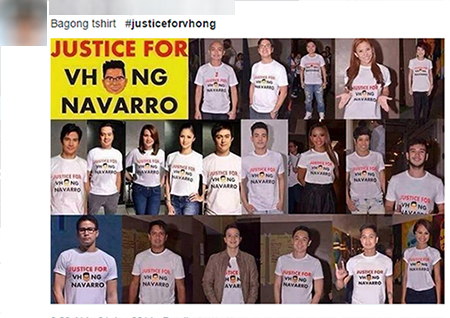 ADVERTISEMENT - CONTINUE READING BELOW
Shirt
#JusticeFor_____
Some pundits are arguing that "clicktivism" is replacing "activism" and whether or not that's true...isn't for us to say. What we do know is that #JusticeForVhong worked like a charm. An arrest warrant was issued faster than you can say Pork Barrel Scam. Several other names fill in the blank for this hashtag and the power of social media vigilance is put to the test. Somewhere out there, some smartypants should find the correlation between Internet trendiness and justice.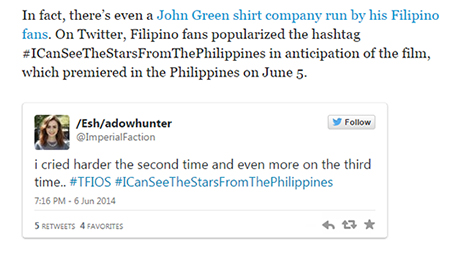 ADVERTISEMENT - CONTINUE READING BELOW
This happened
#TFIOS and #ICanSeeTheStarsFromThePhilippines
We live in the TFIOS capital of the world. TIME Magazine said so, based on Google search data. The story of a girl who judges herself as painfully average but has a complex personality getting swept away by a guy with just enough flaws to make him human but is otherwise perfect because he is devoted beyond death (whew) does have a Pinoy feel to it.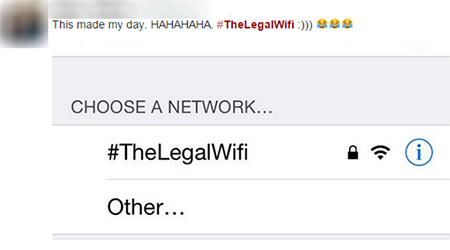 ADVERTISEMENT - CONTINUE READING BELOW
...and it made many more days after.
#TheLegalWiFi
The Angel Locsin and Maja Salvador starrer does lend itself to interesting names for WiFi hotspots and people took the bait. Soon enough, smartphone users were posting screencaps of "TheLegalWiFi." It's so funny, the joke hasn't died even after the show ended. Good job.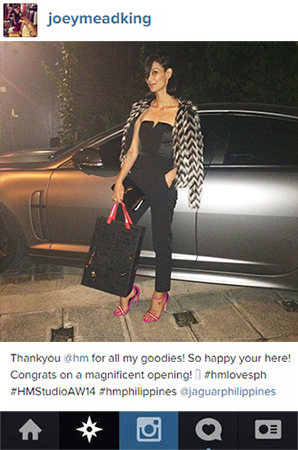 ADVERTISEMENT - CONTINUE READING BELOW
#HMLovesPh
If camping out seems a little too much, just enjoy the feeling of superiority you get out of not participating. But you can't deny that it happened. People really did camp out for H&M and they will always have that experience, banked as a story for their grandkids. They were even, gasp, proud and happy that they did it. Life is about being spontaneous when you can afford to be.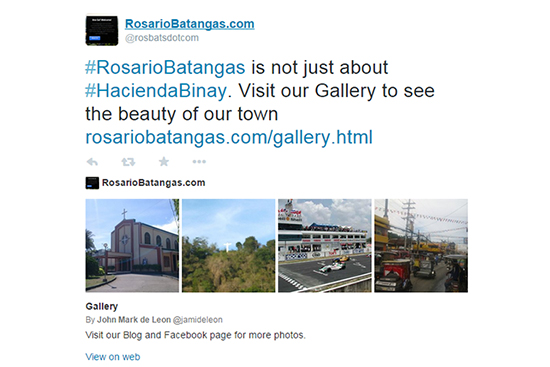 ADVERTISEMENT - CONTINUE READING BELOW
PSA from Rosario, Batangas
#HaciendaBinay and #FaceTheSenate
This year, Vice President Jejomar Binay faced the worst political scandal of the year...or did he? There were no immediate calls for his resignation, just a simple request from certain groups to offer facts that would disprove the accusations made by his critics. Sadly, the Veep backed out of all his scheduled appearances. Meanwhile, #HaciendaBinay became so popular that the Twitter account of Rosario's local government unit had to do some creative marketing and used the hashtag to tell people that they offer much more than controversial real estate.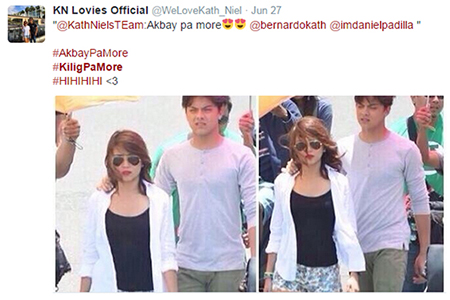 ADVERTISEMENT - CONTINUE READING BELOW
KathNiel fans, hindi nauubusan ng kilig
#_____PaMore
#KiligPaMore, #WalwalPaMore, #DenyPaMore...you get the idea. This year, Cherie Gil as Diana Vreeland taught us to love in excess, so go ahead. Hashtag pa more.
Share this story with your friends!
---
Help us make Spot.ph better!
Take the short survey
Load More Stories