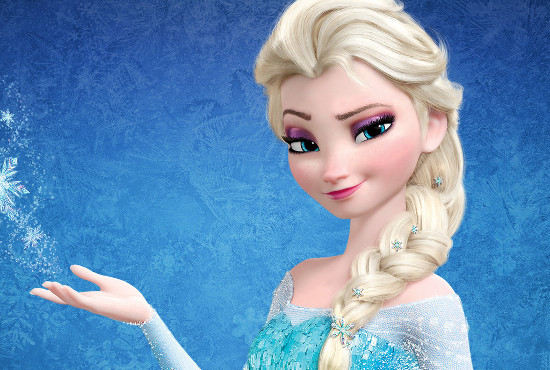 (SPOT.ph) Busy day, Spotters? We quickly recap 10 things you might have missed while you were off the radar.
1. TIME ranks Elsa as the "Most Influential Character" of 2014
Every year, TIME magazine lists the 15 onscreen figures that made the biggest impact on news for the year. Elsa from Frozen placed first, thanks to the film's massive box office earnings, her "Let It Go" anthem dominating the charts, her debut on ABC's Once Upon a Time, and her toy outselling Barbie in America.
Other influential figures include: Kim Kardashian's animated avatar from her mobile game Kim Kardashian Hollywood, Star-Lord from Guardians of the Galaxy, King Joffrey from Game of Thrones, and Amy Dunne from Gone Girl.
2. Listen to a mashup of the year's most popular tracks in four minutes
DJ Earworm, best known for his annual mashups of the biggest pop songs of the year, has released his latest track for 2014. The seventh edition contains notable tracks from Taylor Swift, Sam Smith, Iggy Azalea, and John Legend.
ADVERTISEMENT - CONTINUE READING BELOW
3. Ombudsman orders suspension of PNP Chief Purisima over "anomalous contract"
The Office of the Ombudsman has ordered the preventive suspension of Philippine National Police (PNP) Chief Director General Alan Purisima in connection with an "anomalous contract" the PNP supposedly entered into with a courier service in 2011. On Thursday, Assistant Ombudsman Asryman Rafanan announced Purisima's suspension for six months without pay amid administrative investigation.
4. Miriam launches book of jokes, says "millions of stupid Filipinos" inspired her
Are you a fan of Senator Miriam Defensor-Santiago's jokes, punchlines, and one-liners? Then you'll love her new book, Stupid is Forever. The book is a collection of the senator's witty jokes, which she has said took her two months to write. "I came up with this collection of jokes because sometimes we are being too serious about the issues facing our country today. I think if we laughed more, and took ourselves less seriously, the public debate would be much better," she said.
ADVERTISEMENT - CONTINUE READING BELOW
Recommended Videos
She added, "I would like to thank the millions of stupid Filipinos for inspiring the book."
5. Binay's biggest campaign donors charged with tax evasion
On Thursday, two separate tax evasion complaints were filed by the Bureau of Internal Revenue (BIR) against Vice President Jejomar Binay's biggest campaign donors in the 2010 elections: spouses James and Ann Loraine Tiu. The couple was charged for an aggregate tax liability of P39.03 million, inclusive of surcharges and interests.
James is the brother of businessman Antonio Tiu, one of the alleged dummies of Binay. In October, it was revealed before the Senate Blue Ribbon Sub-Committee that the Tiu couple was Binay's biggest campaign donors in 2010.
6. Telcos urged to activate Free Mobile Disaster Alerts Law
A lawmaker on Tuesday urged authorities to immediately activate the Free Mobile Disaster Alerts Law as part of preparations against the calamity. "This law can save lives if it is implemented now," Bayan Muna Party List Representative Neri Colmenares, one of the authors of the law, said.
ADVERTISEMENT - CONTINUE READING BELOW
The law was signed six months ago, but its implementing rules and regulations have not been approved yet. The Free Mobile Disaster Alerts Act requires all telcos to send out text or MMS messages to all subscribers of the impending calamity, the required preparation, the address of the nearest evacuation centers, and the location and schedule of relief distribution.
7. Ombudsman suspends PNP officials over missing firearms
Ombudsman Conchita Carpio-Morales on Thursday ordered the preventive suspension for six months of ranking officials of the Philippine National Police (PNP) over the 1,004 missing high-powered AK47 firearms allegedly sold to the New People's Army (NPA). Six of them, along with PNP Chief Director General Alan Purisima, were also preventively suspended for their alleged involvement in a questionable courier contract.
8. Weather update: Typhoon Ruby stronger than "Pablo"
Super typhoon Ruby (international name 'Hagupit'), continues to intensify and is now packing 195 kph winds and gusts of up to 230 kph, weather bureau PAGASA said Thursday. PAGASA senior weather forecaster Chris Perez said Ruby is already stronger than Typhoon Pablo (Bopha), which hit the country in 2012.
ADVERTISEMENT - CONTINUE READING BELOW
The US Navy's Joint Typhoon Warning Center (JTWC) said its winds could hit 315 kph and gusts of 379 kph by December 5, Friday, at 8 a.m.
9. Top 10 Most Ridiculous Philippine Bills or Laws of 2014
Absurdity seems to be the name of the game in politics. This year, we saw plenty of vague wording, defiance of logic, and questionable motives in some of the most ridiculous pieces of legislation.
10. One Day in Manila for P800: San Juan
There's more to San Juan than just bargain hunting (though we admit that is pretty fun). We're here to show you that beyond its famous tiangges, San Juan has a story to tell. From historical sites to scrumptious desserts, there's so much to do for just P800.
Share this story with your friends!
---
Help us make Spot.ph better!
Take the short survey
Load More Stories