LRT and MRT to end December 8 trips early + more things you might have missed today
Metro Manila to feel Ruby's effects Monday evening, a new Godzilla film from Toro, and more.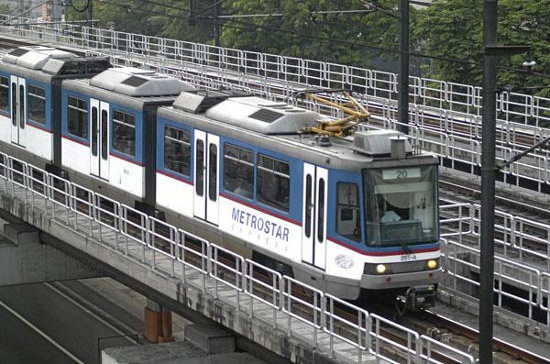 (SPOT.ph) Busy day, Spotters? We quickly recap 10 things you might have missed while you were off the radar.
1. Signal No. 2 raised over Metro Manila; NCR to feel Ruby's effects Monday evening
Public Storm Warning Signal No. 2 was raised over Metro Manila late Sunday evening as Typhoon Ruby continued slowly moving towards Mindoro. PAGASA said Sunday that Metro Manila can expect to feel the typhoon's full effects between 8 p.m. to 10 p.m. on Monday. In anticipation of the typhoon, local governments in the National Capital Region have already announced class suspensions on all levels.
Update: Typhoon Ruby has weakened into a tropical storm on Monday morning, state weather agency PAGASA said. They clarified, however, that heavy rains are still expected.
2. Facebook runs Safety Check for Typhoon Ruby
Social networking site Facebook has activated its Safety Check feature amid the onslaught of Typhoon Ruby in the Philippines, and neighboring countries. With Safety Check, a Facebook user can let his friends and family know that they are safe and check on others in the affected area. It also lets users mark their friends as safe.
ADVERTISEMENT - CONTINUE READING BELOW
3. LRT, MRT ending trips early for December 8
The Light Rail Transit Lines 1 and 2 will end their trips early for Monday, amid bad weather conditions from Tropical Storm Ruby, the Department of Transportation and Communications (DOTC) said. The LRT 1 and 2 will have their respective last trips at 8 p.m. Meanwhile, the Metro Rail Transit operations for Monday will end early, with the last train from North Avenue leaving at 7 p.m. and the last train from Taft Avenue leaving at 7:40 p.m.
4. Giant PH storms show climate change threat, says Greenpeace
On Sunday, Greenpeace global chief Kumi Naidoo said increasingly violent storms hitting the Philippines showed the world had to act on climate change. He said the typhoon passing over the Philippines was an example of the massive damage poorer countries would experience if climate change worsens.
CONTINUE READING BELOW
Recommended Videos
Rich and poor countries should act together, he said, as even the richest nations would not be immune from the impact of a warmer planet.
ADVERTISEMENT - CONTINUE READING BELOW
5. Globe offers free calls from eight countries to PH
Globe Telecom is offering Libreng Tawag services to the Philippines from eight countries, including the United States, Saudi Arabia, Canada, Singapore, and Hong Kong. OFWs can avail of the free call service to check up on their relatives who may have been affected by Typhoon Ruby. Libreng Tawag will be available until 11:59 p.m. EST on December 8.
6. Vigan hailed as one of "New7Wonders Cities of the World"
The heritage city of Vigan in Ilocos Sur province, has been hailed as one of the "New7Wonders Cities of the World" by the non-government organization New7Wonders on Sunday. The other wonder cities are: Beirut in Lebanon, Doha in Qatar, Durban in South Africa, Havana in Cuba, Kuala Lumpur in Malaysia, and La Paz in Bolivia.
7. Purisima denies picking courier
Philippine National Police Director General Alan Purisima on Sunday maintained that he did not have any involvement in the alleged anomalous contract the police force entered into with a courier service for the delivery of gun licenses. He said the contract was executed more than a year before he was appointed PNP chief.
ADVERTISEMENT - CONTINUE READING BELOW
"I welcome official investigations against me as the proper and acceptable venues for determining my accountabilities as a public servant," Purisima said.
8. Japan's Toho to produce new Godzilla for 2016
Japanese film, theater, and distribution company Toho has announced its production of a new Godzilla film, its first since 2004. "This is very good timing after the success of the American version this year: if not now, then when? The licensing contract we have with Legendary places no restrictions on us making domestic versions," a Toho staffer told The Hollywood Reporter.
The studio behind the original monster is slated to begin production summer 2o15.
9. 10 Kitschy Non-food Gifts for Your Foodie Friend
If you're worried about buying something edible for your foodie friend for fear of disappointment, how about something food-inspired? From a huggable pizza to popcorn earrings, there's something adorable for that friend who just really loves food.
ADVERTISEMENT - CONTINUE READING BELOW
10. Coolest Offices in Manila: Voyager Innovation
In the latest installment of our "Coolest Offices" series, we take a peek inside Smart Communications' new subsidiary, Voyager Innovation.
Share this story with your friends!
---
Help us make Spot.ph better!
Take the short survey
Load More Stories