Senator Grace Poe ranks second in presidential survey + more things you might have missed today
More charges against PNP Chief Purisima, lower electricity rates for December, and more.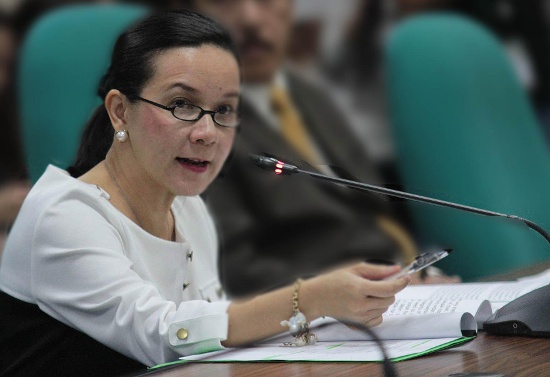 Photo via The Philippine Daily Inquirer
(SPOT.ph) Busy day, Spotters? We quickly recap 10 things you might have missed while you were off the radar.
1. Senator Grace Poe places second in Pulse Asia presidential poll
Grace Poe has ranked second in Pulse Asia's latest survey of presidential candidates, going up two notches from her previous spot last September. According to the poll, 18 percent of the 1,200 respondents said they would vote for the senator as president. Vice President Jejomar Binay, meanwhile, dropped five percentage points but still secured the top spot.
Senator Miriam Defensor-Santiago placed third with 12 percent, followed by former president and current Manila Mayor Joseph Estrada with 10 percent.
2. PNP chief Purisima charged for alleged land-grabbing
And the raps just keep coming. Charges of estafa and graft were filed against Philippine National Police (PNP) Chief Director General Alan Purisima, his wife, and a retired military official in connection with a disputed 9.5-hectare property in Talisay, Batangas.
ADVERTISEMENT - CONTINUE READING BELOW
According to Volunteers Against Crime and Corruption (VACC) founding Chairman and President Dante Jimenez, the complaint was based on alleged falsification of public documents, specifically the property's deed of sale and the transfer of certificate of title (TCT) from its original owner. He added that despite the transfer in 2007, it was not declared in their SALNs for that year or beyond.
3. Grace Poe pushes for uniform rules on senior citizen discounts
Senator Grace Poe has filed a resolution seeking a Senate inquiry to determine whether the senior citizens' law and its expanded version have been properly implemented. The law mandates a 20 percent discount but Poe said that there have been reports of establishments denying full discounts and privileges "through numerous unjustified conditions or requirements."
CONTINUE READING BELOW
Recommended Videos
4. Korean flight delayed for, er, nutty reasons
A Korean Air flight was delayed when one of its executives (who is also the oldest daughter of its chairman, Cho Yang-ho) was said to have ordered a senior crew member off the plane. Reports say that 40-year-old Cho Hyun-ah fought with a crew member who served her and other passengers bagged macadamia nuts instead of nuts on a plate, causing the flight to get delayed for 20 minutes. The executive resigned Tuesday amid wide public criticism. The airline earlier excused her behavior and apologized to passengers for the incovenience.
ADVERTISEMENT - CONTINUE READING BELOW
5. Expect lower electricity rates this December, says Meralco
Here's some good news. Meralco has announced that households consuming 200 kilowatt hour (kWh) per month will see a P38.03 reduction in their bills, while those consuming 300 kWh per month will have P57.03 off. Apart from a lower generation charge, taxes and other charges for the month will also be decreased, Meralco said.
6. In more protective head gear news, Mar has this to say: "Hindi ako nagpapapansin"
Interior and Local Government Secretary Mar Roxas has responded to criticism over a photo circulated showing him without a helmet while riding a motorcycle as he was inspecting areas affected by Typhoon Ruby. Roxas said, "Hindi ako nagpapapansin," adding that the group was in a hurry to check the situation in Dolores, Eastern Samar, and that there would be times they would go "without helmets or on foot."
7. Watch: The honest trailer for Guardians of the Galaxy
ADVERTISEMENT - CONTINUE READING BELOW
In the latest funny installment of "honest trailers," the team behind Screen Junkies took a playful jab at Marvel's hit film Guardians of the Galaxy, or as they called it, "Marvel Space Avengers." The video also pointed out similarities between the Avengers and Star-Lord's space crew, but don't despair if you're a fan. It's all in good-natured fun, and the narrator even says, "We're really reaching here. This was a fun movie."
8. News on Pixar's Finding Dory
The new adventures of our favorite forgetful fish will be set in the Marine Biology Institute of California, a rehabilitation facility for marine life. Why? Dory finds out that she was born there and  later freed into the ocean at a young age. The film follows Dory as she  searches for her long-lost parents, and will even be joined by Marlin and Nemo. Finding Dory is slated for release June 2015.
ADVERTISEMENT - CONTINUE READING BELOW
9. The 10 Shoppers You Meet in Manila
Shopping is a sport, but Christmas shopping is an art form in itself. When you find yourself right in the middle of the mad holiday rush (and you likely will), you're bound to run into these 10 shoppers.
10. Top 10 Potato Dishes That are Worth the Carbs
The potato has long been relegated to the sidelines, playing second fiddle to a host of meat-based dishes. We put this humble root crop on spotlight and give you the 10 best dishes that use it to its utmost delicious potential.
Share this story with your friends!
---
Help us make Spot.ph better!
Take the short survey
Load More Stories