Experience the "Smart Life" with the Redesigned Smart Stores
A trip to the service center doesn't have to be a pain.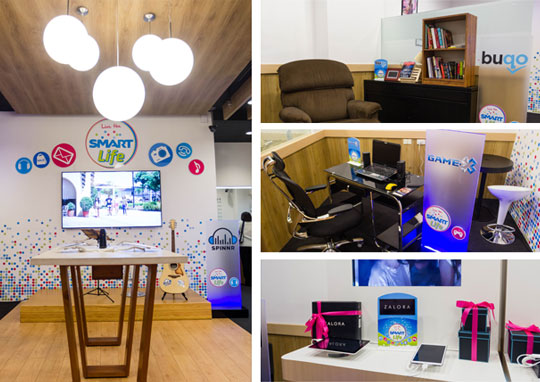 When speaking of service centers, most people would probably think of a no-fuss, all-business kind of place with mean-spirited and grim-faced staff. There would be long lines, equally mean customers, and a Wi-Fi network with a password that no one is willing to share. Bummer, right?
Well, you can kiss those preconceived notions goodbye now. Just recently, Smart Communications, Inc. opened the first of their next-generation stores where customers can get a first-hand experience of the "Smart Life."
Deviating from the traditional no-nonsense business centers, Smart revamped the original store into a place where customers and the network's frontliners can have a more personal interaction and a venue for people to try out Smart's new content services such as the music streaming app, Spinnr, and the reading app, Buqo.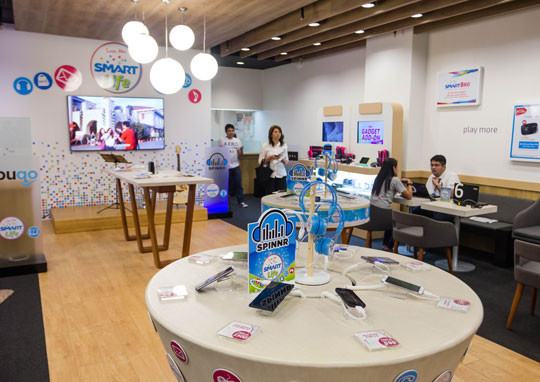 ADVERTISEMENT - CONTINUE READING BELOW
Upon entering, the first thing that you'll notice is the design of the store, which is reminiscent of a cafe with its relaxing vibe and laidback atmosphere. The layout does not feel cramped. In fact, the store feels spacious even with all the different areas that house a corresponding Smart service.

There are four stations or "lifestyle nooks" for the network's offered services: the Music Hub (for Spinnr and Deezer), the Digital Mall (Zalora), the Games Station (GameX) and the Reading Nook (Buqo).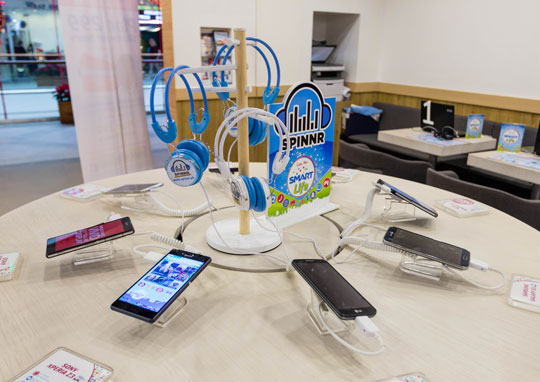 CONTINUE READING BELOW
Recommended Videos
ADVERTISEMENT - CONTINUE READING BELOW
For the Music Hub, store visitors and waiting customers can use either Spinnr or Deezer to stream and listen to music on the displayed gadgets. The streaming apps load quickly; and as per a Smart staff, music streaming and downloading can be enjoyed by all subscribers even if they don't own a credit card. A Facebook account is all you need to enjoy Spinnr!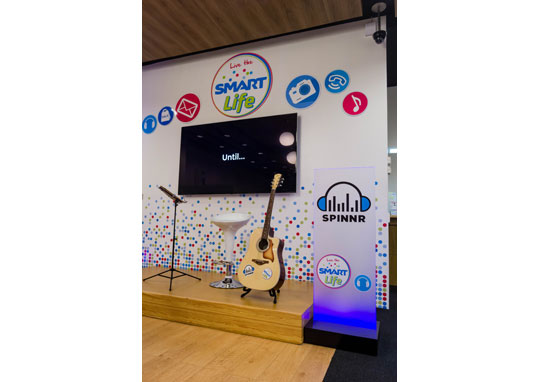 ADVERTISEMENT - CONTINUE READING BELOW
As an additional nod to music lovers, there's a stage at the center with a guitar stand and seat for musicians/artists that wish to serenade the customers. There's a chance that you'll get to catch a live performance on your next visit to the store.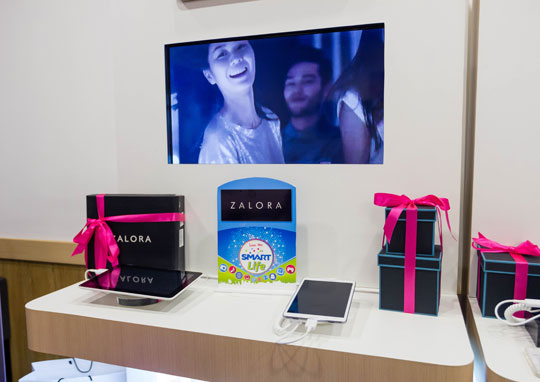 For those who like buying online, there's the Digital Mall section that offers easy access to a catalog of products that you can purchase from Zalora. Once you have a Zalora account, you can easily order items online and then pay it using Smart Money.
ADVERTISEMENT - CONTINUE READING BELOW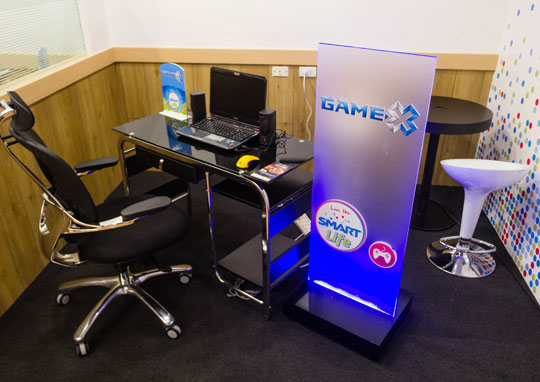 If there's a hub for music fans, there's also one for gamers. The Games Station has a gaming laptop where customers can access GameX, an online portal where gamers can buy epins and credits for their favorite games. Yep, that also doesn't require a credit card, postpaid subscribers can charge their balance to their bill.
ADVERTISEMENT - CONTINUE READING BELOW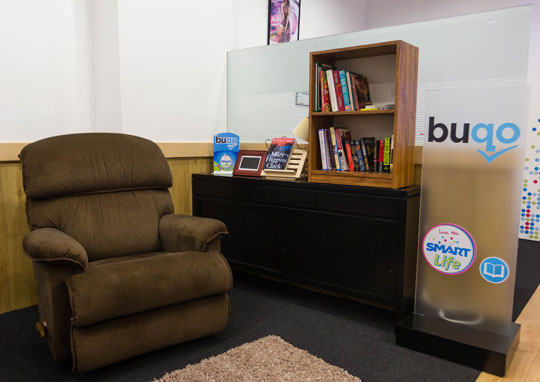 Of course, reading junkies also have their own spot. There's the Reading Nook, which has cozy seats and two options for a quick read: a tablet with Buqo installed or the dead-tree books on the shelves. If you opt for Buqo, you can purchase books or magazines via bill charging (for postpaid subscribers) or load deductions (prepaid subscribers).
ADVERTISEMENT - CONTINUE READING BELOW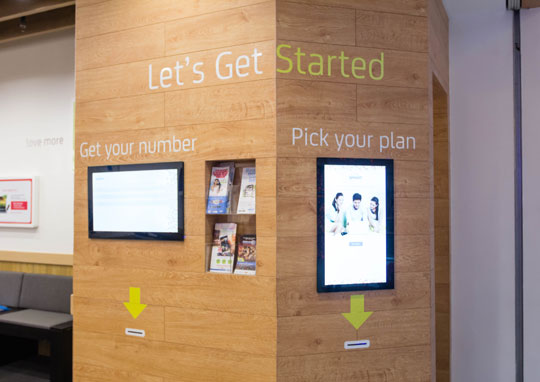 Apart from the nooks, there are also two new tools that will expedite customer service: the iQueue and the Digital Profiler. The former is an automatic queueing system that sends customers a text message that reminds them of their queue. Basically, customers don't have to wait in line for their turn, thus allowing them to go around the store to check out Smart's newest offers or the various lifestyle nooks.
ADVERTISEMENT - CONTINUE READING BELOW

The Digital Profiler, on the other hand, is a touchscreen tool that allows customers to see the features of the current offered devices and the inclusions of a postpaid plan.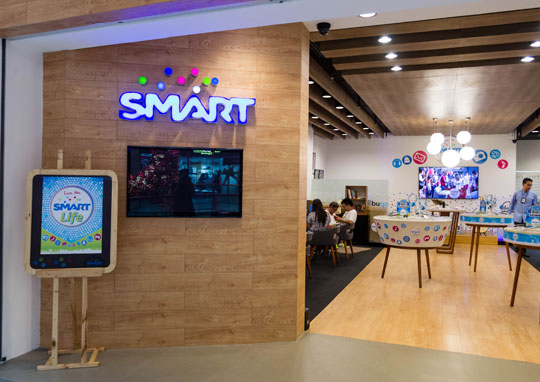 It¹s not every day that we see a service center with a cafe vibe where people can relax for a bit while trying the telco's latest services. Also, it's quite refreshing to be in a store that doesn't only focus on selling new services, but also wants the said services to be the best fit for each customer.
ADVERTISEMENT - CONTINUE READING BELOW
You can expect a Smart Store nearest you to follow suit in the following weeks, as Smart is planning to redesign 78 more stores by the end of 2015. So the next time you visit a Smart Store, be sure to check out its newest offers and different lifestyle nooks while being unmindful of the queue and other customers (who are probably as preoccupied as you are with one of the nooks). And oh, there's free Wi-Fi to boot--which is never a bad thing.
For more info about the redesigned stores and other promos and services, please visit Smart's website.
Share this story with your friends!
---
Help us make Spot.ph better!
Take the short survey
Load More Stories