50 Best Tweets of the Year (2014 Edition)
Who made it to this year's best tweets list?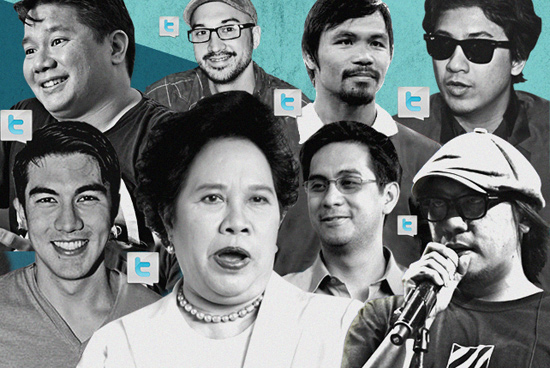 (SPOT.ph) 2014 was the year of sex videos, violence in the news, the "trafficarmageddon" and corruption allegations. A disillusioned public took their sentiments on Twitter and demanded for change. Here are some of the most memorable tweets from the past year. (Art by Warren Espejo)
This list is not ranked.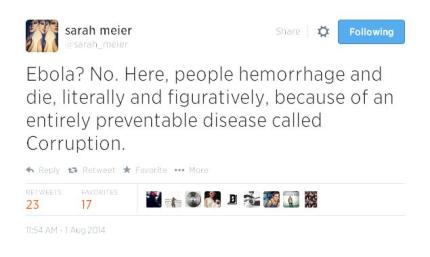 Sarah Meier, celebrity, on the Ebola virus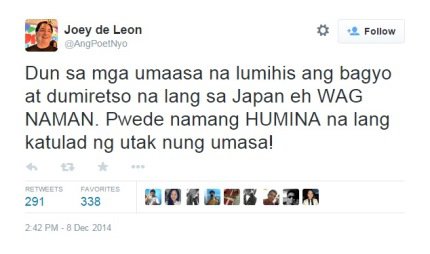 Joey de Leon, celebrity, on Typhoon Ruby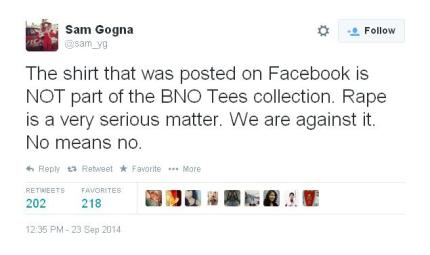 Sam Gogna, radio DJ, on the rape T-shirt controversy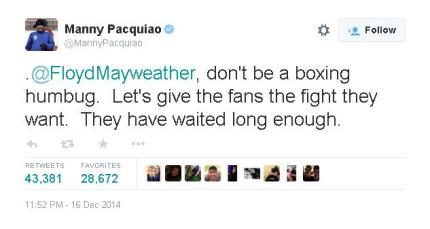 Manny Pacquiao, boxer, on fighting Floyd Mayweather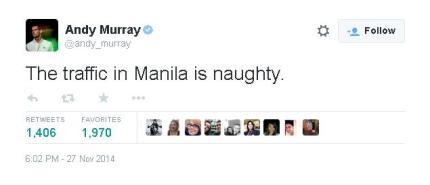 Andy Murray, tennis player, on the International Premier Tennis League in Manila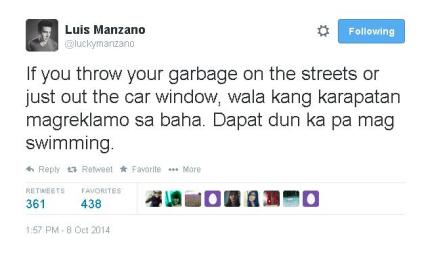 Luis Manzano, celebrity, on consistent flooding in Metro Manila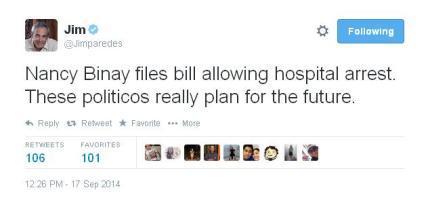 Jim Paredes, celebrity, on the hospital arrest bill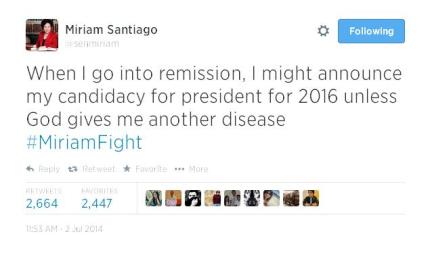 Miriam Santiago, senator, on being diagnosed with lung cancer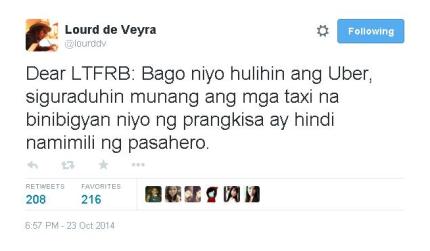 Lourd de Veyra, celebrity, on the LTFRB's sting operation on Uber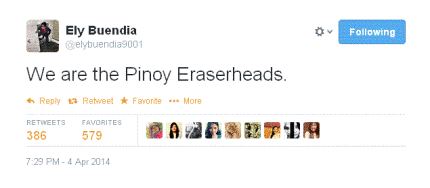 Ely Buendia, musician, on the Eraserheads' reunion concert in London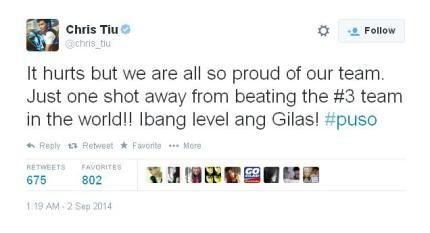 Chris Tiu, athlete, on the Philippines vs Argentina game in FIBA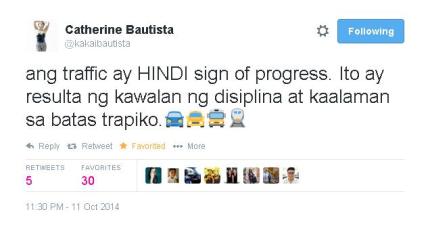 Kakai Bautista, celebrity, on the worsening traffic in Manila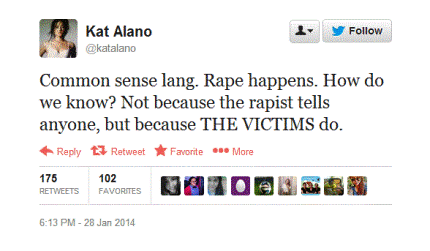 Kat Alano, celebrity, on rape
Full text:
On January 28: So many people don't know what rape is!! Akala niyo ba rapists are a certain type of people? RAPISTS CAN BE ANYONE. Common sense lang. Rape happens. How do we know? Not because the rapist tells anyone, but because THE VICTIMS do. A rapist who gets away with raping once will rape again. And again. You think they stop because they feel bad? Protect yourself from ignorance.
On January 30: To set the record straight, my comments on rape are my personal opinion, please do not speculate or take my tweets out of context. Thank you.
ADVERTISEMENT - CONTINUE READING BELOW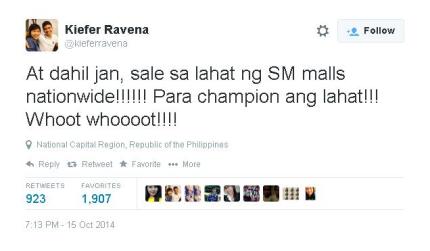 Kiefer Ravena, athlete, on NU's win at the UAAP Season 77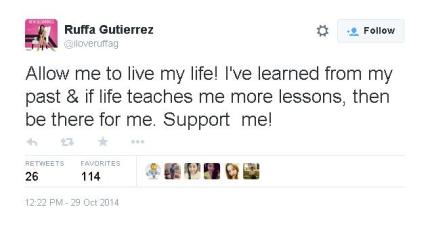 Ruffa Gutierrez, celebrity, on her mother Annabelle Rama
Full text: Thank you for protecting me and watching out for me but it doesn't mean that just because someone looks like my ex, he's abusive na! Allow me to live my life! I've learned from my past & if life teaches me more lessons, then be there for me. Support me!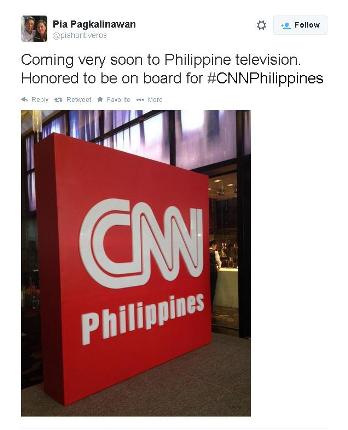 Pia Hontiveros Pagkalinawan, journalist, on CNN Philippines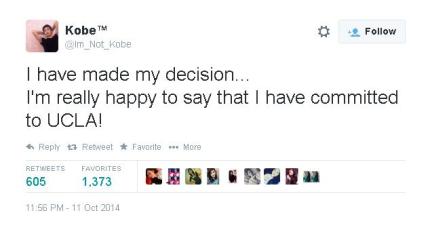 Kobe Paras, athlete, on playing for the US NCAA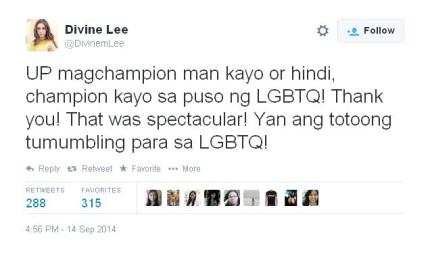 Divine Lee, celebrity, on the UAAP Cheerdance Competition 2014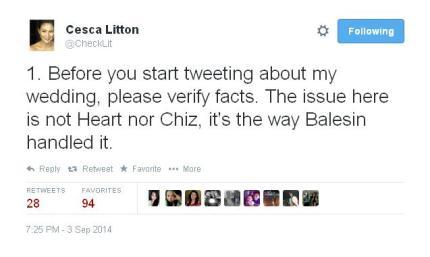 Cesca Litton, TV host, on her the wedding bump-off issue
Full text: Before you start tweeting about my wedding, please verify facts. The issue here is not Heart nor Chiz, it's the way Balesin handled it. Every bride deserves her special day. No one needs bashing, judging, or unsolicited advice from people who know NOTHING of the situation. Let both parties move on, plan their respective weddings, and just wish them well because marriage is such a beautiful blessing. I hope everyone moves on, because anyone who has planned a wedding knows how stressful it is. Be happy for them, for us. God bless you.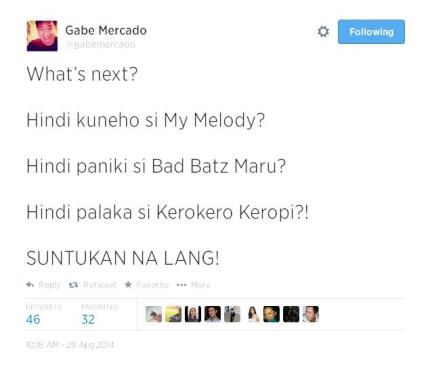 Gabe Mercado, comedian, on Hello Kitty not being a cat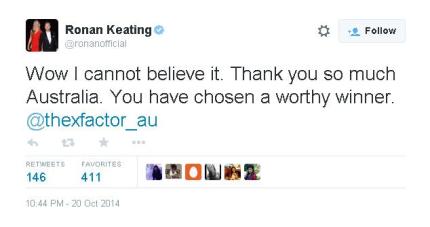 Ronan Keating, singer, on Marlisa Punzalan winning The X Factor Australia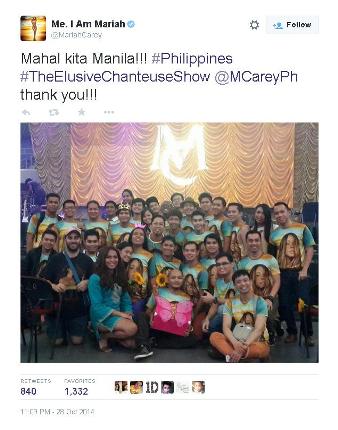 Mariah Carey, singer, on her Manila concert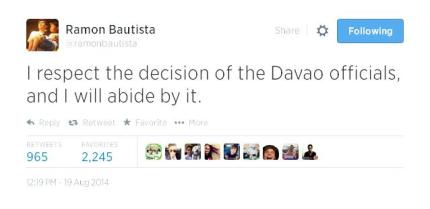 Ramon Bautista, celebrity, on the hipon controversy
Gang Badoy-Capati, Rock Ed founder, on what should be overpriced
Jonas Bagas, blogger, on the Jennifer Laude murder case
ADVERTISEMENT - CONTINUE READING BELOW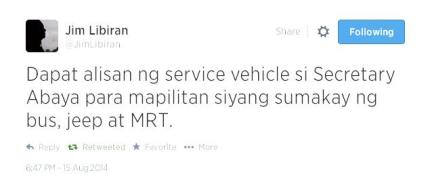 Jim Libiran, writer, on the MRT getting derailed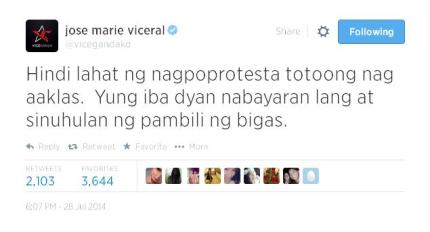 Vice Ganda, celebrity, on SONA protesters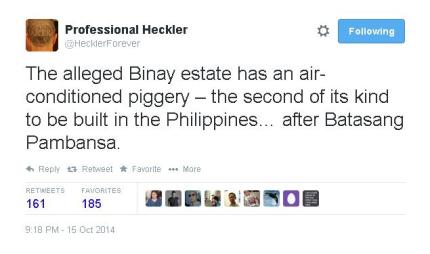 Professional Heckler, blogger, on "Hacienda Binay"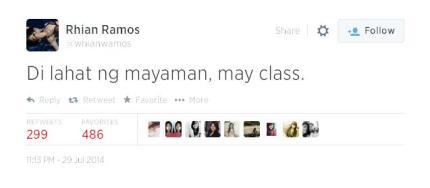 Rhian Ramos, celebrity, on class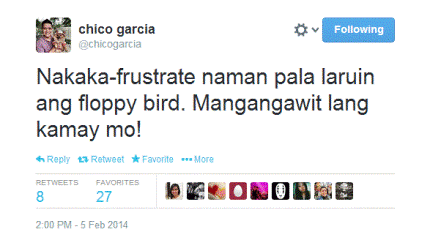 Chico Garcia, radio DJ, on Flappy Bird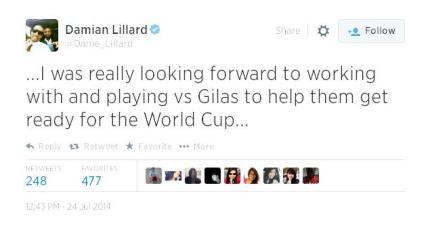 Damian Lillard, NBA star, on the cancelled The Last Home Stand game
Full text: Have something to say to all my fans in the Philippines after what happened with our event. I was really looking forward to working with and playing vs Gilas to help them get ready for the World Cup. I was also looking forward to helping MVP Sports, PLDT and EWP raise funds to support those effected by typhoon Yolanda. When EWP approached me about partnering w/ MVP + PLDT for this event, I knew they had intentions of doing something great for the people! Don't worry, I plan on being back in Manila next year. I look forward to coming back again and doing clinics, appearances and and hopefully I'll be able to actually play in an NBA sanctioned game against the Gilas teams next season!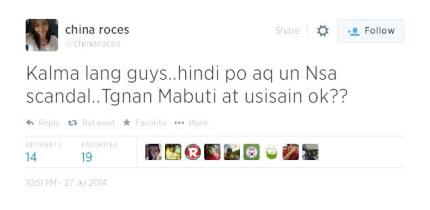 China Roces, sexy starlet, on the alleged scandal of Paolo Bediones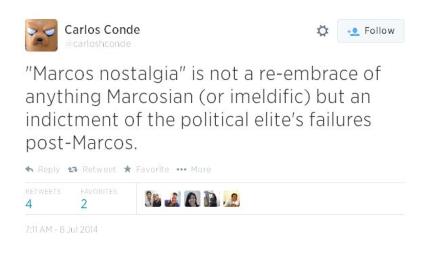 Carlos Conde, journalist, on Imelda Marcos attending an event at ADMU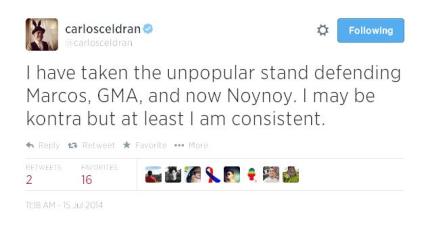 Carlos Celdran, performance artist and tour guide, on his "unpopular stance"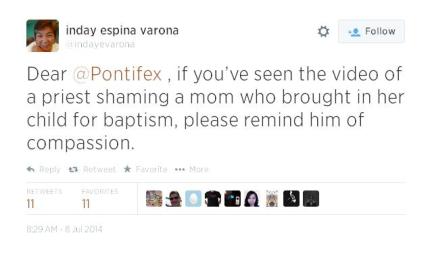 Inday Varona, journalist, on a Cebuano priest humiliating an unwed mother during her child's baptism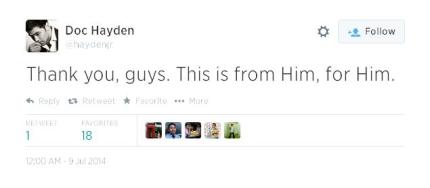 Hayden Kho Jr., cosmetic surgeon, on getting his medical license back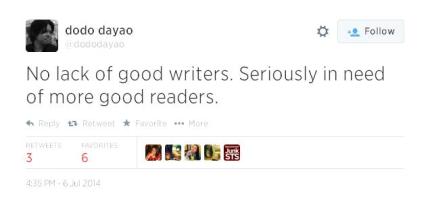 Dodo Dayao, artist, on the lack of good readers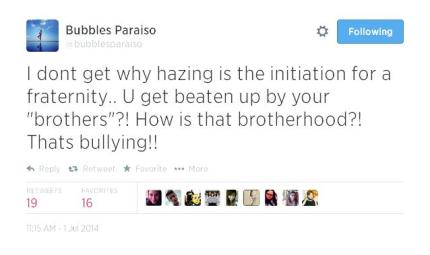 Bubbles Paraiso, celebrity, on hazing
Jonas Roque, blogger, on the MRT challenge
ADVERTISEMENT - CONTINUE READING BELOW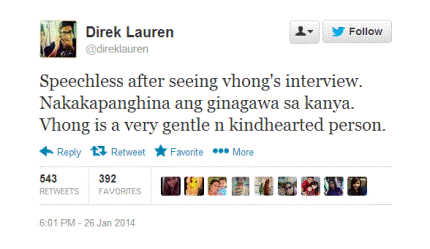 Lauren Dyogi, filmmaker, on Vhong Navarro getting mauled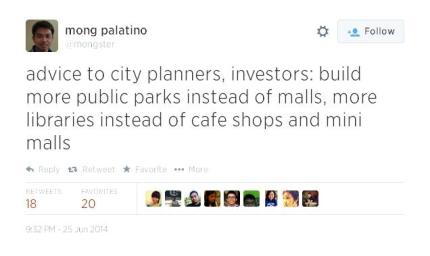 Mong Palatino, Bayan Metro chairperson, on city planners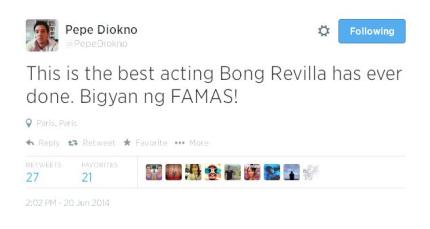 Pepe Diokno, filmmaker, on Bong Revilla's arrest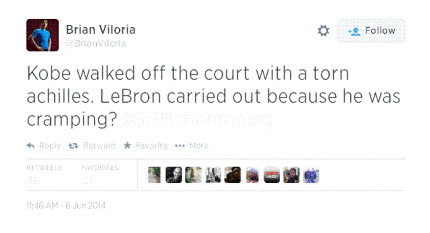 Brian Viloria, athlete, on James LeBron getting leg cramps during the first game of NBA Finals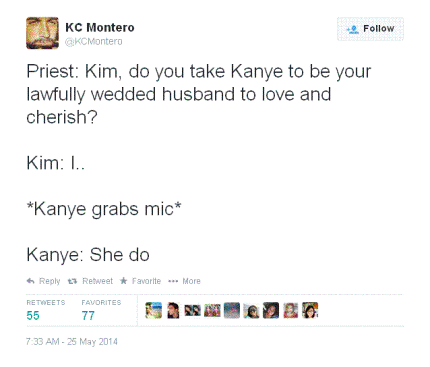 KC Montero, celebrity, on the Kim Kardashian and Kanye West wedding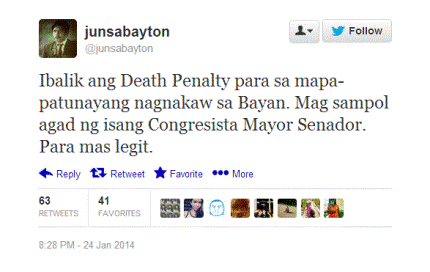 Jun Sabayton, celebrity, on the death penalty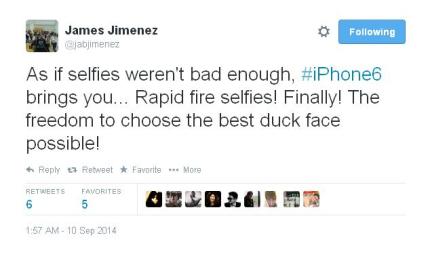 James Jimenez, COMELEC spokesperson, on the latest iPhone model
Harry Roque, lawyer, on Mommy Dionisia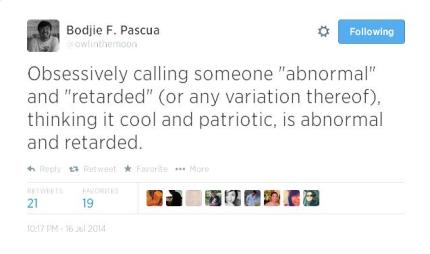 Bodjie Pascua, performance artist, on calling someone "abnormal"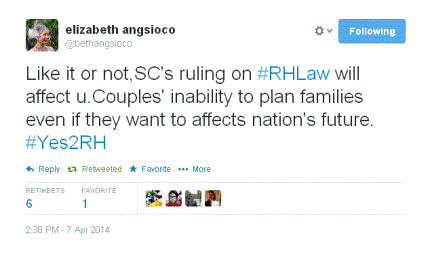 Beth Angsioco, chair of Democractic Socialist Women of the Philippines, on the Reproductive Health Law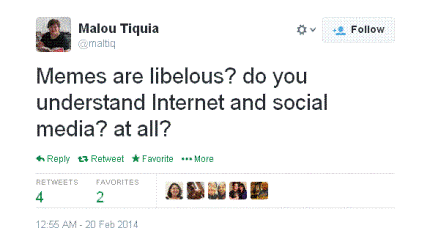 Malou Tiquia, lobbyist, on the Cybercrime Law
Load More Stories