10 First World Problems in the Bureau of Corrections
Or, The Perks of Being a Prisoner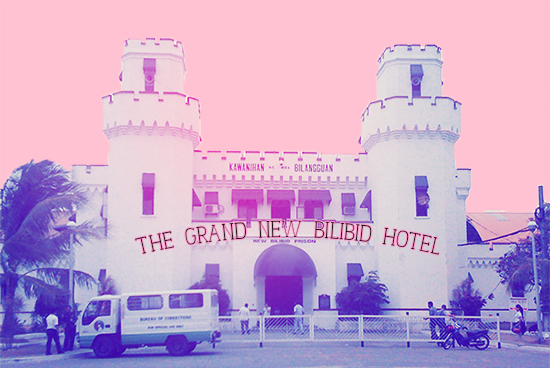 (SPOT.ph) Recent events have turned an old threat from childhood ("Umayos ka, papakulong kita sa pulis!") into quite a treat. We wouldn't trade the muscles we toned while fanning ourselves during the summer season-or our freedom-to enjoy the fascinating amenities in the New Bilibid Prison...yet we couldn't help but feel just the tiniest bit of envy. And then we realized something: We pay for their air-conditioning. And their WiFi.
Crime shouldn't pay is what we've constantly been told. So what's with all these rather awesome swag for convicts?
1. Checking in at the Metropolitan Medical Center
A total of 12 jail guards were relieved of duty after they allowed Sigue Sigue Sputnik Gang leader Ricardo Camata to visit the Metropolitan Medical Center. Camata supposedly had a lung ailment, but Justice Undersecretary Francisco Baraan III doubted the prescription for his condition. Two TV dancers and a "starlet" hardly seem like a cure for breathing problems.
ADVERTISEMENT - CONTINUE READING BELOW
2. Starry, Starry Night with Krista Miller, Real Estate Agent
You can't blame a girl for hustlin' and according Krista Miller, identified as the "starlet" who visited Ricardo Camata, her meeting with him was all business. Apparently, Miller and Camata were discussing real estate for 10 minutes during the latter's stay at the Metropolitan Medical Center. They used this defense as though a person in prison buying a condo unit isn't at all strange or suspicious.
3. Tony Leviste's visit to the dentist
Convicted of something as grave as homicide? Don't worry. You can still apply for a "living out" status, like former Batangas Governor Antonio "Tony" Leviste. It doesn't even have to be approved yet. You can definitely visit your dentist if you need to...unless that darned Justice Secretary Leila de Lima checks up on regulations and your documents. Her interference would mean that you'll have to hope that the head of the Bureau of Corrections (BuCor) sticks up for you. In Leviste's case, Director Ernesto Diokno totally did. However, you also have to pray extra hard that said head of BuCor doesn't resign upon realizing that perhaps people convicted of grave crimes shouldn't be allowed to be out of their confinement at all...which former Director Diokno totally did.
CONTINUE READING BELOW
Recommended Videos
ADVERTISEMENT - CONTINUE READING BELOW
4. "Living Out" Prisoner Romeo Jalosjos and his houses and businesses at the New Bilibid Prison
Want to own a sushi bar and/or bakery? Do what Romeo Jalosjos did: Go to jail. Invest in land while you're not convicted of anything yet and build a home plus businesses like a Japanese-inspired wellness room with a private tatami room. Acquire it through legit means, of course, and buy from the government. This'll keep you busy if or when you actually go to jail.
5. Dionisio Borromeo Jr., Very Important Prisoner
Perhaps you don't know Dionisio Borromeo Jr. and frankly, he probably prefers it that way. Prior to a very surprising inspection conducted this month, Borromeo was already in the papers for being a Very Important Prisoner at the Bilibid. According to a report by Ramon Tulfo back in July, the convicted drug lord was or is staying in an air-conditioned room with a bathroom and kitchen, plus WiFi. The columnist presumed that the WiFi indicated that Borromeo had or has a computer. Maybe he just had or has a mobile gadget. It's the Handheld Age after all.
ADVERTISEMENT - CONTINUE READING BELOW
6. On the Job: Based on Real Events
Justice Committee Chairperson Niel Tupas Jr. confirmed in October that yes, there are Gerald Andersons inside the Bilibid. We're not convinced that they're as good-looking, but Tupas said that criminals going out of jail to commit more crimes and then reporting back (for duty?) is not unheard of and it's not something they're okay with.

7. Breaking Bad at the Bilibid
When a drug lord is arrested and convicted, it's logical to assume that it's great news. Less drugs on the street, right? Somewhere out there, this is probably what happens. This is the Philippines. It's more fun here. When drug lords get convicted, it's business as usual. This time, they get free food and lodging. Compliments of taxpayers. (We're not making this up. Robin Padilla confirmed it. He saw people making shabu in there.)
ADVERTISEMENT - CONTINUE READING BELOW
Guns and gadgets being confiscated in raids aren't actually new. Not even for Justice Secretary de Lima, who in 2012 tasked three New Bilibid Prison officials to explain why inmates in the maximum security prison had iPads and bottles of Johnny Walker Blue Label. The raid in 2012 was caused by an additional "G," specifically, a grenade explosion in the compound allegedly caused by warring prison gangs. Obviously, much has changed since then. The Department of Justice went from finding P55,000 to finding P175,000 in cash. Business must be booming.
There's a tunnel under (duh) Building 11-D at the Bilibid. It's part of an old drainage system. It's not for escaping or anything like that. It's not like the prisoners need it.
10. The Grand New Bilibid Hotel
As Iggy Azalea would say, "Damn, this is the life!" The recent raid yielded sex toys, guns, Rolexes, the newest gaming console, Macs, and even more drugs. Sauna and recording studio? Yes, sir!
ADVERTISEMENT - CONTINUE READING BELOW
Share this story with your friends!
---
Help us make Spot.ph better!
Take the short survey
Load More Stories