Quotes of the Year: 25 Standout Statements from 2014
The most interesting sound bites of the year!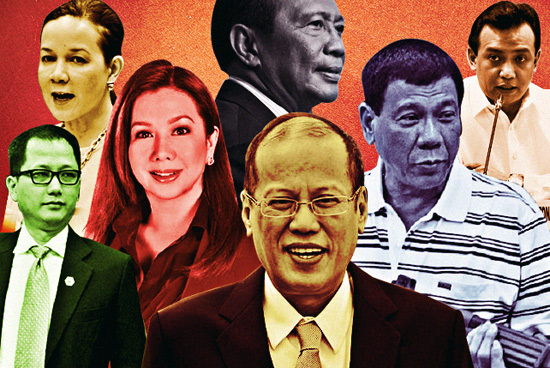 (SPOT.ph) There's this thing that people do that sometimes confuses us: talk. They open their mouth and words just stream out, much to the horror of their publicists and media strategists. But talking, nay, communicating is good. As brave whistleblowers have shown, words loaded with truth are powerful. Speeches can be stirring and conversations can spark a change.
The year 2014 didn't leave us wanting for quotable material-even the footnotes in the book "How to Deny Accusations" were used to perfection. Some inspired us to be speak up, others to shut up. From Kris Aquino we learned the importance of silence and from the Binays, we figured that keeping to yourself is different from withholding information.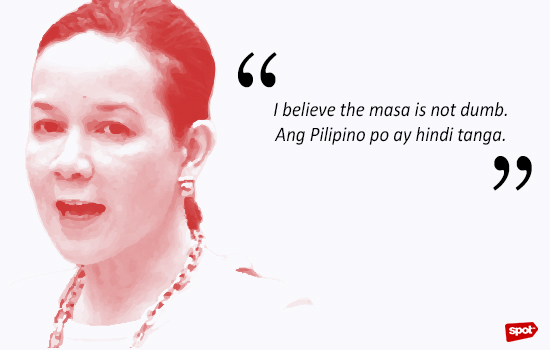 ADVERTISEMENT - CONTINUE READING BELOW
1. "I believe the masa is not dumb. Ang Pilipino po ay hindi tanga, nagmumuka lang tayong tanga dahil kulang tayo sa sapat na impormasyon." - Senator Grace Poe, on why the Freedom of Information Bill matters.
In a Freedom of Information Forum at Bonifacio Global City, Senator Poe argued that the reason people aren't making great choices-in life, love, or otherwise-is because they lack access to knowledge. Although the FOI Bill was approved by the House committee on public information, its supporters were greatly disappointed by the "watering down" that occurred. The Makabayan bloc felt that the approved version was so toothless that they might as well withdraw their authorship...and they did. So much for power for the people.
CONTINUE READING BELOW
Recommended Videos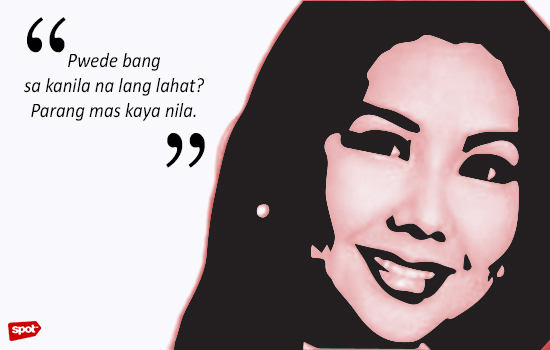 ADVERTISEMENT - CONTINUE READING BELOW
2. "Pwede bang sa kanila na lang lahat? Parang mas kaya nila." - News Anchor Korina Sanchez, suggesting that we pray for Typhoon Ruby to hit Japan.
Unsolicited advice for Ate Koring: Maybe she should consider two months of meditation every year, preferably on November and December. Technically, she wants what's best for us. Last year, she was just trying to stop this white man from judging her husband's work our hardworking officials and volunteers too harshly. This year, she just wanted us to be spared from devastation. She just has a funny way of showing her love. Bonus: We found this Manila Bulletin interview from June, where Sanchez was quoted saying, "[Mar] always gets nervous about what I'm going to say on radio, so of course he likes that I'm going to school na lang."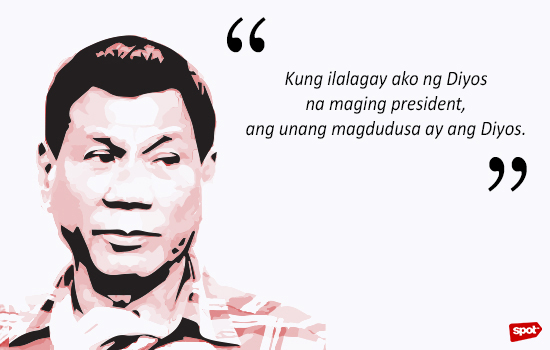 ADVERTISEMENT - CONTINUE READING BELOW
3. "Kung ilalagay ako ng Diyos na maging president, ang unang magdudusa ay ang Diyos." - Davao City Mayor Rodrigo Duterte, vehemently discouraging people from calling for his candidacy.
It looks like Davao City Mayor is really, really not interested in running for higher office. Even when Senator Miriam Defensor Santiago tagged him to be a running mate, the notorious public official maintained his stance that all of us, including God, will suffer should he become president of this country. People who frown upon his gun-toting ways concur.
Also read: The Punisher Speaks: 10 Quotable Duterte-isms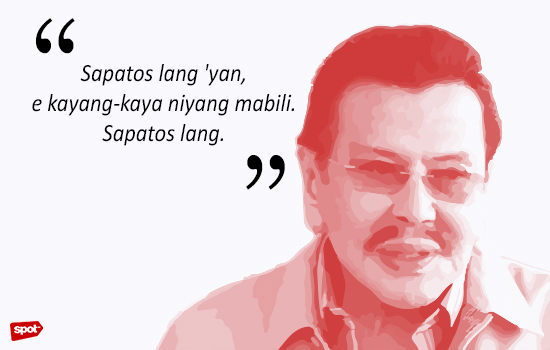 ADVERTISEMENT - CONTINUE READING BELOW
4. "Sapatos lang 'yan, e kayang-kaya niyang mabili. Sapatos lang." - Manila City Mayor Joseph "Erap" Estrada, on his grandsons' controversial Instagram photos depicting a lavish lifestyle.
Shoes that are worth one or two months' rent? Yeah, those are just shoes. We're not going to say much else, since DJ Mo Twister already gave the young Estradas a lifetime's worth of flak.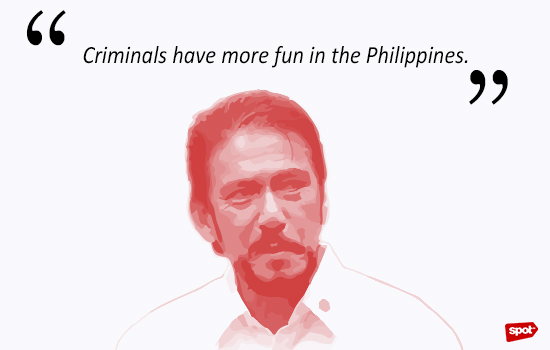 ADVERTISEMENT - CONTINUE READING BELOW
5. "Whether it be murder, rape, drug manufacturing, pushing and using, the numbers are on the rise. Criminals have more fun in the Philippines." - Senator Tito Sotto, on why he wants the death penalty back on the plate of punishments for criminals.
You know it's bad when you're agreeing with someone whose statements usually make you cringe. We're not sure if capital punishment will solve anything, though.
Also read: 10 First World Problems in the Bureau of Corrections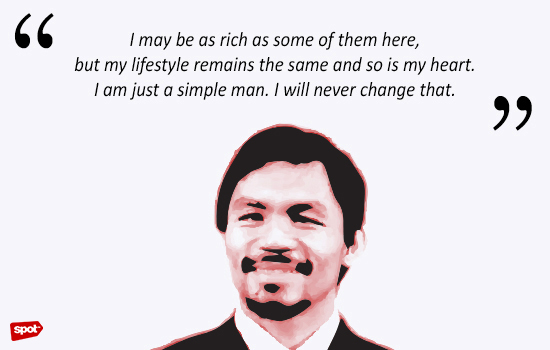 ADVERTISEMENT - CONTINUE READING BELOW
6. "I may be as rich as some of them here, but my lifestyle remains the same and so is my heart. I am just a simple man. I will never change that." - Representative Manny Pacquiao, on his neighbors complaining about his "shabbily" dressed visitors.
Dubious as some of his ambitions in life may be (former senator Rene Saguisag made his feelings known about the matter), Manny Pacquiao's heart hasn't been knocked out of its place. Apparently, no amount of money can change the Fighting Congressman's personality.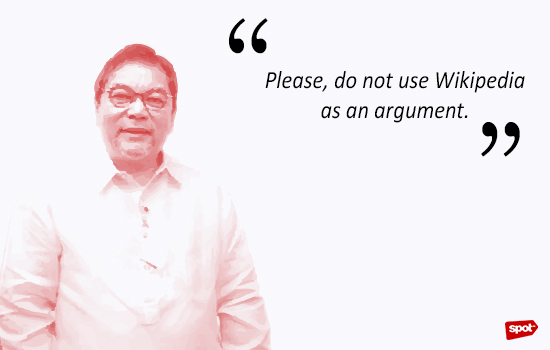 ADVERTISEMENT - CONTINUE READING BELOW
7. "Because this is a forum of professionals and very serious people, I would urge everyone, please, do not use Wikipedia as an argument." - Tourism Secretary Ramon Jimenez, on the importance of data.
Going to a Senate hearing equipped with information...from Wikipedia! It's really more fun in the Philippines. Tourism Secretary Ramon Jimenez was clearly not amused when former provincial administrator Manuel Mejorada declared that his basis for saying that the Iloilo Convention Center is overpriced was data from an online encyclopedia that anyone can edit. (If you think that's ridiculous, just remember: One of our senators was caught plagiarizing a blogger.)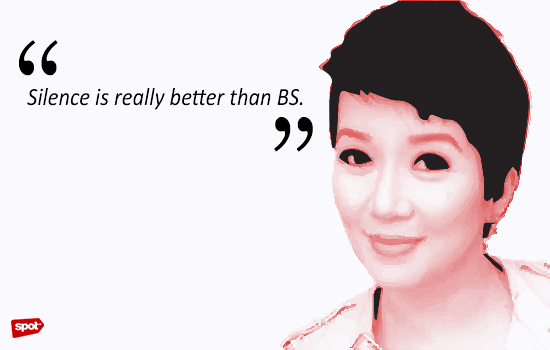 ADVERTISEMENT - CONTINUE READING BELOW
8. "Silence is really better than BS." - Kris Aquino, on Senator Bong Revilla's tirade against her brother.
When Kris Aquino schools you about the importance of silence, you better listen and learn.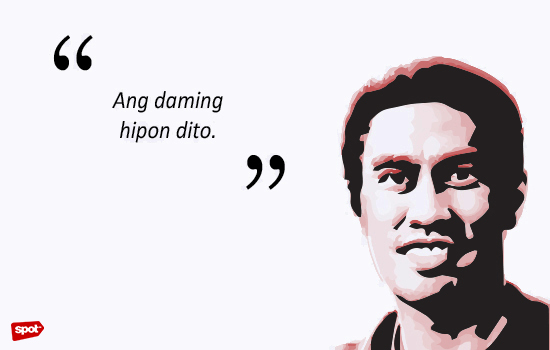 9. "Ang daming hipon dito." - Ramon Bautista and the joke that landed him in hot water.
ADVERTISEMENT - CONTINUE READING BELOW
There's something about offending public officials who curse without flinching, flip the bird wantonly, who punch people, and make a habit of saying death threats that's funny. That's just us though. Being funny is very subjective, as Ramon Bautista's shrimp incident proved this year.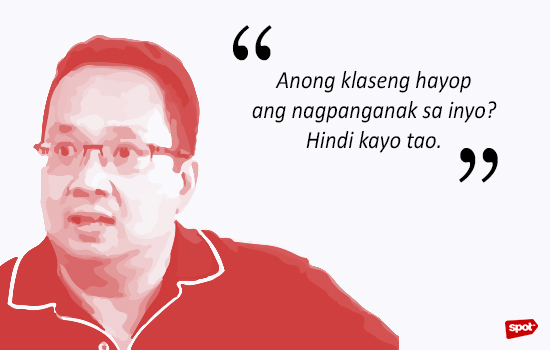 10. "Anong klaseng hayop ang nagpanganak sa inyo? Imposible. Hindi kayo tao." - Aurelio Servando, to TAU GAMMA PHI, regarding the death of his son, CSB student Guillo Servando.
ADVERTISEMENT - CONTINUE READING BELOW
A grief-stricken father appeared on national TV, seeking justice for his son who died in the hands of his "brothers." College of Saint Benilde student Guillo Servando became another casualty of the violent hazing in fraternities. Aurelio Servando advised his son to retract his application to Tau Gamma Phi, but the younger Servando was purportedly pressured to continue. On December 2, the Department of Justice officially filed a case against members of the fraternity believed to be responsible for the sophomore's death.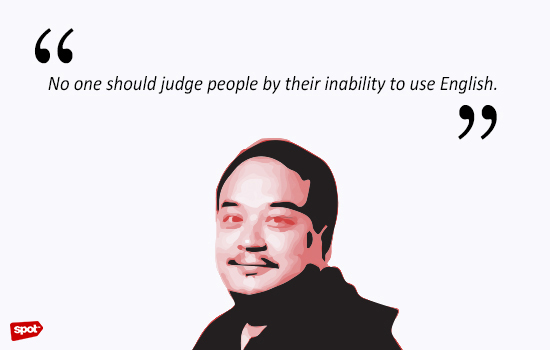 ADVERTISEMENT - CONTINUE READING BELOW
11. "I am outraged by how people are so quick to judge others by their use of English... [N]o one should judge people by their inability to use English." - Director Mike Sandejas, defending deaf students that were subjected to ridicule on social media.
Dinig Sana Kita Director Mike Sandejas is definitely one of our favorite people this year. Sandejas showed us how wonderful the world can be if we would take the time to use our intelligence, instead of showing it off.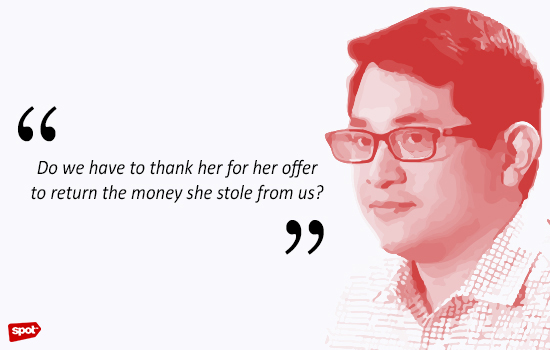 ADVERTISEMENT - CONTINUE READING BELOW
12. "Do we have to thank her for her offer to return the money she stole from us?" - Senator Bam Aquino, on the speculations that Janet Lim Napoles would offer to return what she (allegedly?) stole if she is granted immunity as a state witness.
Apparently, sassy runs in the family. According to Senator Bam Aquino, Janet Lim Napoles' "generous offer" is moot, since the government is expected to recover stolen public wealth.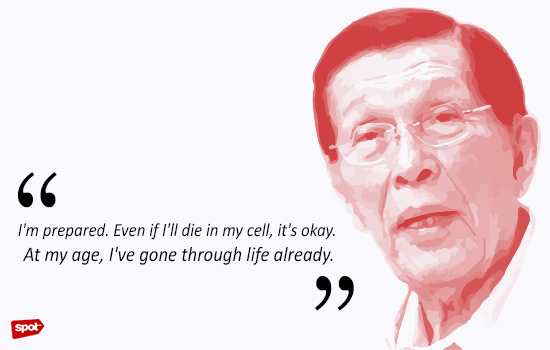 ADVERTISEMENT - CONTINUE READING BELOW
13. "I'm prepared. Even if I'll die in my cell, it's okay. At my age, I've gone through life already." - Senator Juan Ponce Enrile, on being arrested for plunder in relation to the PDAF.
The Pork Barrel scam feels like so last year, but in case you want an update: The suspension on the three senators currently facing plunder and graft charges was lifted on December 1st. All three senators can now file bills and resolutions again. Plus, in light of recent news about the New Bilibid Prison, maybe sending them to "regular" prison is not something their enemies should wish.
Also read: 10 Things That Are As Old As Enrile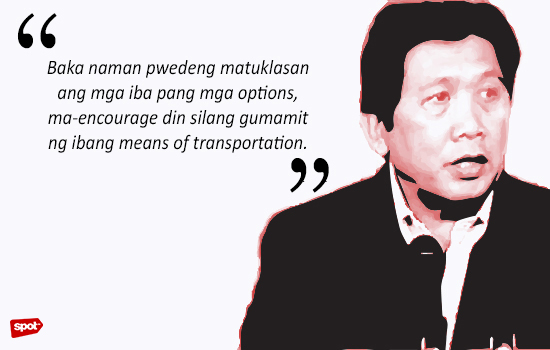 ADVERTISEMENT - CONTINUE READING BELOW
14. "Yung MRT lang ba ang pwedeng sakyan doon sa mga rutang dinadaan nito? Baka naman pwedeng matuklasan ang mga iba pang mga options, ma-encourage din silang gumamit ng ibang means of transportation." - Presidential Communications Operations Secretary Herminio Coloma Jr., on how to decongest the trains.
Take your car...no, wait: Traffic! Take the bus...no, wait: Traffic! Grab a cab...no, wait: Traffic! Walk? From North Avenue to Taft Avenue? Challenge...accepted? Spokesperson Coloma had an unexpected foot in his mouth when people pointed out the fact that the train is the alternative means of transportation and that perhaps the government should get around to making it more efficient.
Also read: 10 Alternative Ways to Beat the Hellish EDSA Traffic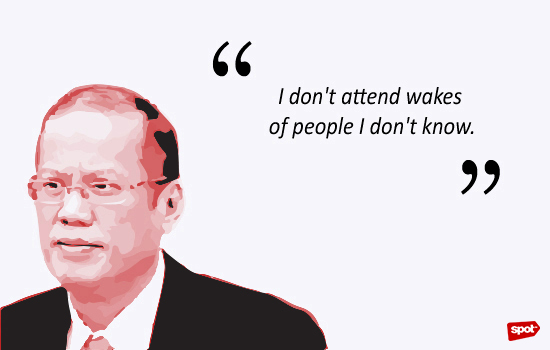 ADVERTISEMENT - CONTINUE READING BELOW
15. "You know, in general, I don't attend wakes of people I don't know. I find it-and I'm speaking for myself-I 'm uncomfortable in trying to condole with people who don't know me. Parang how can I say that I really sympathize with their loss and have some relevant discussion with them on trying to assuage, 'di ba, their loss at that point in time?" - President Benigno Aquino III, on why he didn't attend the wake of slain transgender woman Jennifer Laude.
This statement landed P-Noy in hot water, especially with more militant human rights groups who felt that the president's attendance in Jennifer Laude's wake would've sent an implicit, but strong signal of support for her case. The president received more criticism two months later when he attended the wake of Sharon Cuneta's mother.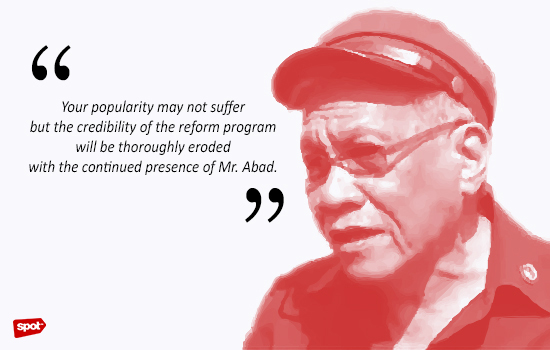 ADVERTISEMENT - CONTINUE READING BELOW
16. "Your popularity may not suffer but the credibility of the reform program with the citizenry will be thoroughly eroded with the continued presence of Mr. Abad." - Akbayan Representative Walden Bello, urging President Aquino to fire Budget Secretary Butch Abad.
Representative Walden Bello was quite the vocal critic this year, prompting President Aquino to urge him to run for president (rather sarcastically, we think). Among Bello's complaints, the President's continued defense of the Disbursement Acceleration Program, his rejection of Budget Secretary Butch Abad's resignation, and even his refusal to distance himself from the Vice President after the Makati City Hall Building 2 became hot topic for the presses.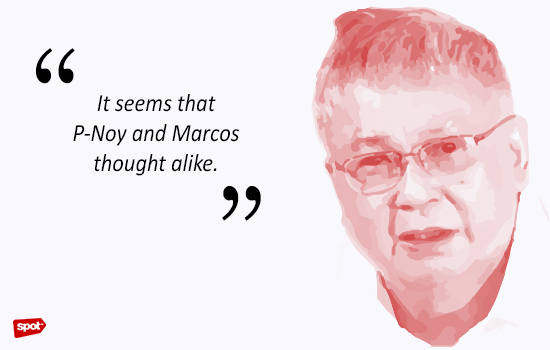 ADVERTISEMENT - CONTINUE READING BELOW
17. "It seems that P-Noy and Marcos thought alike." - Former Senator Joker Arroyo, on President Aquino's use of the DAP, which has been ruled unconstitutional by the Supreme Court.
If you need to understand how much this phrase stings, allows us to make a couple of translations. First: "You think like a dictator." Second: "You think like the man who stepped all over people's rights to achieve the end he wants." Third: "You think like the man accused of plotting the death of your father."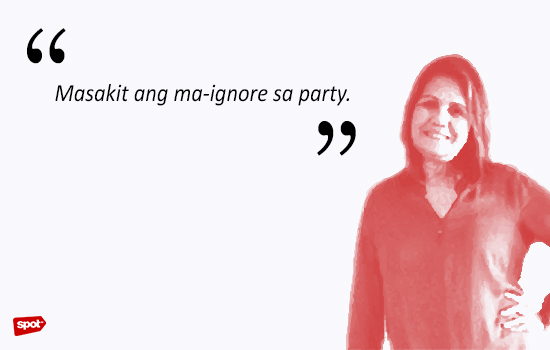 ADVERTISEMENT - CONTINUE READING BELOW
18. "Masakit ang ma-ignore sa party." - Esther Lahbati, Sarah Lahbati's mother, on being left out.
Riding on the trend of concentrating all of your feelings into one hashtag, we're going to use: #Relate. Momma Lahbati speaks to everyone who has ever had to scratch their neck, to cover for the unrequited wave or the high five left in the air.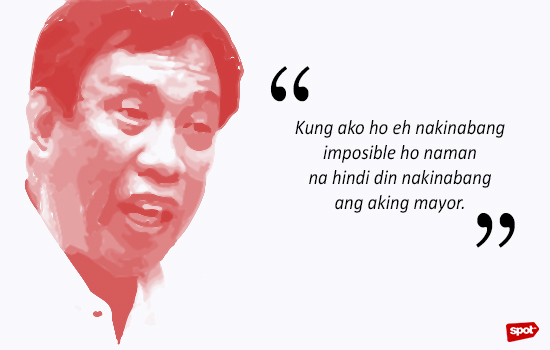 ADVERTISEMENT - CONTINUE READING BELOW
19. "Kung ako ho eh nakinabang, imposible ho naman na hindi din nakinabang ang aking mayor." - Former Makati City Vice Mayor Ernesto Mercado, on his former ally Vice President Jejomar Binay.
Lesson learned this year? Be good to your people-especially the people who know you very, very well. Former Makati City Vice Mayor Ernesto Mercado was nothing short of relentless in the "truth" bombs he dropped about Vice President Jejomar Binay. Truth in quotation marks because nothing has been proven beyond reasonable doubt. Things would've been more interesting if the veep addressed the accusations more directly.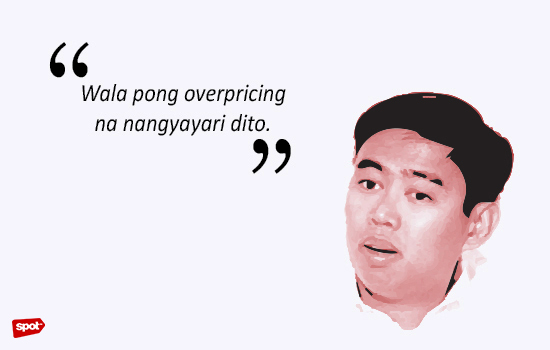 ADVERTISEMENT - CONTINUE READING BELOW
20. "Wala pong overpricing na nangyayari dito." - Makati Mayor Jun Jun Binay, during the senate hearing in August.
This simple phrase sums up the Binay family's defense against everything their critics threw at them this year. Move along people, there is nothing more to see here.
Also read: Binay Problems
ADVERTISEMENT - CONTINUE READING BELOW
21. "There is no use being a president if you are not going to be a good one." - Senator Ferdinand "Bongbong" Marcos Jr., on his mother's wish for him to become the president.
If only more people thought this way. Not that things can't change between now and the official filing of candidacy.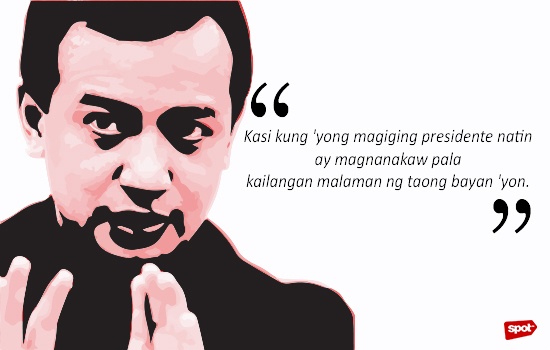 ADVERTISEMENT - CONTINUE READING BELOW
22. "Kasi kung 'yong magiging presidente natin ay magnanakaw pala kailangan malaman ng taong bayan 'yon." - Senator Antonio "Sonny" Trillanes IV, on allegations of corruption against Vice President Binay.
Senator Sonny Trillanes was all offense against certain corrupt officials in and out of the Senate floor, conducting investigations and inspections on everything overpriced. He was briefly tagged for buying "luxurious" vehicles. Like the people he was going after, he denied the claims of his critics. He took it a step further and actually attempted to prove his innocence.
Also read: 10 Best "Baseless Accusations" of 2014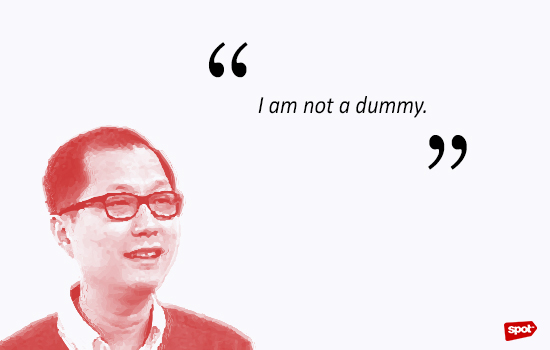 ADVERTISEMENT - CONTINUE READING BELOW
23. "I am not a dummy." - Antonio "Tony" Tiu, owning up to "Hacienda Binay."
The "Sunchamp Agri-Tourism Park" owner's quest to be recognized as the rightful owner of the controversial farm in Rosario, Batangas ended in tears after Senator Alan Peter Cayetano grilled him about his bank records. According to him, his appearance in the Senate Blue Ribbon Committee hearings on the Makati City Hall Building 2 put his family at risk. Unconfirmed data indicate that his appearances also caused people to be irate at his smile.
Also read: Quotable Quotes from Tony Tiu's Senate Appearance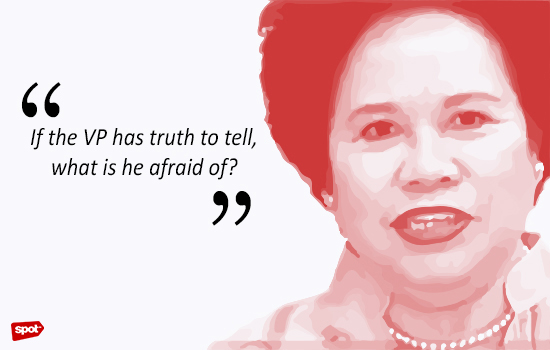 ADVERTISEMENT - CONTINUE READING BELOW
24. "If the VP has truth to tell, what is he afraid of? His tormentor cannot use the Senate hearing to humiliate or otherwise prosecute him because the Constitution requires senators to respect the rights of persons appearing in or affected by such inquiries." - Senator Miriam Defensor Santiago, on Vice President Jejomar Binay's evasiveness.
The Cancer-fighting Senator's words fell on deaf ears as the year is closing without any clarity on the many, many, many allegations of corruption hurled at Vice President Binay. The Presidential Polls, however, suggests that not a lot of people care.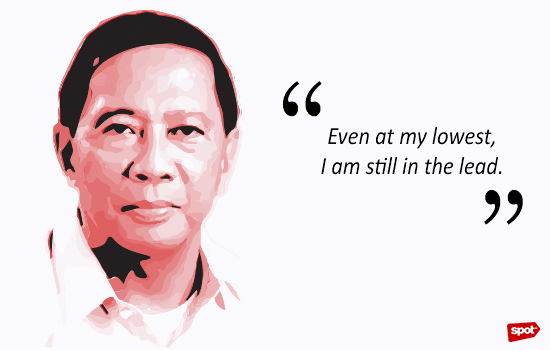 ADVERTISEMENT - CONTINUE READING BELOW
25. "Even at my lowest, I am still in the lead." - Vice President Jejomar Binay, on being number one.
When you feel like the entire world is against you (it's not, trust us), just think of the year 2014 for Vice President Binay. His enemies brought big guns and he made it look like they were firing blanks. Next thing you know, that "vice" part's going to drop from his title. God bless this country.
Share this story with your friends!
---
Help us make Spot.ph better!
Take the short survey
Load More Stories