Relationship trouble? "Gay Guys to the Rescue" has answers!
With out-of-this-world illustrations by Carlo Vergara, to boot.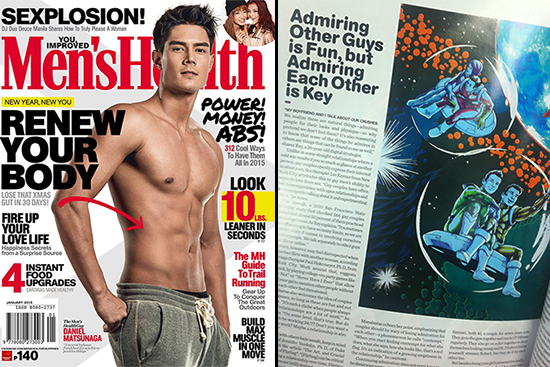 (SPOT.ph) Pope Francis said so himself: Maybe we can learn a thing or two about intimacy and relationship from a community of people who've been marginalized for far too long. The January issue of Men's Health Philippines takes that cue and "straightens" relationship problems out with some insight from folks who are not. Straight, that is.
ADVERTISEMENT - CONTINUE READING BELOW
And while Daniel Matsunaga is looking good on the cover, the illustrations for "Gay Guys to the Rescue" caught our attention immediately. The article features three original works by Carlo Vergara (of Zsazsa Zaturnnah fame) and they're popping with color. Pictures are awesome for reading long-form essays and articles. Remember those? Plus, did you know that studies revealed that gay couples are happier than married straight couples? Now you do. Check out the magazine and find out why they're probably having better (and happier) sex than you.
The January issue of Men's Health Philippines is now available in newstands.
Load More Stories