10 Crazy TV "News" Moments
Bloopers and blunders (of the most epic kind)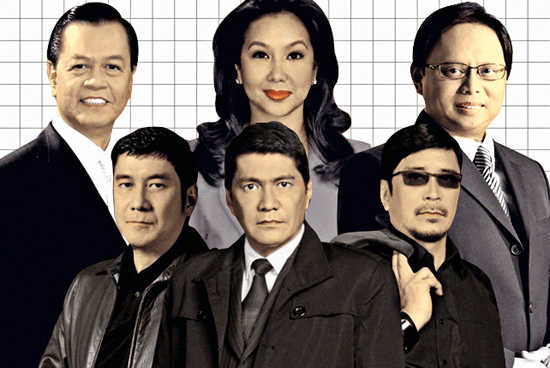 (SPOT.ph) They give us the news and they make some of their own. We obviously have a lot of love for news people and not just because they're hot. They make these silly gaffes, they charm us with on air bloopers...and sometimes they make us want to hide under a blanket in shame (like the Manila Hostage Crisis).
Here are 10 cray-cray moments that remind us that mistakes will be made....and we ought to learn from them.
1. Noli De Castro's beef against "ambulance vendors"
We all know that Kabayan is a passionate devotee of the Black Nazarene and he's with the people every year, being squished and smelling like sweat. What surprised people when TV Patrol aired on Monday (January 5) was a secret devotion De Castro apparently has: clean and clear roads. We all watched as Winnie Cordero did her best to abate the intensity of the veteran news anchor's ardor. Some people thought it was rude, while Manila City Mayor Joseph Estrada merely shrugged the issue off. "A hungry stomach knows no law," President Mayor Erap quipped. Rude or not, it seems like De Castro's based-on-a-true-story complaints has fallen on deaf ears.
2. The Tulfos threaten the defunct Barretto-Santiago couple
The Tulfo brothers have become like grumpy grandpas we tolerate, because they're there. However, they're grumpy grampas whose opinions reach thousands, if not millions. We can always switch to another station, but at one point, the MTRCB felt like another kind of switch should be flipped. After that airport rumble between Claudine Barretto and Ramon Tulfo, the brothers mistook their program T3 for a Twitter feed and made unsettling remarks, e.g., "Tatamaan at tatamaan ka... pati asawa mo tatamaan sa akin," and "Antabayanan mo ang lintik na ganti ng Tulfo." Deeming the statements too violent, the MTRCB suspended the trio and...well, actually, they're now still on air being the Tulfo brothers.
ADVERTISEMENT - CONTINUE READING BELOW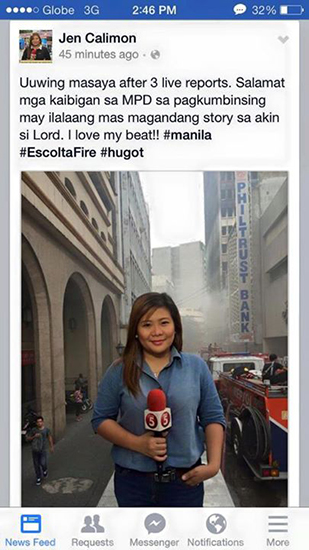 CONTINUE READING BELOW
Recommended Videos
Screencap from Mark Terrence Sy (January 7)
3. Jem Calimon and how God burned a building to make her feel better
The "reporting" may be done, but the camera of life keeps rolling and recording. We all make mistakes, some of us just have the unfortunate reality of being in the limelight, both in our good and bad moments...like Jen Calimon. Let's be honest and admit (to ourselves, quietly) that we have evil, evil thoughts every now and then. Sometimes, in jest, we imagine seemingly heartless company owners spontaneously combusting. The rule is: Don't post it on social media. We know it's your right to voice your opinion, but other people will also voice out their opinion (about your thought process or lack thereof) and nobody wins. Everyone just feels bad.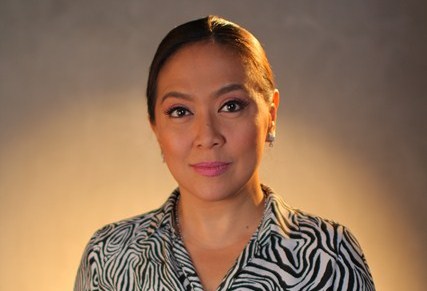 ADVERTISEMENT - CONTINUE READING BELOW
4. Karen Davila hugs Susan Roces
Once upon a time, Karen Davila scored the once-coveted spot of being an anchor for TV Patrol. Whatever happened to that show? In any case, her crazy moment happened during the program's coverage of FPJ's wake. The action star's grief-stricken widow, Susan Roces, was motivated by her encounter with mortality to speak her mind. Roces told the overwhelmed Davila that her network is unfair and biased, adding, "People don't want to watch your news coverage because you capitalize on personal hurt." The news anchor, clearly unprepared for the brazen remarks, was reduced to tears. The "interview" concluded with Davila apologizing for the entire network and soon enough, she made her exit from the show.
5. All the Korina Sanchezes

There was that time she wanted to be the shining star of The Good Wife and defended her husband's work-eyes closed, hands clasped, and giving unconditional but not quite helpful support. She took on Anderson Cooper of CNN and called him out for criticizing the government's post-typhoon efforts in Eastern Visayas. Cooper calmly explained that all he did was describe what he saw, which is what journalists who follow a certain code of ethics do. A year later, Sanchez figured in another faux pas when she jested (we want to assume she wasn't serious) that Typhoon Hagupit should just go directly to Japan. Maybe Korina is on a quest to find which buttons she can push without getting a demotion. So far, so good. (We've thrown in a second video there, where Sanchez chokes on the word "hamon.")
ADVERTISEMENT - CONTINUE READING BELOW
6. Arnold Clavio interviews Atty. Alfredo Villamor
How often do you hear a news anchor say, "Panira ka ng araw eh!" During an Unang Hirit interview with Atty. Alfredo Villamor, representing Janet Lim Napoles, Clavio obviously needed another cup of coffee because his crank meter was on high. The man just did not have the patience to sit there and figure out the official designation of the man he was addressing. He just wasn't awake enough to have courtesy yet.
7. Bandila's Pangasinan hoax
No, there is no flesh-eating bacteria in Pangasinan. According to a report clarifying the issue by the Philippine Daily Inquirer, the first patient with the "mysterious flesh-eating illness" was a leper who had an adverse reaction to medication. The second patient was suffering from psoriasis. You can still #PrayforPangasinan if you want, though.
8. All the Jiggy Manicads
Frankly, we just want to thank Jiggy Manicad for all the fond memories. He gave us such classics as, "Dinagsa ng mga tae," and "Nahulog and ilog sa bata." He even gave us the gift of, "Labing libong libo." We love you, Jiggy.
9. All the Michael Fajatins
If there is anyone who can dethrone Jiggy Manicad, it's Michael Fajatin. This man is always high (on life). We quote, "...ngunit, matapos ang ilang negosasyon, ito'y matapos na mag-disperse sila, pagkatapos nito, hindi na sila nag-away. Nag-away sila sa simula, pagkatapos nito'y nagkaroon sila ng pag-aaway sa simula."
ADVERTISEMENT - CONTINUE READING BELOW
10. Doris Bigornia talks to Fort Sto. Domingo guards
This video is basically the "Mutya ng Masa" trying desperately to talk to guards at the detention facility where Janet Lim Napoles was being held. We hear people like her style of reporting and we suppose it's admirable. There was virtually nothing happening and she reported the crap out of that. That's some skill, right?
Share this story with your friends!
---
Help us make Spot.ph better!
Take the short survey
Load More Stories