Ex-Makati Vice Mayor Ernesto Mercado faces graft and plunder raps + more things you might have missed today
Globe is offering free Viber and Facebook access, Charlie Hebdo reveals newest cover, and more.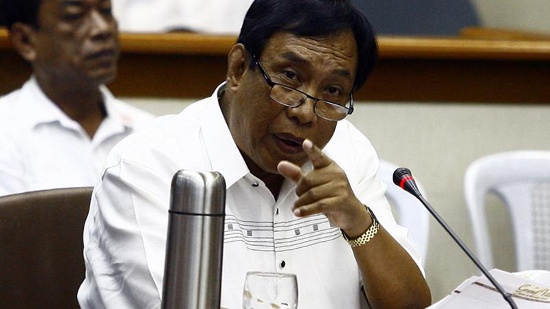 Photo via Inquirer.net
(SPOT.ph) Busy day, Spotters? We quickly recap 10 things you might have missed while you were off the radar.
1. Ex-Makati Vice Mayor Ernesto Mercado faces graft and plunder raps
Graft and plunder charges have been filed against former Makati Vice Mayor Ernesto Mercado for the P80 million he admitted to have received from Vice President Jejomar Binay. A private individual named Louis Biraogo said he has no other evidence aside from the transcript which includes Mercado's statement at a Senate Blue Ribbon Committee hearing saying that he received P80 million from Binay.
When asked why he filed the complaint, he explained, "Walang ibang nagsasampa ng kaso."
2. MMDA chief: Dry run showed glitches in papal arrival arrangements
On Monday (January 15), the Metropolitan Manila Development Authority (MMDA) conducted a dry run for security arrangements during Pope Francis' visit. MMDA Chairman Francis Tolentino admitted to encountering some "glitches" but clarified that these would be corrected by Thursday. He added, however, that they have no control over how long the motorcade will last, saying it is "up to the Pope." He explained that the dry run "cannot take into consideration the emotion and passion" during the Pope's route from Villamor Air Base to the Apostolic Nunciature in Manila.
3. CBCP appeal to barangays in Manila to "clean up"
The Catholic Bishops' Confererence of the Philippines (CBCP) have asked Manila barangays to clean their surroundings in lieu of Pope Francis' impending visit. The CBCP also appealed to Filipinos heading to venues such as the SM Mall of Asia, Luneta, and the University of Santo Tomas to "maintain cleanliness and discipline."
ADVERTISEMENT - CONTINUE READING BELOW
4. New Charlie Hebdo cover features Muhammad holding a "Je Suis Charlie" sign
Just days after two gunmen opened fire on Charlie Hebdo's Paris office and killed 12 people, the newspaper has revealed their newest cover. It features a cartoon drawing said to be Prophet Muhammad holding a "Je Suis Charlie" sign with the caption, "All is forgiven." The newspaper has said it will print a million copies of the new issue this week.
5. Europe to give PH €325M for development
The European Union (EU) said Tuesday that it would be raising its financial development assistance to the Philippines from €130 million to €325 million over the next six years. According to EU Ambassador Guy Ledoux, the development of the Bangsamoro region will be a "major funding priority."
CONTINUE READING BELOW
Recommended Videos
6. Globe offers free Viber and Facebook access starting January 13
Starting today (January 13), Globe subscribers can enjoy free Viber and Facebook access for one month, with no purchase, daily registration, or promo required. For Facebook users, there would be no need for WiFi, a data plan, or a maintaining balance to access the website. Viber, meanwhile, said its free service is meant to show their thanks to their 18 million users in the country.
7. Singapore Airlines offers First Class option on Manila-Singapore route
Headed to Singapore? You can now travel in style and comfort, thanks to Singapore Airlines. The airline is now offering First Class service on flights between Manila and Singapore-the only carrier to do so for the designated route.
ADVERTISEMENT - CONTINUE READING BELOW
8. Divers retrieve crashed AirAsia jet's cockpit voice recorder
Divers have finally unearthed the cockpit voice recorder from the AirAsia wreck on Tuesday, which officials say is a crucial key to determining the cause of the crash. The cockpit voice recorder, which records conversations between the pilots and the air traffic controllers, was found close to where the flight data recorder was earlier recovered on Monday.
Investigators may need up to a month to get a complete reading of the data.
Need to make a statement but you don't quite have the right words? Say it with a cool statement shirt that perfectly captures whatever you're thinking (or feeling) right now.
10. Top 10 "Healthier" Potato Chips to Snack On
Are you still holding on to your "healthy and fit" resolution for the New Year? If you are, good for you. If you're having trouble with pushing cravings aside, we say find a compromise between bad and good habits. We've found 10 delicious and addictive potato chip alternatives that may just help.
Share this story with your friends!
---
Help us make Spot.ph better!
Take the short survey
Load More Stories