VP Binay allegedly received P200M in kickback + more things you might have missed today
More updates on today's Senate hearing, devotees have damaged about 30 percent of Rizal Park, and more.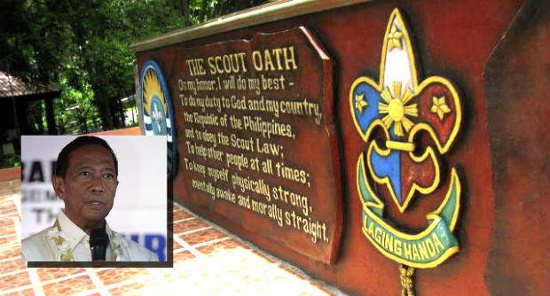 Photo via Inquirer.net
(SPOT.ph) Busy day, Spotters? We quickly recap 10 things you might have missed while you were off the radar.
1. Binay got P200M kickback for Alphaland-BSP deal, says Trillanes
According to Senator Antonio Trillanes, Vice President Jejomar Binay allegedly accepted P200 million in kickbacks from a joint venture between Alphaland and the Boy Scouts of the Philippines (BSP) involving a piece of property in Makati. Trillanes explained that the money was an "initial commission" given for approving the deal. Under said deal, the Boy Scouts would provide the land and Alphaland would develop the property.
"Kaya pala interesadong-interesado itong si Binay na manatili bilang presidente ng Boy Scouts of the Philippines," he said. Trillanes also noted that Binay "forced" the BSP board to retain him as Boy Scouts president.
2. Mayor Binay a no-show at latest Senate probe
Makati City Mayor Jejomar Erwin "Junjun" Binay  was once again a no-show at the latest Senate Blue Ribbon subcommittee hearing on Thursday, despite the panel's previous statements to cite him and six other officials of the Makati City government for contempt. Binay and the other city officials were among the invited resource persons to the subcommittee's investigation into the Makati City Hall 2 parking building, among other alleged irregularities.
3. Binay used Boy Scout land deal to fund 2010 poll campaign, says Mercado
On Thursday, former Makati City Vice-Mayor Ernesto Mercado testified that Binay allegedly took 5% from the Boy Scouts' deal with Alphaland Corporation to fund his 2010 election campaign to run for the presidency. "Hindi naman po Vice President ang unang balak ni Vice President Binay. Ang kanya po talagang plinano, ang kanyang pinangarap, ang kanyang inasam ay maging presidente ng ating bansa," he said.
ADVERTISEMENT - CONTINUE READING BELOW
According to Mercado, the 5% that supposedly went to Binay was part of the 20% share that the BSP should have gotten from the deal. He added that this explained why the agreement indicated only a 15% share for the BSP.
4. Businessman Tony Tiu slapped with P73M tax case
Businessman Antonio "Tony" Tiu, whom you might remember as the person who has claimed ownership of "Hacienda Binay," has been charged with tax evasion amounting to P73.34 million. According to the Bureau of Internal Revenue (BIR), Tiu has been underdeclaring his income from 2008 to 2013.
5. Pilgrims trashed Rizal Park, according to NPDC
CONTINUE READING BELOW
Recommended Videos
On Wednesday, the National Parks Development Committee (NPDC) revealed that the devotees who attended Pope Francis' mass at Quirino Grandstand last Sunday damaged about 30% of Rizal Park. The most damaged part of the park was the area surrounding the Rizal monument, which is considered a national shrine. It is the closest to the grandstand.
About 10 gates were also damaged and several inner parks, which were purposefully locked, were forced open.
6. Success of Papal visit boosts chances of Tagle as future pope, says Vatican analyst
John L. Allen Jr., an American journalist specializing in news about the Catholic Church and associate editor of The Boston Globe and its website, said that the success of the Papal visit has increased Cardinal Luis Antonio Tagle's chances as a future pontiff. "I think Cardinal Tagle's stock as a candidate was already high. I think that shot through the roof as a result of what happened for the last three days [of the visit]," he said.
ADVERTISEMENT - CONTINUE READING BELOW
7. Huge asteroid to pass by Earth on Monday
NASA has announced that an asteroid up to 1,800 feet (550 meters) wide will pass by Earth on Monday, January 26. According to scientists, the asteroid's visit (dubbed as asteroid 2004 BL86) will be its closest to Earth in 200 years. It will also be the closest known encounter of an asteroid its size until 2027.
8. Jay Leno on Bill Cosby: "Why Is It 'So Hard' to Believe Women?"
Former Tonight Show host Jay Leno has spoken up on veteran comedian Bill Cosby's sexual assault allegations, saying, "I don't know why it's so hard to believe women [...] You go to Saudi Arabia and you need two women to testify against a man. Here you need 25." Cosby's legal team has repeatedly denied statements from over 15 women saying that he had drugged or sexually assaulted them.
9. 10 Great Places for Running in Manila
Whether you're resolved to fulfill your fitness goals or you're just getting started (we don't judge, of course), running is always a good routine to start. Amid crowded malls and bustling streets, there are still a few patches of paradise where you can hit the ground running.
10. 10 Weird Dishes We Dare You to Try
Looking to be a bit more adventurous this year? We scoured the whole of Manila, from hole-in-the-wall fare to hidden restaurants for weird and unexpected dishes.
Share this story with your friends!
---
Help us make Spot.ph better!
Take the short survey
Load More Stories