Guingona tells Mayor Binay to attend hearings or face arrest + more things you might have missed today
A new bill from Senator Miriam, the DSWD took homeless families to a posh Batangas resort, and more.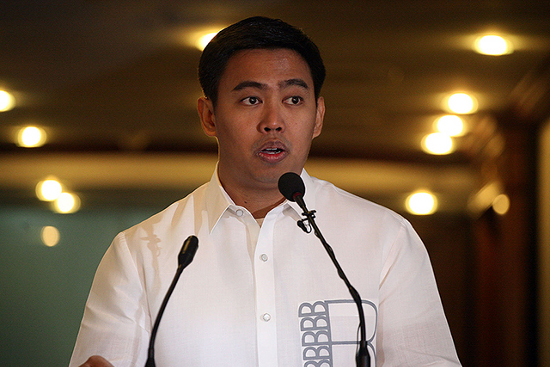 Photo via GMA News
(SPOT.ph) Busy day, Spotters? We quickly recap 10 things you might have missed while you were off the radar.
1. Senator TG Guingona gives final warning to Mayor Binay
On Friday, Senator Teofisto Guingona III issued a final call to Makati City Mayor Junjun Binay and six other officials, telling them to "respect and heed the summons of the Senate Blue Ribbon subcommittee for them to appear at the hearings being led by Senator Koko Pimentel." The senator, who chairs the subcommittee, added, "...There are rules, procedures and precedents that pertain to the continued refusal by persons being summoned by the committee to attend its hearings."
2. Miriam files bill barring convicted plunderers from running for office
Senator Miriam Defensor-Santiago has filed a bill seeking "perpetual disqualification" for a public servant convicted of plunder, even if pardoned by the president, saying, "It should then be unthinkable for a public servant, who was convicted by final judgment of the crime of plunder, to be allowed to hold office once more,"
The bill was filed on January 13, prior to the Supreme Court ruling against the disqualification case filed against former President and now Manila Mayor Joseph "Erap" Estrada.
3. Boy Scouts deny anomaly and Binay involvement in Alphaland deal
Boy Scouts of the Philippines (BSP) Secretary-General Attorney Wendel Avisado has issued a statement saying there is no anomaly in the group's agreement with Alphaland. According to Avisado, the agreement that BSP had with Alphaland was "legal." He said the BSP entered into the deal so the BSP can earn from the property. "There's nothing that will point to the vice president that he was directly involved because he did not even sign the agreement," Avisado said.
ADVERTISEMENT - CONTINUE READING BELOW
He added, however, that Mercado (who was senior vice president of the BSP at that time) signed the agreement. Under the deal, Alphaland would develop the BSP's prime property in Makati City, now known as The City Club.
4. DSWD sent homeless families to Batangas resort during Pope visit
After drawing flak for supposedly "hiding street dwellers" during Pope Francis' five-day visit, the Department of Social Welfare and Development (DSWD) has revealed that they sent about 500 street children and their families to a resort in Nasugbu, Batangas. 70 rooms were booked at the Chateau Royale Resort, where each room cost P4,000 a night (usually priced at P6,300). 100 DSWD staff also stayed in the resort to look over the families and facilitate activities.

CONTINUE READING BELOW
Recommended Videos
5. Saudi King Abdullah dies at 90
Saudi Arabia's King Abdullah has died at 1 a.m. on Friday. His 79-year-old half-brother, Prince Salman, was declared his successor, according to a Royal Court statement carried on the Saudi Press Agency. Salman was Abdullah's crown prince and had recently taken on some of the ailing king's responsibilities.
King Abdullah was a U.S. ally who seeked to modernize the conservative Muslim kingdom with reforms, including pushing for greater opportunities for women.
6. Fewer Filipinos went hungry in 2014, says SWS
According to the Social Weather Station's (SWS) fourth quarter survey, the number of Filipino families who experienced involuntary hunger has declined to 3.8 million from September's 4.8 million. Metro Manila showed the biggest improvement in the survey, with hunger dropping to 14.7% (an estimated 438,000 families) in December from September's 22% (an estimated 654,000 families).
ADVERTISEMENT - CONTINUE READING BELOW
7. Xyra Bacani gets prestigious fellowship in NYC
You might remember her as the domestic helper based in Hong Kong who gained plenty of attention after the New York Times featured her street photography. Xyra Bacani has been named a Human Rights fellow by the prestigious Magnum Foundation. As a fellow, she will be participating in an intensive, six-week program at New York University (NYU) in New York City.
8. Pacquiao lays his music career to rest
In an interview with TMZ staff on Friday, Manny Pacquiao has announced that he will be retiring as a singer, saying, "My first album in the Philippines is platinum so that's good enough." He added, "I like singing, I love music, but I don't think music loves me."
9. 10 TMI Moments in Social Media
It's pretty easy to share too much information on the Internet, and we've probably all been a little guilty of this at some point in our lives. Think of this as a PSA against what could happen if you have a tendency to overshare.
10. 10 Graphic Novels Your Non-Comic Book Reading Girlfriend Will Like
Looking to get your girl-or any newbie, for that matter-into graphic novels? Trust us, there's more to these literary panels than The Dark Knight or Watchmen (although we admit to loving those, too).
Share this story with your friends!
---
Help us make Spot.ph better!
Take the short survey
Load More Stories